2019 ARA New England Forest Rally
The 2019 American Rally Association New England Forest Rally would be one for the record books. Record heat swept across Maine and on Saturday, the all-time hottest temperature for that day was set at 3 AM. It got hotter from there and the longest day of the rally, felt even longer. Rally teams took measures to combat the heat, buying up all the dryer venting they could, in an attempt to route more air into the cabin of the cars and cool down the driver and co-driver. The insects sure didn't mind the heat, in fact they seemed to thrive in it. Even after multiple applications of bug spray containing high doses of DEET, they swarmed all around me. I have to say, Maine has one of the largest varieties of insects I have ever seen. Mosquitos, many types of flies, bees, ticks, beetles (including a strange white and black water beetle), a fuzzy spider that was at least 4 inches wide hanging out half on a rock and half in the river and many others, too numerous to count were all spotted. It was so hot that I didn't mind when I slipped on a rock and splashed into a river and, I may have even contemplated wading out into the river just to cool down.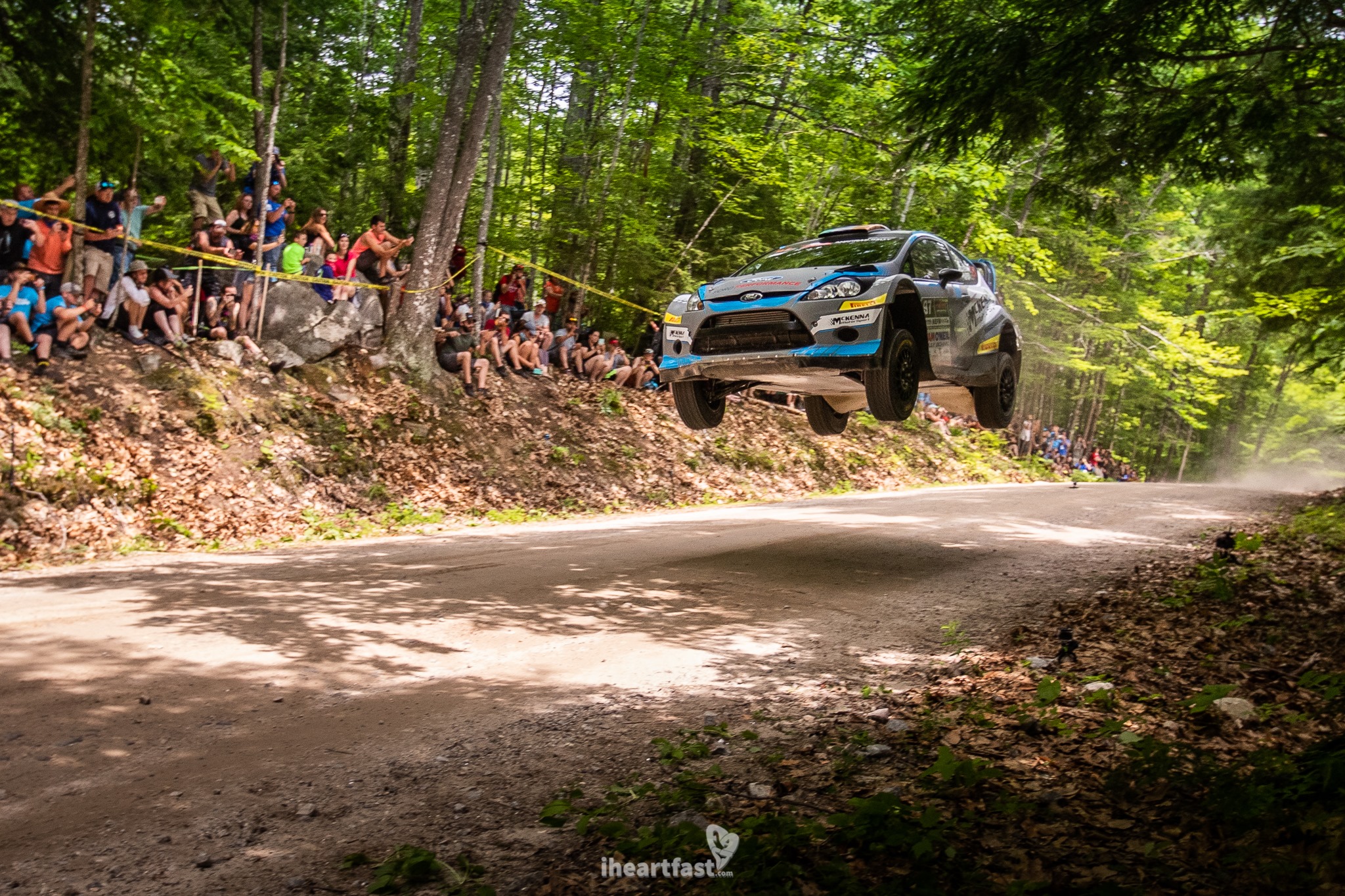 The rally got off to a hot start, as well, with the two Subaru Motorsports USA cars trading stage wins on the famous Concord Pond stages. David Higgins and Craig Drew held a tiny one second lead over teammates Oliver Solberg and Denis Giraudet going into the final two Friday stages. During the third stage of the rally, Solberg was forced to stop and change a tire, costing them a devastating seven minutes. The lost time would end any chance of them challenging for the victory, as they dropped from second to twelfth at the end of Friday's stages. Higgins and Drew sat on top with a fifty second lead, followed by the McKenna Motorsports Fiesta of Barry McKenna and his European co-driver, Andrew Hayes, making his U.S. rally debut.
"We're just holding our own and doing our own thing. I'm happy with the pace. Nowhere near Subaru Motorsports USA, but their cars have a lot more ground clearance. We raised it up as much as we could and still felt comfortable with the handling. It's still hitting a lot of rocks underneath, so it's definitely real dirty, but all okay for tomorrow," McKenna told Mike Shaw of Open Paddock as the first day of the rally was wrapping up.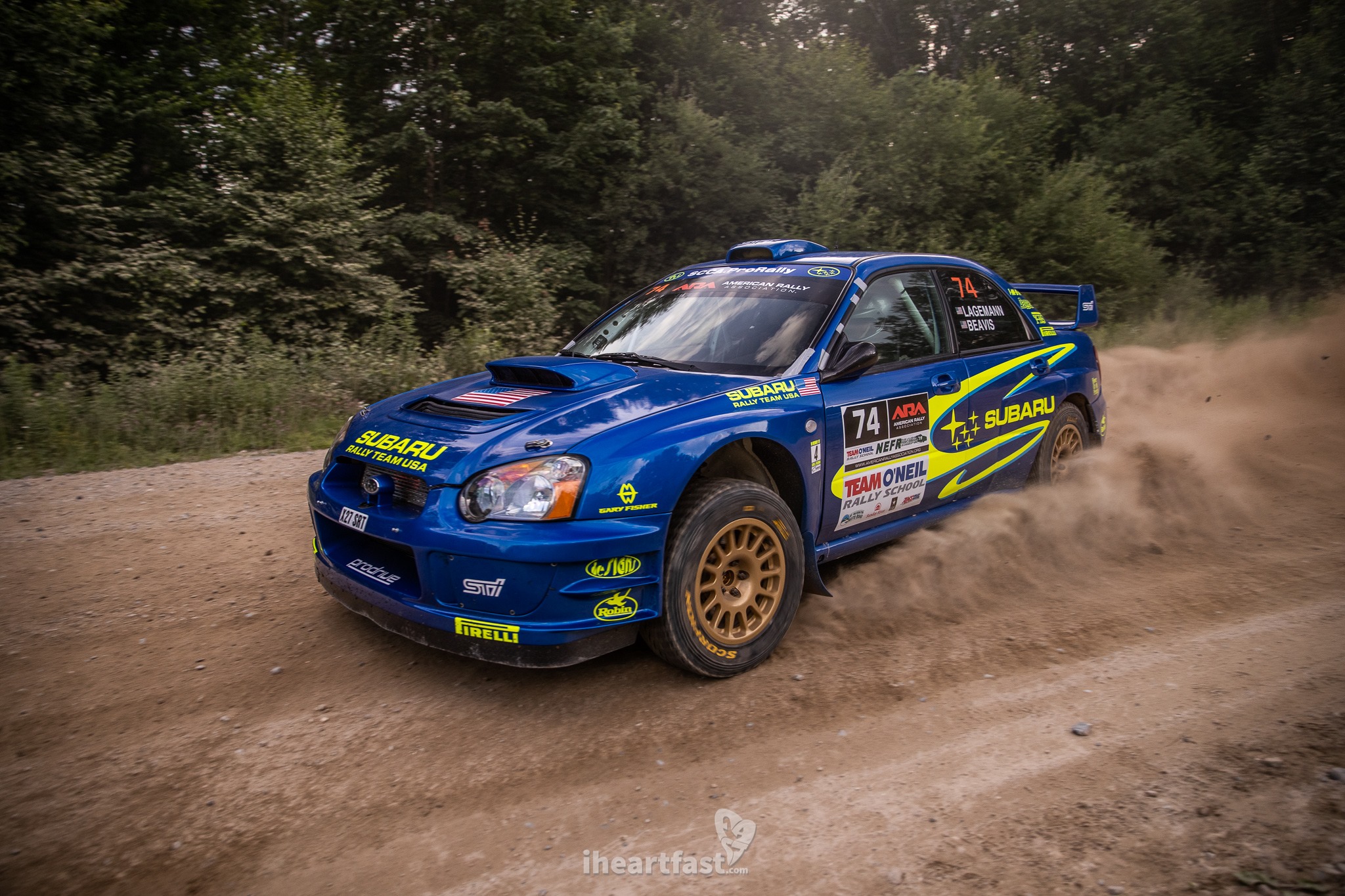 Lagemann U.S. rally debut of X27 SRT Subaru
Sitting in third was the 2003 Subaru of Ramana Lagemann and Chrissie Beavis.. Lagemann's car, however, isn't your average 2003 Subaru. Awesomely enough, it is the X27 SRT Prodrive car. Yes, the same one that Tommi Makinen drove. This car is fairly familiar to Lagemann, well not this car exactly, but one that was very similar during his time driving for Subaru Rally Team USA. It sure was a sight to see on stage, tearing through the forests of Maine with its blue and gold livery, kicking up clouds of dust. Lagemann told Mike Shaw at the end of Friday, "It's like being with a familiar friend back at home. The car is awesome. It's as fun as I remember it. Such an involving, but capable car. I'm just stoked to be here. It's 15yr old technology, so we're not going to be able to go for the win on outright pace and I'm a little rusty. But just excited to be here, driving this car and having a lot of fun and towards the sharp end!"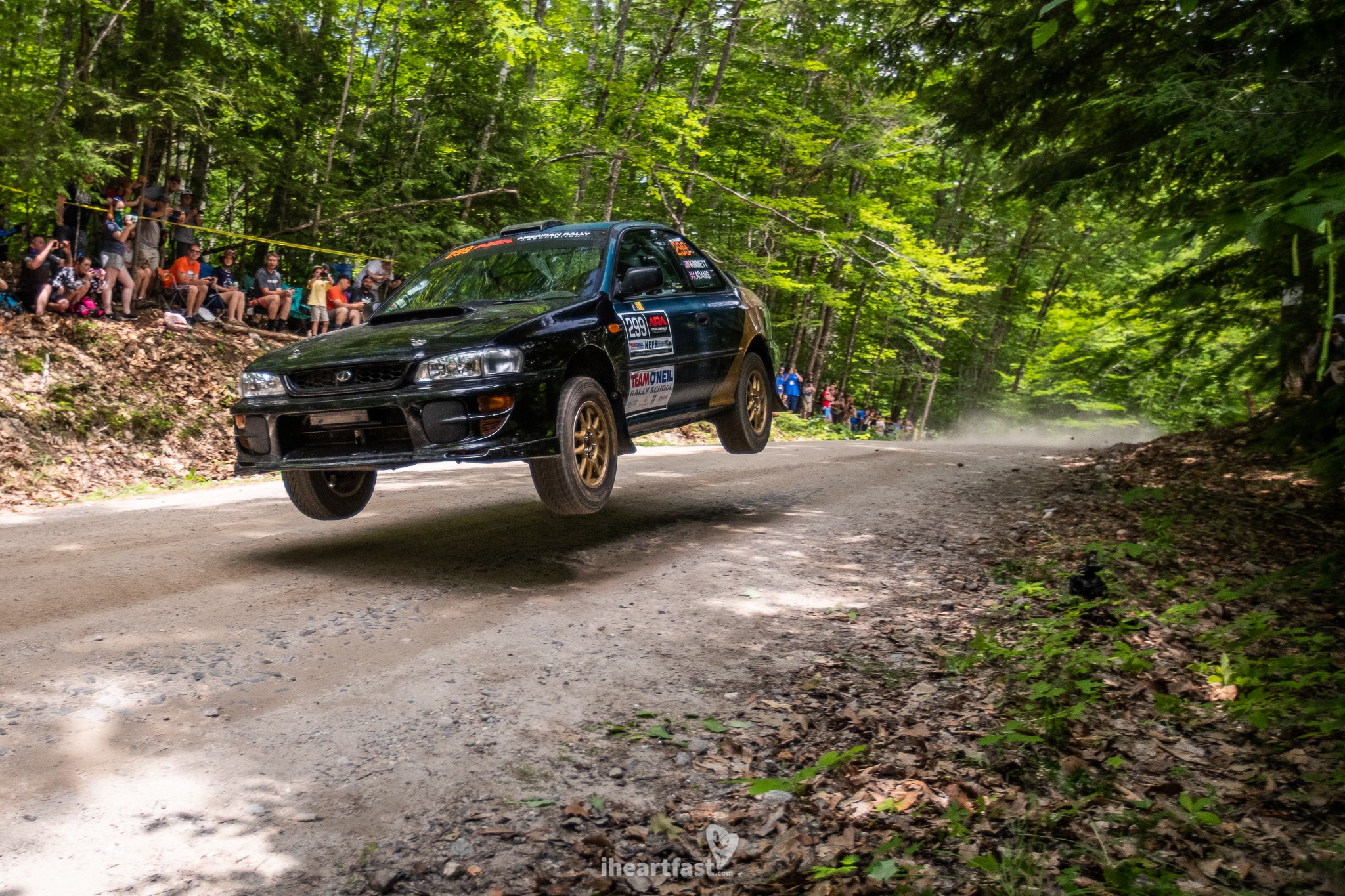 Solberg and Giraudet wouldn't be the only team to suffer issues on the third and fourth stages of Friday. A large rock on stage caused damages to quite a few cars, including the JRD Rallysport Mk2 Escort of Seamus Burke and Martin Brady. Even though they were able to finish the day, the damage to their custom made oil pan would cause them to withdraw from Saturday's action. Calvin Cooper and Kelsey Stephens would also suffer oil pan damage, but after a flat tow from Margaret Sharron and Amy Dilks and a little JB Weld, they were able to push on for Saturday's stages. There were also a few major offs causing significant damage to the cars of Adam Kimmett/Dominic Adams, Luis Teixiera/Jamie Beliveau and Mike Minneman/Samantha Tran that prematurely ended each of their weekends.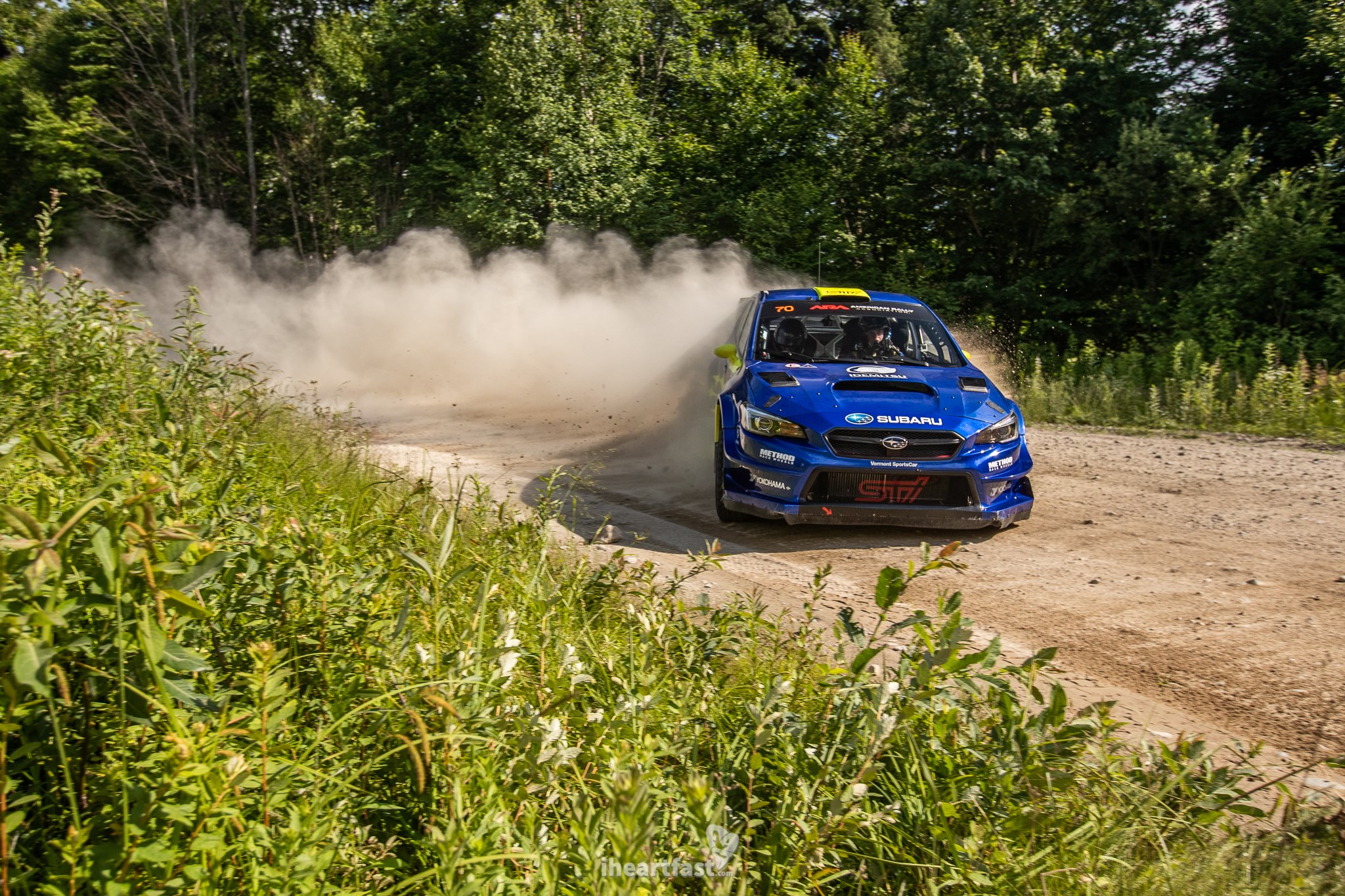 Saturday's competition
Saturday consisted of nine stages with plenty of competition miles for anything to happen. Solberg would take full advantage, capturing stage wins on eight of the nine stages, moving them from twelfth to fifth, despite suffering another tire issue that cost them an additional three minutes.
Solberg recapped the event for Mike Shaw of Open Paddock saying, "The speed is there for sure… Okay we had some bad luck over the weekend but I think my speed is good and I think that's my main thing. Getting the experience and to know that you are there…that's what keeps us motivated!"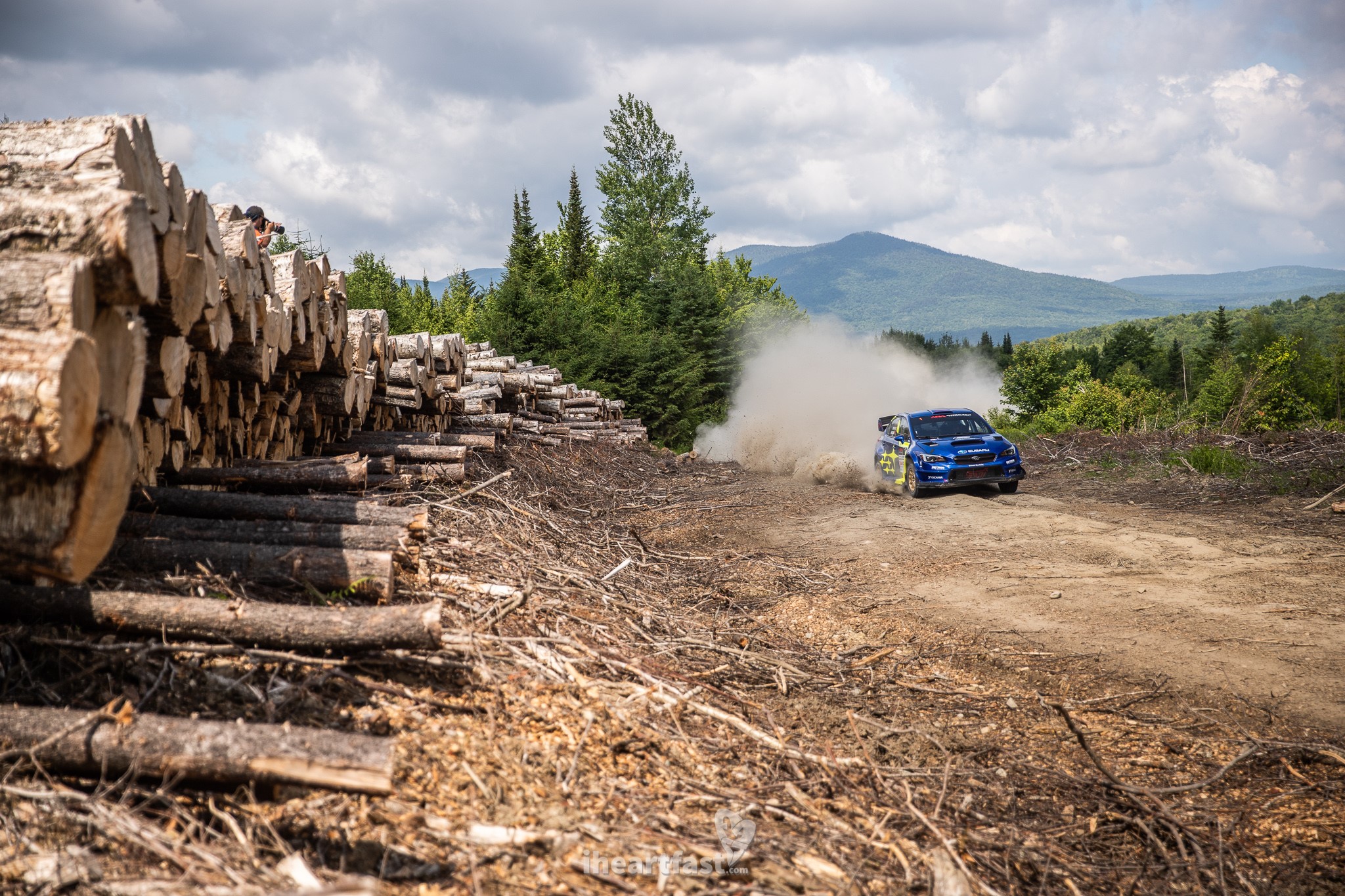 Higgins and Drew take the win
At the top, things would not change. Higgins and Drew, taking a fairly cautious approach, held on to their lead over McKenna and Hayes to become the first team with two wins of the 2019 season. After a disappointing rally at Idaho, losing the lead on the final stage of the rally, holding on to the win was a relief. Lagemann and Beavis would round out the podium positions, taking third.
Higgins said of the victory, "It's been a long and stressful day, and after the last one in Idaho it's definitely one we needed to get back on top again. We've had a good rally and kept it clean all weekend. Stoked to get the win and get the lead in the championship again. It's been a tough one though. Always tough here and the heat as well this weekend. Most Brits aren't designed for this kind of temperature!"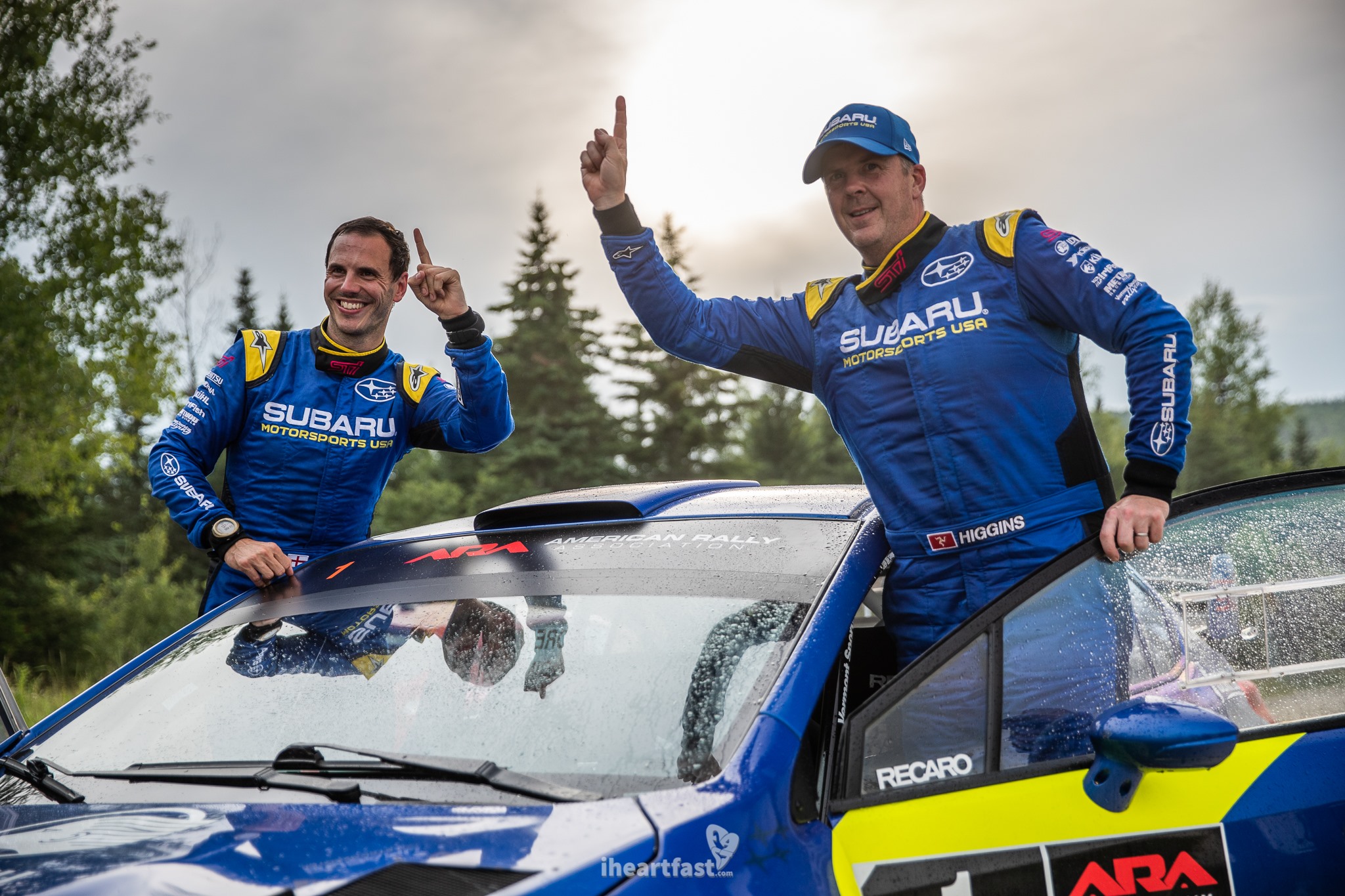 Championship Standings
The win would push Higgins into the Championship lead, just ten points ahead of Fetela, who had been the Championship leader since his win in the first event of the season at Sno*Drift. Fetela finished just off the podium in fourth at NEFR, keeping him in striking distance. With three events left on the ARA schedule the championship race is wide open.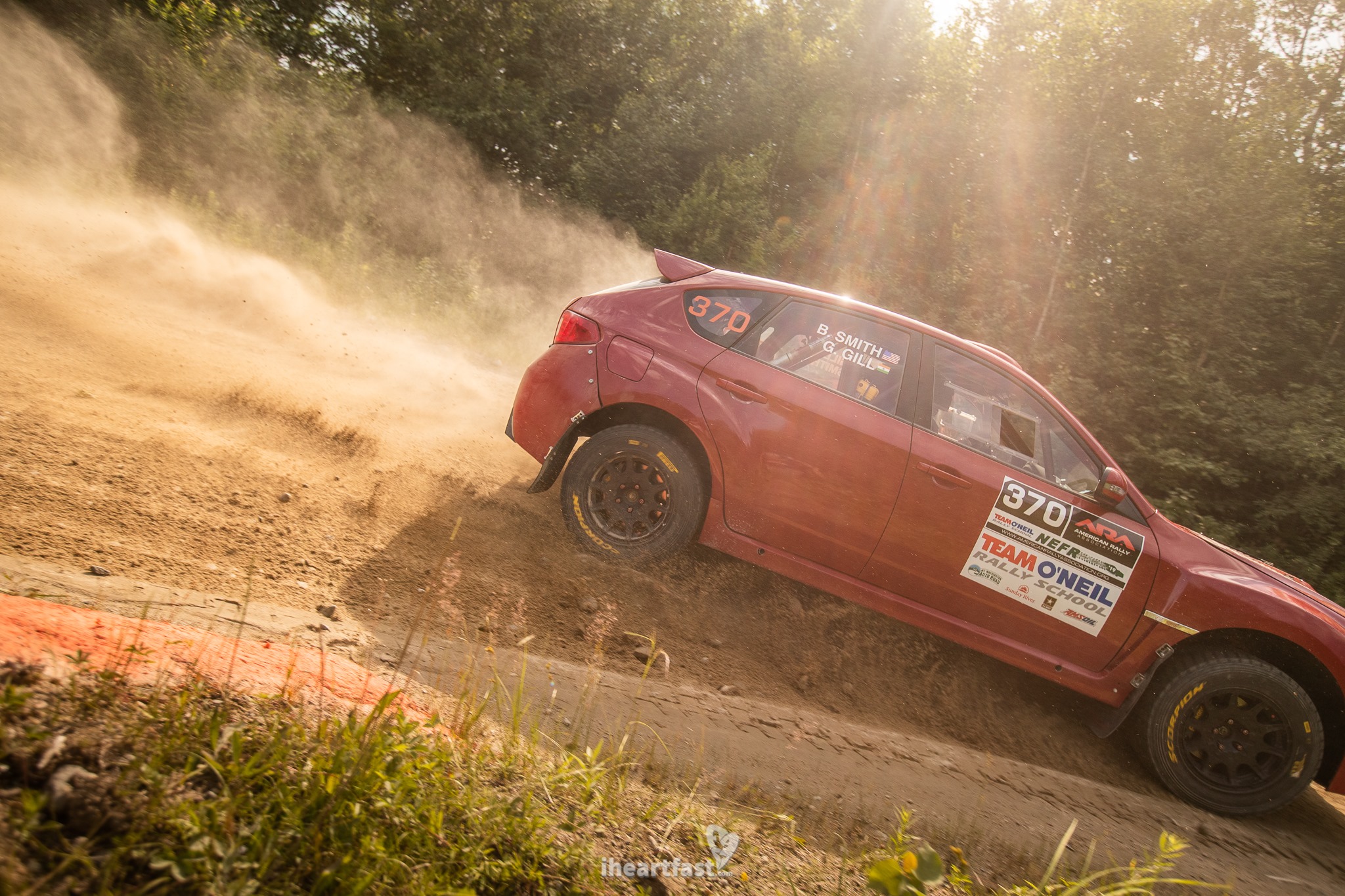 National L4WD
Gary Gill competing in a new car, with a new setup and a new co-driver in Boyd Smith, took the win in Limited 4WD over the El Diablo Rally team of Matthew Dickinson and Daniel Piker, who suffered from mechanical issues all event.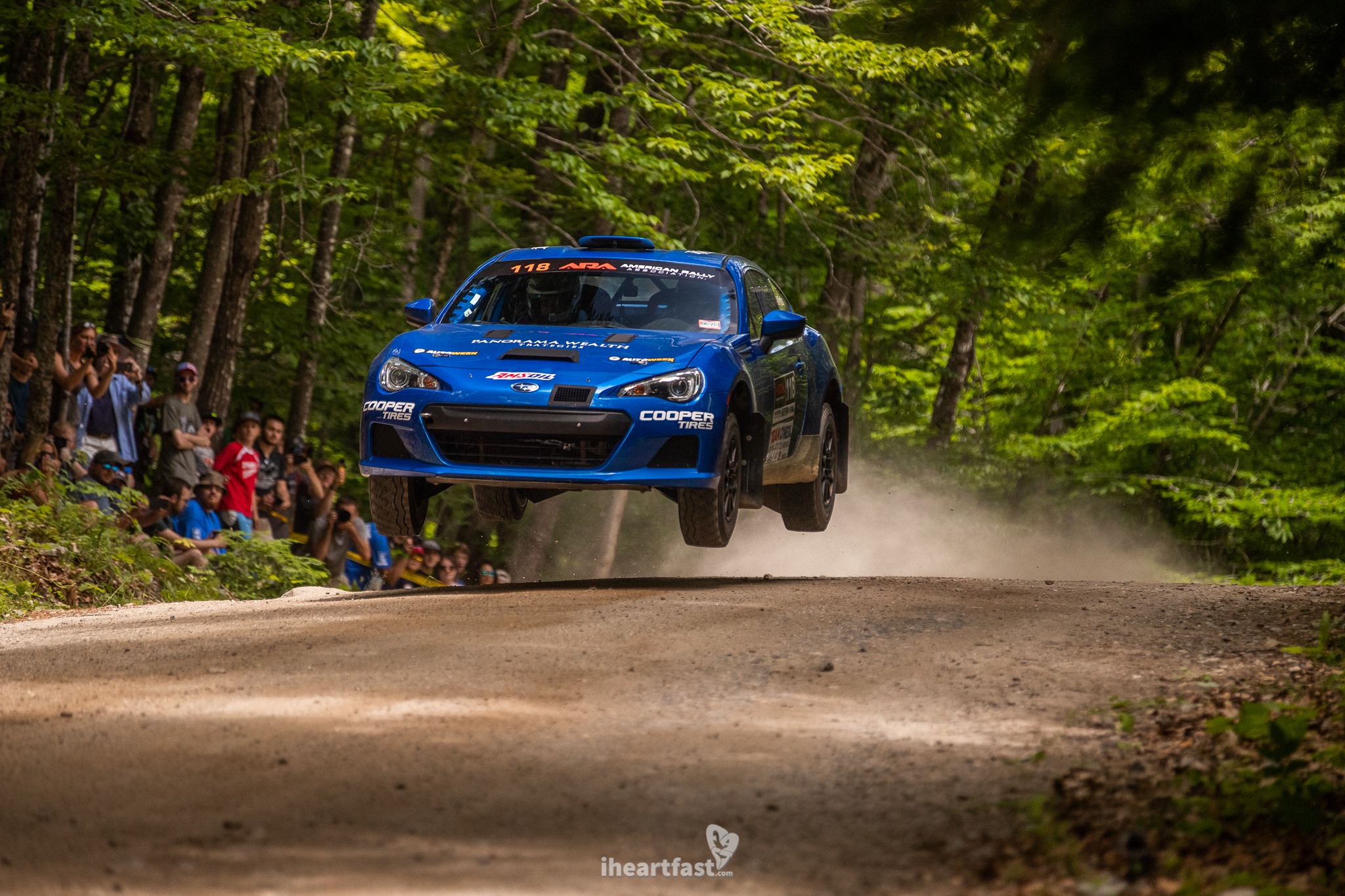 National O2WD
With Burke and Brady out after Friday's stages, Erik Potts and Matt James in a Subaru BRZ took an impressive win in Open 2WD, finishing nearly three minutes ahead of Brad Morris and Douglas Nagy. Keanna Erickson-Chang and Rhianon Gelsomino rounded out the O2WD podium, in their McKenna Motorsports R2 Fiesta.
Potts said of the victory, "It was fun! The goal was to come out hot and see how we did. We were trying to stay competitive with Seamus and Martin who we exchanged times once, but they got us on the first 2 stages. Unfortunately, as we know they didn't finish and it would have been fun for them to stay in. Today we kept a little bit slower pace and tried to run clean and we had fun. I mean, I got to hang it out for the crowd a few times which is stuff I don't usually do which was a lot of fun!"
"It was a lot of fun! RWD is a lot of fun. It's all that they say it's cracked up to be! I've sat in a couple of rear wheel drive cars, but Erik is just a hell of a driver and we didn't have any moments, but were sideways and having a good time! Really enjoyed and it was a great weekend," said Matt James.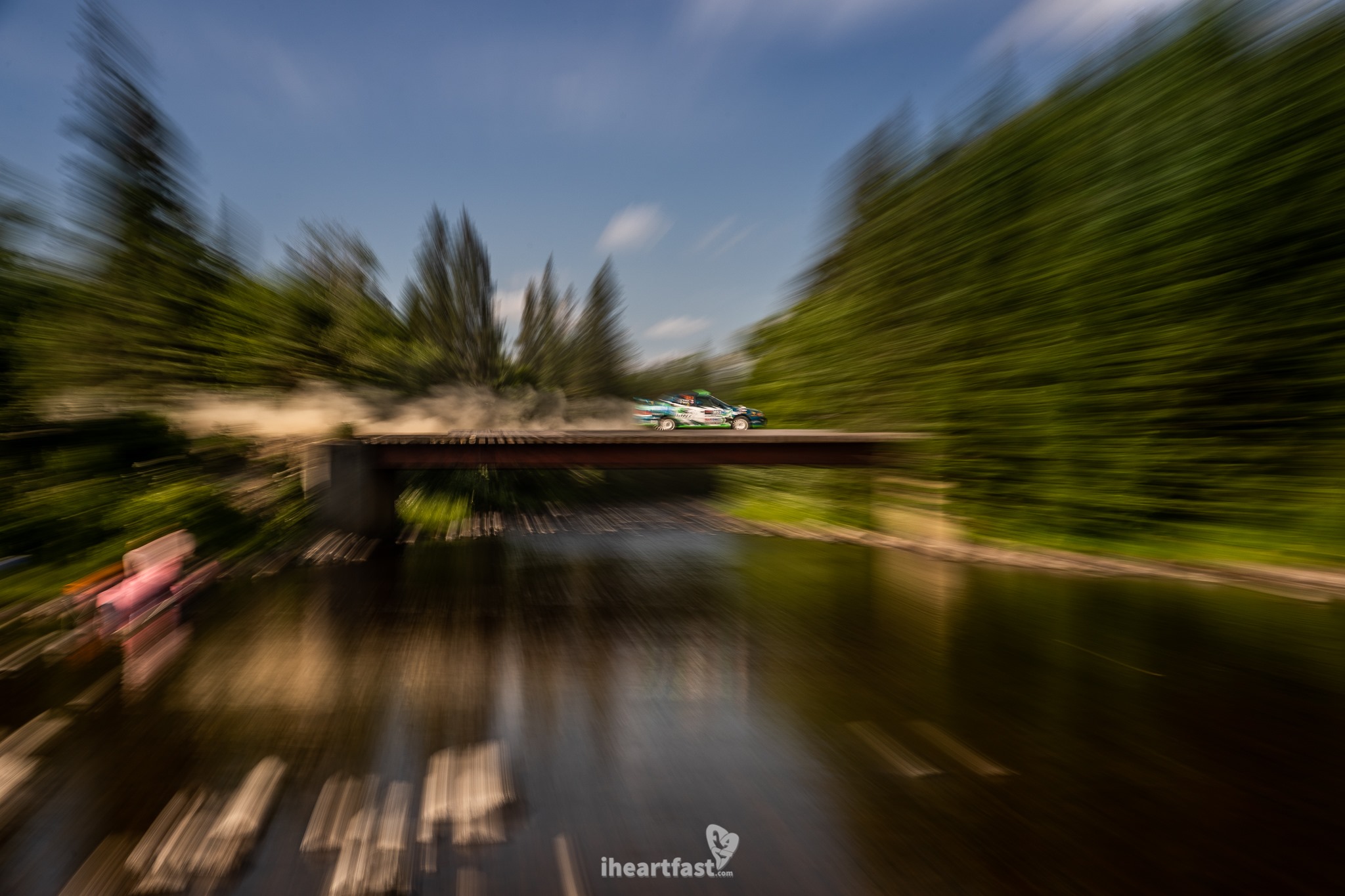 National NA4WD
Six cars started the event in NA4WD, with only one car finishing. That being the car of Amanda Skelly and Sarah Freeze who took home the NA4WD victory and seventeenth overall.
"Sarah and I were apparently the only ones of 6 in the National classing of NA4WD to finish the rally and we were unscathed at that, landing us our first ARA podium. We did have our first minor off together, my trans froze mid stage and wouldn't come out of neutral, I bent my suspension and Stitch liked tracking left, and the stages were so rough it shook the screws outs of my rearview mirror," said Skelly.
National L2WD
In L2WD, Matthew Peterson and Lori Clute, in their Honda Civic took home a 55 second victory over the goSpeed Ford Fiesta ST of Robert Sanders and Mikey Mettetal.
Regional Competition
In regional competition, the MAP Rally team of Mark Piatkowski and Aris Mantopoulos would finish on top overall and in NA4WD in their Subaru 2.5RS. "Overall, a phenomenal race. Honestly, just a pleasure to be out here rallying! We're really looking forward to STPR and keeping this momentum going," said Piatkowski.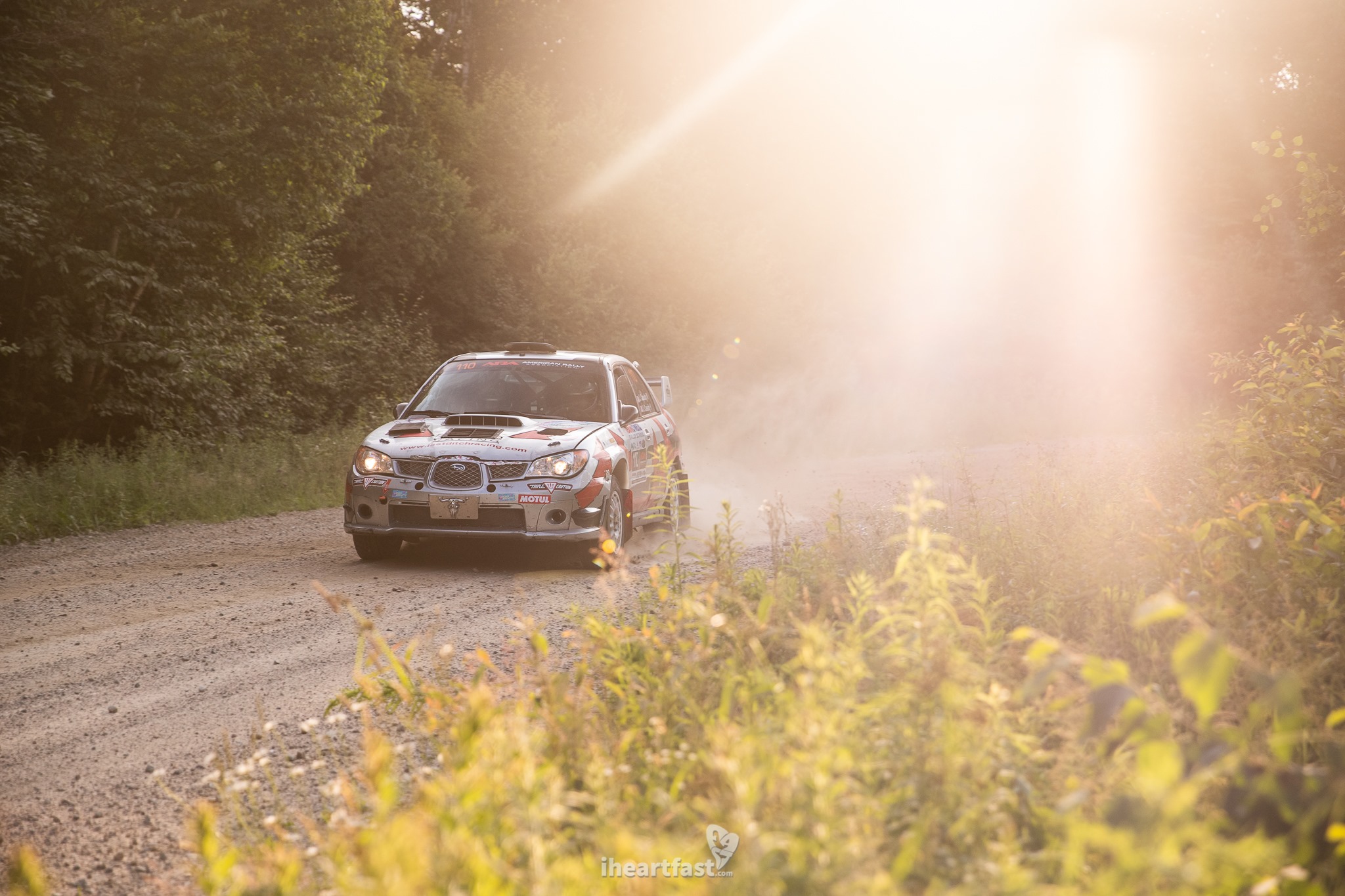 John Cassidy, competing in his 20th rally season, and John Cassidy V of Last Ditch Racing, finished second regionally overall and first in the O4WD class. "We took the car off the trailer from last year. Changed ball joints and fluids and sent it. And we didn't die," said Cassidy.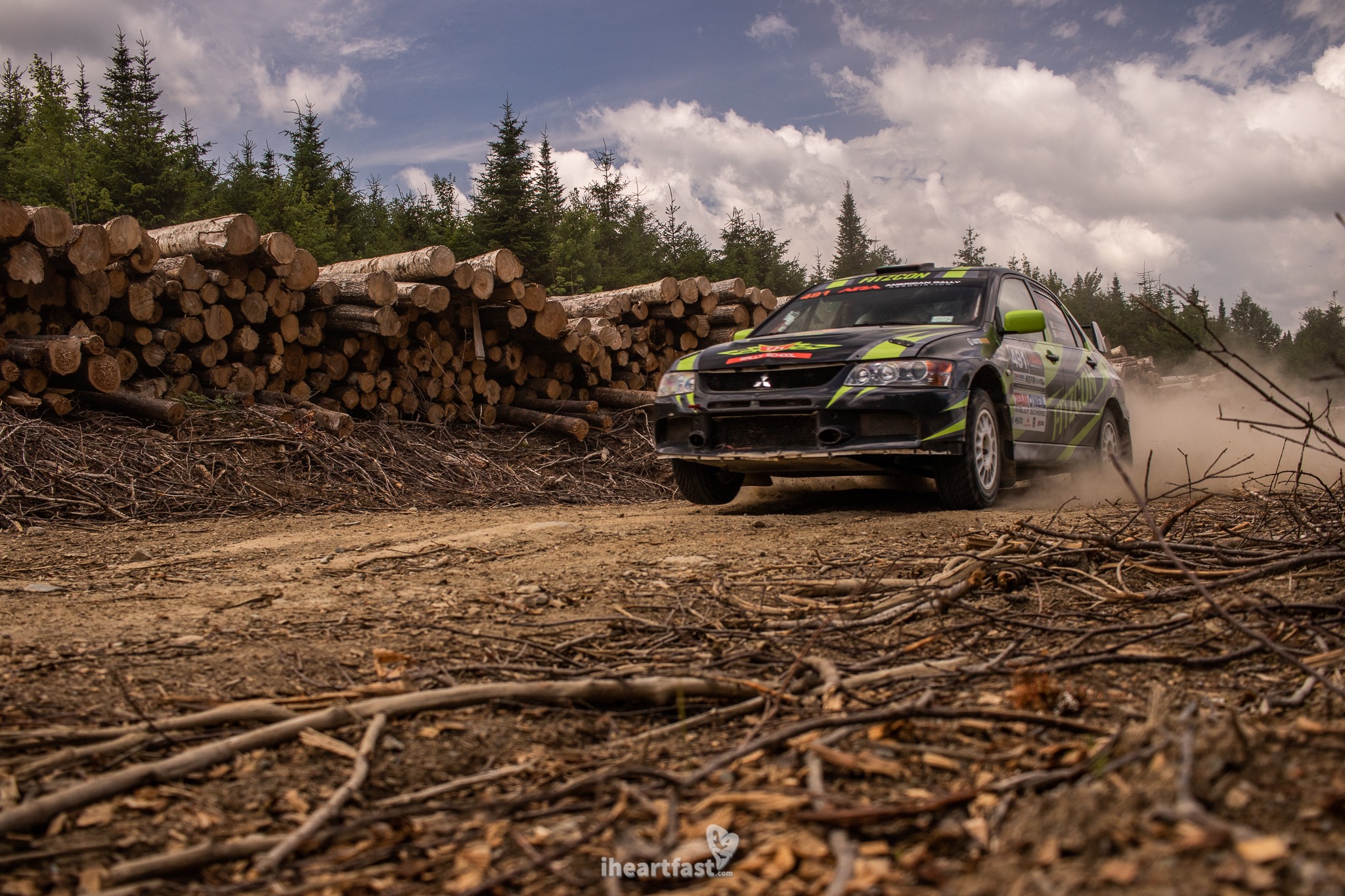 Rounding out the podium and taking the victory in the regional L4WD class were Con O'Sullivan and Aileen Kelly in their 2005 Mitsubishi EVO, just beating out the Subaru of Emmanuel Cecchet and Mark Willard.
"There was a good battle at the front of L4WD regional (966 vs 491), we had a small lead and were trading seconds every stage with this nicely prepped Evo that had us pushing hard in our stock STi. On SS11 the competitors in front of us (171) first lost their exhaust but then had an excursion in the ditch and ran with a flat and dragged their bumper until finish leaving us in a cloud of dust. We ended up losing 30 seconds on that stage. At the end of the day we lost 1st place L4WD (and 3rd overall regional) by 9 seconds… This is rally, we gave it our best and we had a blast, so we are still very happy! You always need some luck to finish at the top," said Cecchet.
Dan Downey and Tom Peplinski, in an e30 BMW took the regional victory in O2WD and finished seventh overall regionally. The Weird Beard Rally Team of Mike Erickson and Jacob Good were the regional L2WD winners and finished eleventh overall regionally.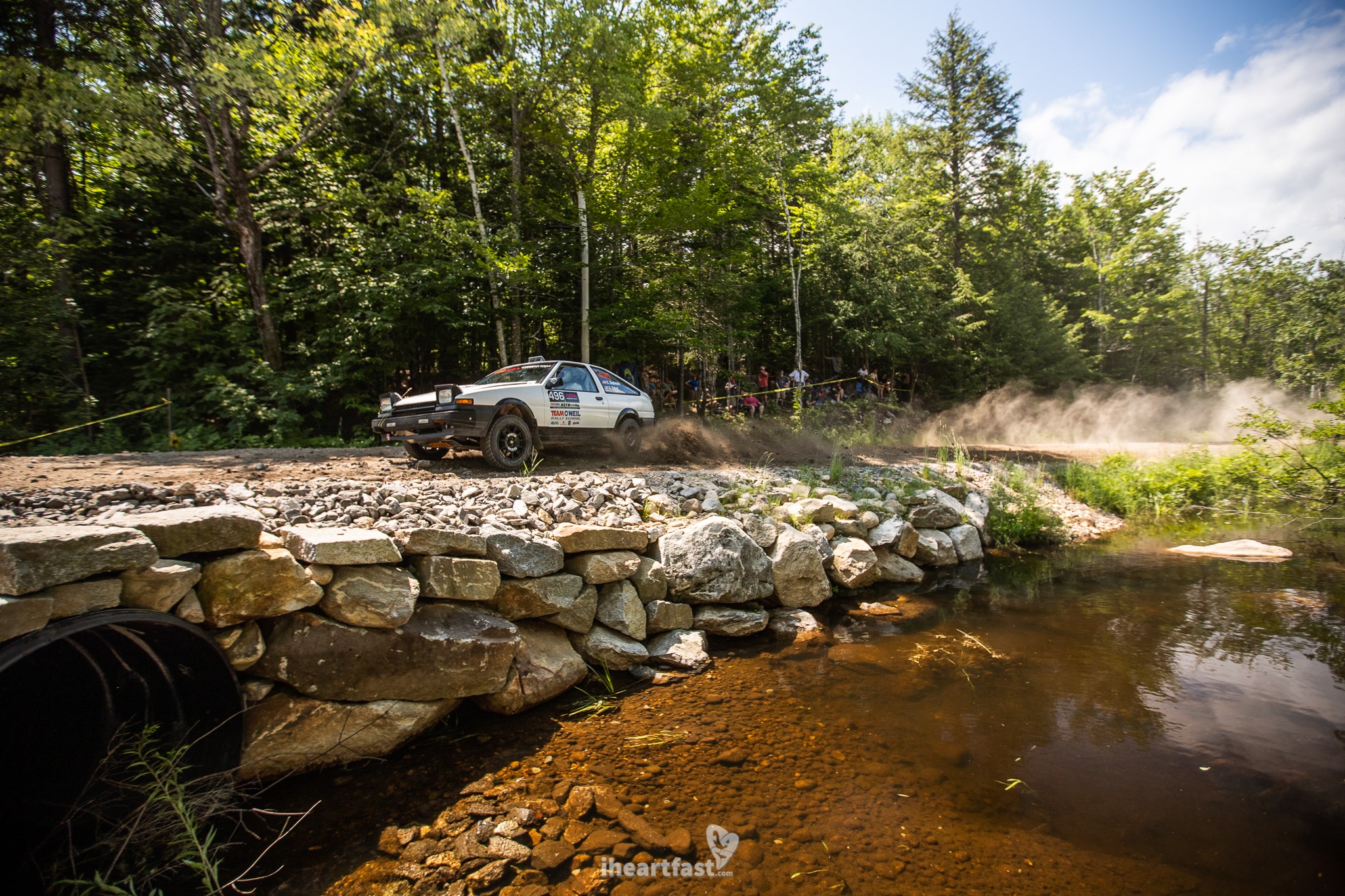 Chris Duplessis made his return to rally in a 1986 Toyota AE86, setting impressive stage times throughout the weekend. Unfortunately the class he registered in was deemed incorrect and he received a large penalty knocking him from first regionally all the way down to seventeenth. Duplessis said of his return, "I mean we really couldn't have asked for a better event on the car side! Co-driver had a blast, he's learning some things. And the biggest thing is the event. Everybody on point, no delays, absolutely awesome! 4 years ago, my last event things have changed and changed for the better for sure!"
It would be a rough event for many teams, with 23 teams missing at least one of the thirteen stages. There were also a number of miracles performed in service to get a number of those cars back on stage.
Maybe the most impressive of which was Dylan Gondyke and Benjamin Chuong who needed a new motor in their Subaru. With the help of at least four other teams they were able to complete the task and despite being exhausted and overheated from the work, made it in time to finish the final stage of the rally.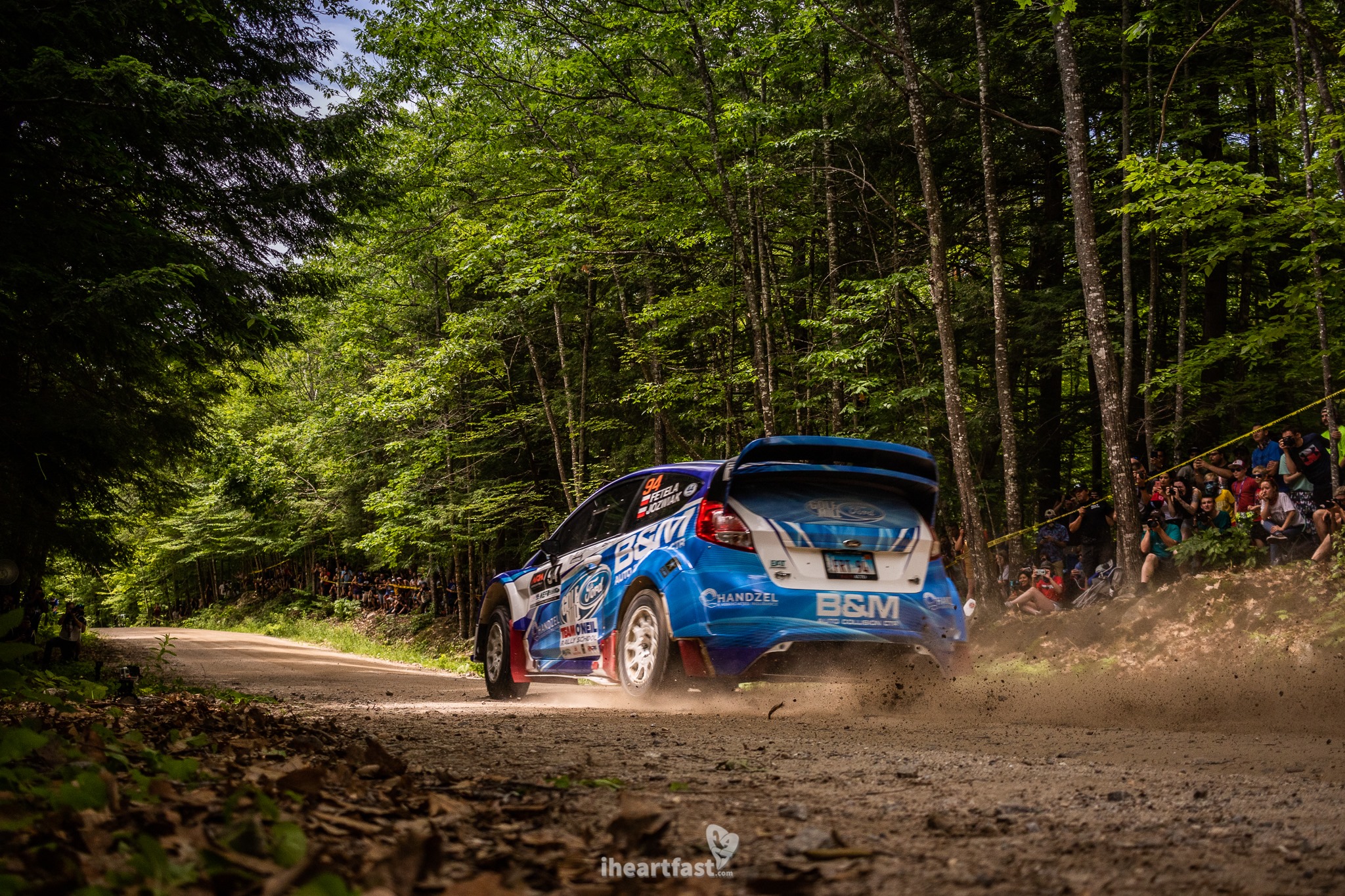 Next up on the ARA schedule is the Ojibwe Forests Rally in Detroit Lakes, MN on August 22-24. For full results and more information check out the American Rally Association site.
Big thanks to Mike Shaw for providing most of the driver/co-driver quotes and make sure to follow Mike Shaw Rally on Facebook, Instagram @oregonwings74 and check out his most excellent podcast on Open Paddock.
Follow iheartfast on Facebook and Instagram @iheartfast_official to stay up to date and see the best photos.