2020 ARA Southern Ohio Forest Rally Part 2
Photos courtesy Ben Newburn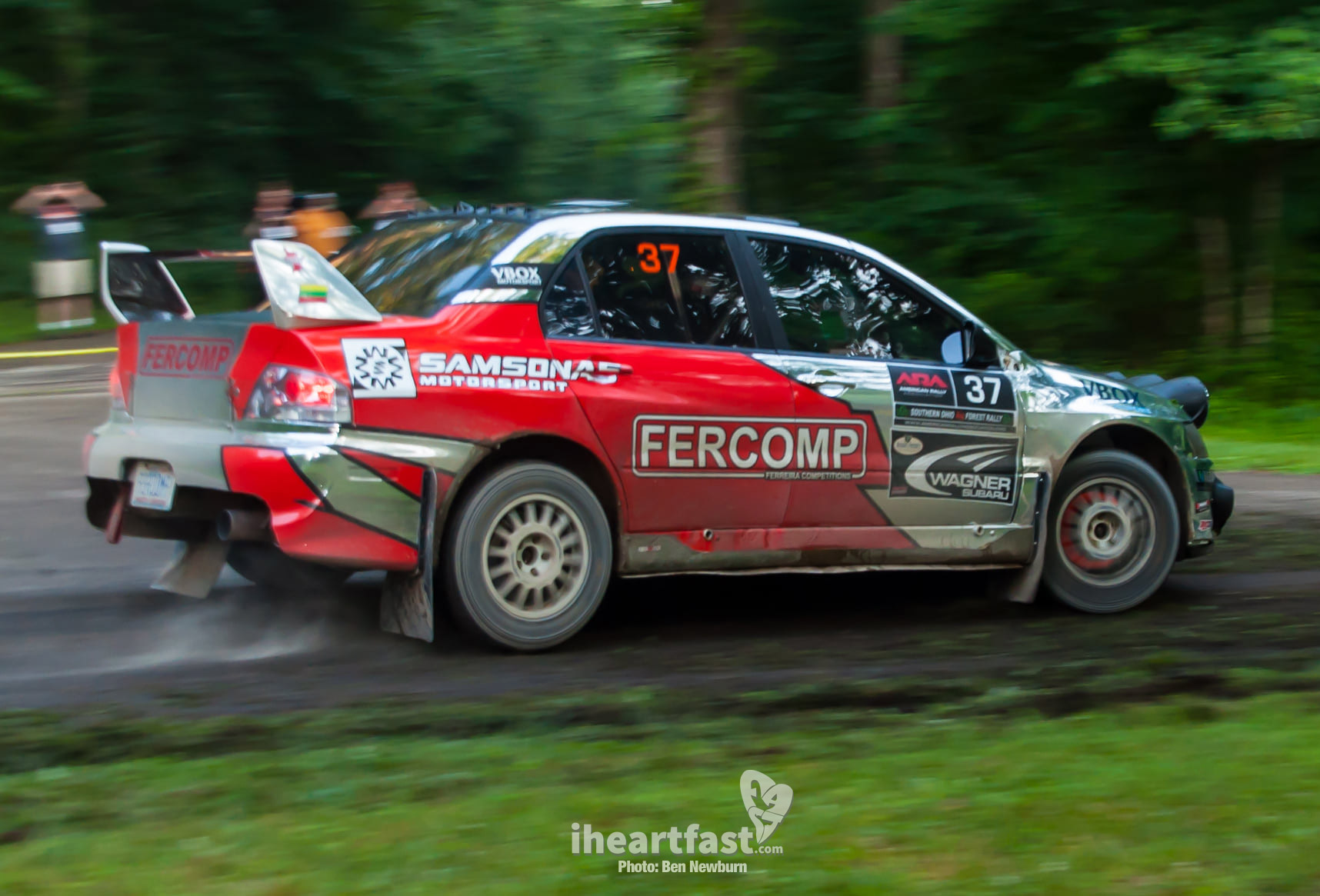 Part 2: Regional Competition
Rally is back! After months without rally due to the Covid pandemic, the American Rally Association Southern Ohio Forest Rally was the first national event since Sno*Drift way back in January. Well we've talked about the National competition over in part 1, so let's jump right into the Regional competition which featured a healthy field of 29 entries.
It would be a tough rally for the regional entries, with many teams facing issues from the heat, even though the event was run mostly during the dark hours of the night. Engines overheating, as well as drivers and co-drivers suffering heat exhaustion and dehydration were just some of the challenges of the night, resulting in ten of the cars that started to retire early.
Overall / L4WD / NA4WD
Making their first appearance since their massive accident last year at STPR, Paul Ferreira and Ozgur Simsek of Ferreira Rally jumped out to an early lead on the first stage. The teams of Kevin Allen / Liz Cordara and Zach Whitebread / Justin VanOeveren were running just behind and in striking distance. Unfortunately, Travis Pastrana's Subaru dramatically bursting into flames caused a cancellation of the second stage, so everyone else in the field was given an assigned time.
The second loop began with six of the twenty-nine already out. Despite being out classed in their 1995 NA4WD Subaru, Allen and Cordara won SS4, beating out Ferreira and Simsek who's EVO was having electrical issues. Whitebread and VanOeveren held on to third place despite a rough fourth stage, losing a bunch of time when Justin got sick from the heat and constant turns.
On the final stages of the night Ferreira and Simsek held onto their lead to take the overall and Limited 4WD regional victory. Unfortunately, Allen and Cordara were caught behind a red cross on the final stage (thankfully nobody was hurt!) getting an assigned time, but still took the win in NA4WD. Whitebread and VanOeveren didn't return for the final loop, retiring from the event.
Meanwhile TJ Pullen and Erin Kelly of Pullen Away Rally Team had a slow start due to a bad wheel bearing and broken gearshift socket, but then pushed hard to leapfrog from fifth to third to claim the final overall podium spot and second in NA4WD, just 4 seconds ahead of Greg Healey and Phil Barnes. Although they missed out on the overall podium, Healey and Barnes would still take home NA4WD class hardware.
Given the circumstances the event was ran very well. The bearing failure and gearshift issues cost us a decent amount of time. Luckily we managed to get enough time back for a 2nd place finish and we're extremely happy with it!

TJ Pullen
The new paint job looked the bomb, I personally prefer twisty stages over super-fast stuff, Phil and the amazing service crew were all able to keep each other awake for the duration, and many thanks to the SOFR team for putting on a great event

Greg Healey
Paul and Ozgur talked about the challenges they faced on the way to the overall victory,
The plan all along was to make a comeback at SOFR. The big question was whether or not I was going to be able to safely buckle in, put my helmet on etc. This week I managed all that. Mission accomplished!

Ozgur Simsek
I was a bit of a nervous wreck coming in. Lots of work on the new car and of course trying to get back up on the horse after falling off last year. We took it super easy. Incredibly easy, not to put a wheel wrong the whole rally. We had issues with engine the whole rally, but was enough to finish. But the best part was the event itself.

We ended up finding where the engine cut was coming from. The positive terminal on the PDM (power distribution module) melted the boot, the wire protection and even the copper terminal itself.

Paul Ferreira
Paul also said that when they found the melted wire, it was so bad it could have led to another Pastrana incident. We're happy that it didn't!
Kevin Allen of RallyCats Moterspurtz spoke about how their preparation led to their class win,
Our event started off with frustration during recce, as we couldn't seem to get the notes right. We practice writing notes in between rallies in the NC/TN mountains and we usually have it nailed after two passes, but because these stages are so busy and complex (and we're both perfectionists) we were still questioning several sections after the first day. But after sleeping on it, doing some video recce Saturday morning and then going out for one more pass of each stage, the notes were good and we were ready. Afternoon naps prepared us for the night ahead and we were feeling fresh for every stage. After taking a mile or two to get used to the roads and the car (we hadn't done a rally since STPR 2019 and we made some changes to the suspension setup since then), we started pushing for speed. We loved Top Gun – there was so much variety in the corners and the tarmac was a really good change of pace. Some of our most fun moments were in the transitions between gravel and tarmac. The only thing that could improve that stage for us would be a few jumps. Our plan is always to have fun, finish and be fast, in that order, and that's how it worked. We couldn't have gotten this result without our crew being so awesome or without what we learned at OzRallyPro a couple of years ago. Appreciation to everyone who made this event happen, and we're looking forward to next year.

Kevin Allen
Despite battling engine issues all night, by the end of SS6 Jordon Haberer and Blake Woody of Bankrupt Motorsports were the only Open 4WD remaining and grabbed the regional class win.
Huge thank you to Southern Ohio Forest Rally for being able to put on a fantastic event that we have all been waiting for! This is our second time racing at SOFR and our first time writing our own notes. As always the stages were the best we've seen at any event. Technical stages, combined with fog, dust, and darkness made for a true test of commitment and concentration. We developed major engine problems about 2 miles into the first stage and we battled them the entire night. We decided to press on and give it our best shot. Our crew was amazing, and so were the volunteers. We will be back next year, this has quickly become our favorite rally.

Jordon Habere
2WD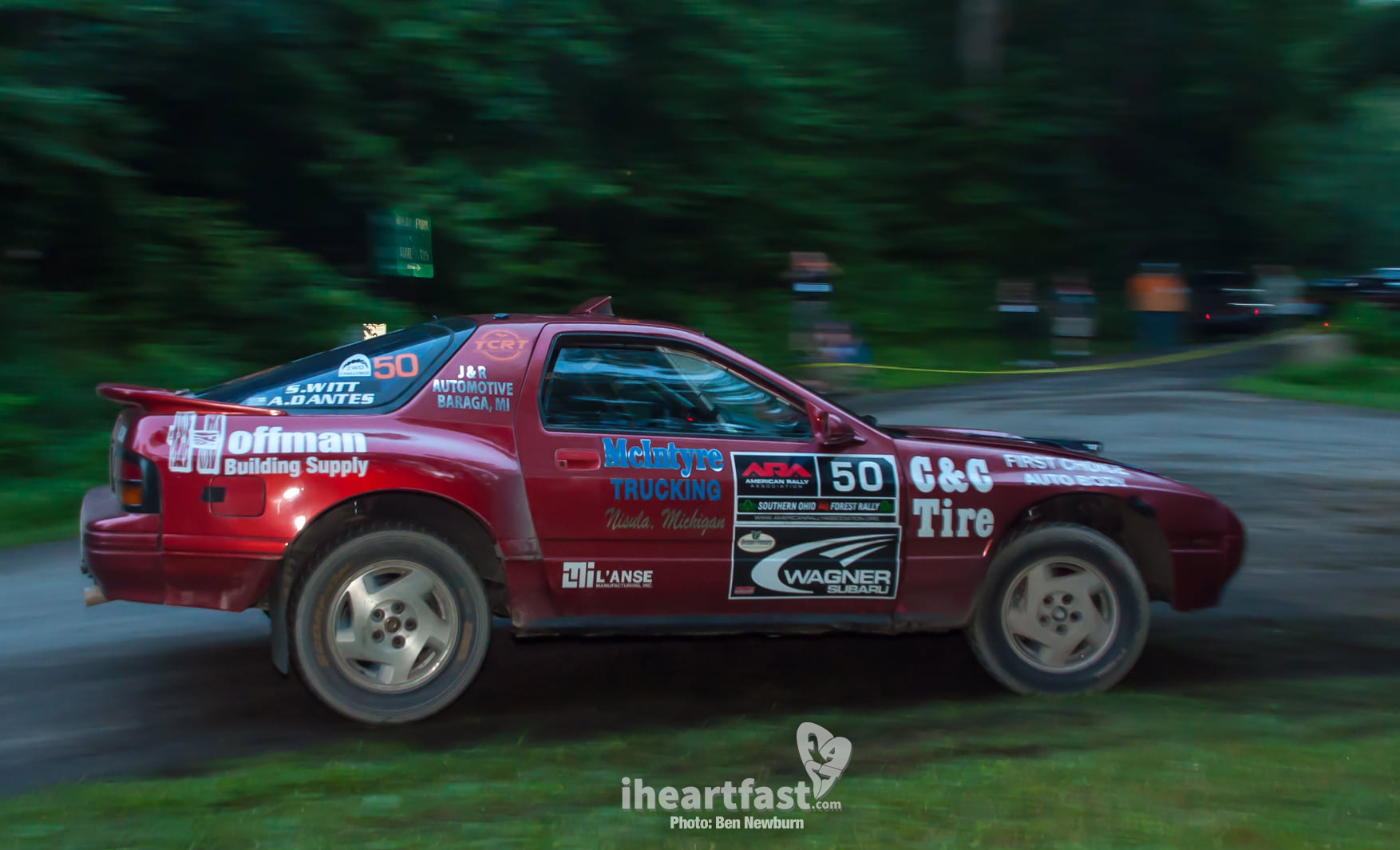 The regional 2WD battle was a fun one with lots of tight competition. Al Dantes Jr. and Shanti Witt of Tower City Race Team got off to a fast start, grabbing the lead early in their LS swapped RX7 and never let go.
As far as the event, it was Shanti's 2nd time ever co-driving and 1st time writing notes. I had originally entered National and planned on running there the entire year. After soul searching, I realized I haven't won an event in 5 years. I understood the only way I could end up on the National podium was to wish for someone else's bad luck. I didn't want to race like that. I switched my entry to Regional the morning of the event. We ran the event clean and firmly believe we would have been EVEN FASTER if stage 2 and 6 were completed. Shanti was amazing and we finished first! I currently plan to battle for another win at Ojibwe vs the mighty SRT4 of Matt Coatsworth.

Al Dantes Jr.
Ryan George and Heather Stieber Bearded Ryno Rally Team suffered a bent control arm on their E36 BMW during the second loop, but still grabbed the 2nd place spot.
The Southern Ohio Forest Rally holds a special place in our hearts because it was our first ever rally last year (2019). We were beyond excited to see SOFR rescheduled as a night rally – the roads here are just incredible.

Overall, our rally went pretty well, but there were a few kinks along the way. This was only our second time writing notes, so that's still a stressful task for us. We put in the time to make multiple passes and study video to get a set of solid notes. The car felt great despite a bent control arm due to a slight off on stage 4. We are excited to have finished another rally and look forward to our next one at Ojibwe.

Ryan George
Rounding out the Open 2WD podium in another BMW were regional points leaders Calvin Cooper and Kelsey Stephens of Cooper Autoworks. It was a calculated drive, but not without issues as Kelsey had moments of illness like so many others over the weekend.
The stages were technical and uncompromising. They put our note making skills to the test. We are really happy with how the car performed after making a few changes in our down time. It felt great to not only be back racing again but also to earn our first podium at a national event!"

Kelsey Stephens
Meanwhile over in the Limited 2WD class, there was quite the night shaping up as Brian Katz and Kevin Brolin of River City Rally claimed the early advantage with the teams of Santiago Iglesias/Robert Kassel of Escuderia Boricua Rally and Derek James/Brian McNamara of James World Rally Team rounding out the top 3.
Iglesias and Kassel would put some pressure on Katz and Brolin during the second loop, jumping into second place above James and McNamara and only 45 seconds back from Katz. They would continue to push closing the gap to just 15 seconds, but with the final stage being cancelled it wasn't enough.
It took me too long to shake the cobwebs off. By Stage 4 it was feeling great and we won by a good margin. We also made up lots of time in SS5. We were flying on 6 before we got to the Red Cross. We might have been able to take it back. But that's rally. Brian (Katz) said he had new tires and suspension. We were on tires that saw STPR and LSPR.

Santiago Daniel Iglesias
James and McNamara had a satisfying run taking the final podium spot in the last planned event for their Ford Fiesta which will soon be replaced by a new project car.
New members on the team, new to writing notes, new to Irish accents. The roads were super challenging to get into a rhythm but I found out that I really like tarmac. In the end everything came together and the team was great!

Derek James
Not only was Katz the fastest of all the BMWs entered, it was his first ever class win.
SOFR 2020 is an event I will remember forever! Covid protocols, rally all night, and my first win! Honestly I'm just glad to be bringing the car home in one piece, the exposures here in Ohio are no joke!

We came here with Kevin Brolin as an emergency replacement for my usual co-driver Matt Vaught. Huge thanks to Kevin for stepping in and calling a great race! We put a lot of work into the car over the off season. New suspension was the big upgrade and I'm very satisfied with the results we are seeing. The roads were tight, the visibility was impaired, and the night was long so we just ran a semi conservative pace and it worked out in our favor!

I can't thank my team enough for their support to make this happen! Crew, Flake, Austin, and Will took great care of us and the cars all weekend. Also, Hooper and Claudia for setting the standard of what it takes to run a competitive rally program! Figs Engineering and G-Loc brakes for all they do to support River City Rally Team. Finally a huge thank you to the SOFR team for producing another fantastic event! We'll definitely be back next year!

Brian Katz
Next up on the American Rally Association National Championship schedule is Ojibwe Forests Rally in Minnesota in late August. Check out the American Rally Association site for more details of the remaining events as they could change at any time.
Once again a special thanks to Mike Shaw of Open Paddock Rally for providing all of the driver and co-driver quotes from the event and helping with editing. Make sure to follow Mike Shaw Rally on Facebook, Instagram @oregonwings74 and don't forget to check out his amazing RallyCast podcast on Open Paddock.
Follow iheartfast on Facebook and Instagram @iheartfast_official to stay up to date and see the best rally photos.