2019 ARA Susquehannock Trail Performance Rally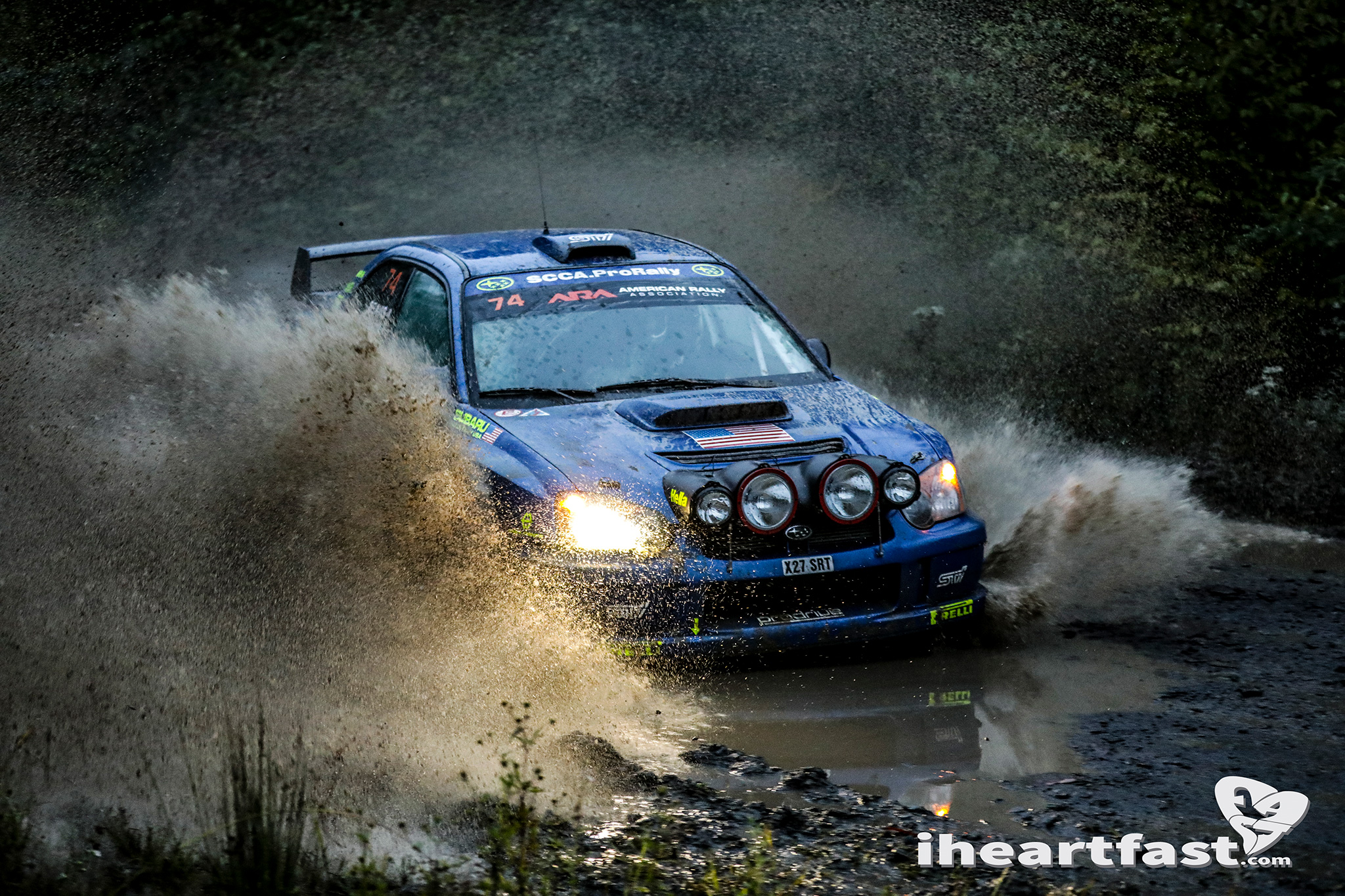 The 2019 edition of the American Rally Association Susquehannock Trail Performance Rally was a wet and wild affair. Rain fell for most of the weekend making for some slippy roads and treacherous conditions. With only two events remaining on the ARA schedule, David Higgins and Craig Drew entered the event with a chance to wrap up the 2019 Driver's and Co-Driver's Championships. Oliver Solberg, making his return, after missing the previous rally at Ojibwe, would be looking to challenge his Subaru teammates and attempt to pick up his second victory of his rookie season.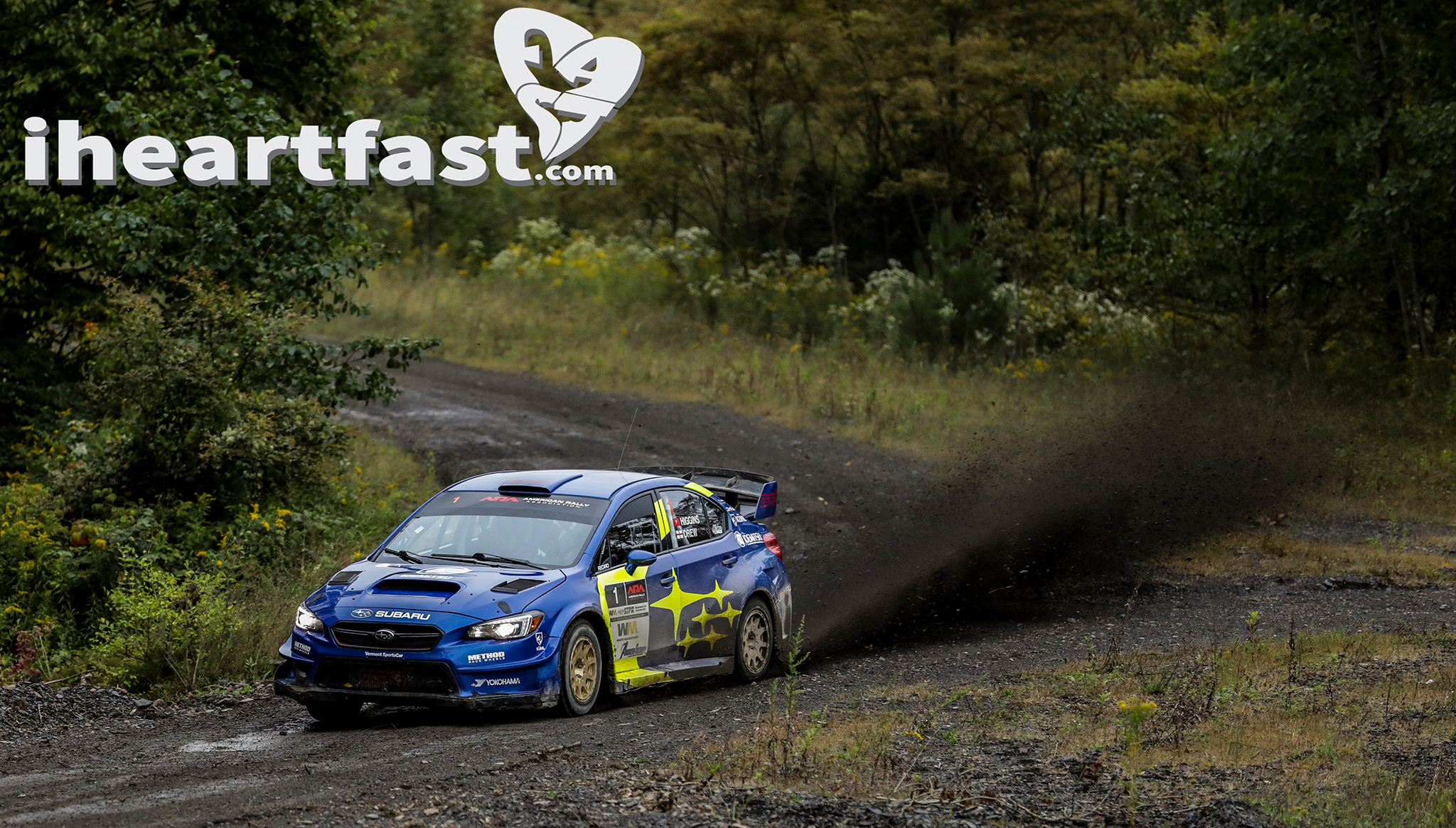 Solberg and co-driver Aaron Johnston jumped out to a quick start, taking stage victories on the first two stages and a twenty-two second lead over Higgins and Drew. Meanwhile, Barry McKenna and Andy Hayes, running in third position after the first stage, would get stuck on a hairpin on the second stage losing seven minutes. Higgins would fight back with a stage win on the third stage, but Solberg would take stage victories on six of the last seven stages after Higgins suffered damage to the fan system of the car causing a power loss. Solberg would end the day with over a one minute advantage.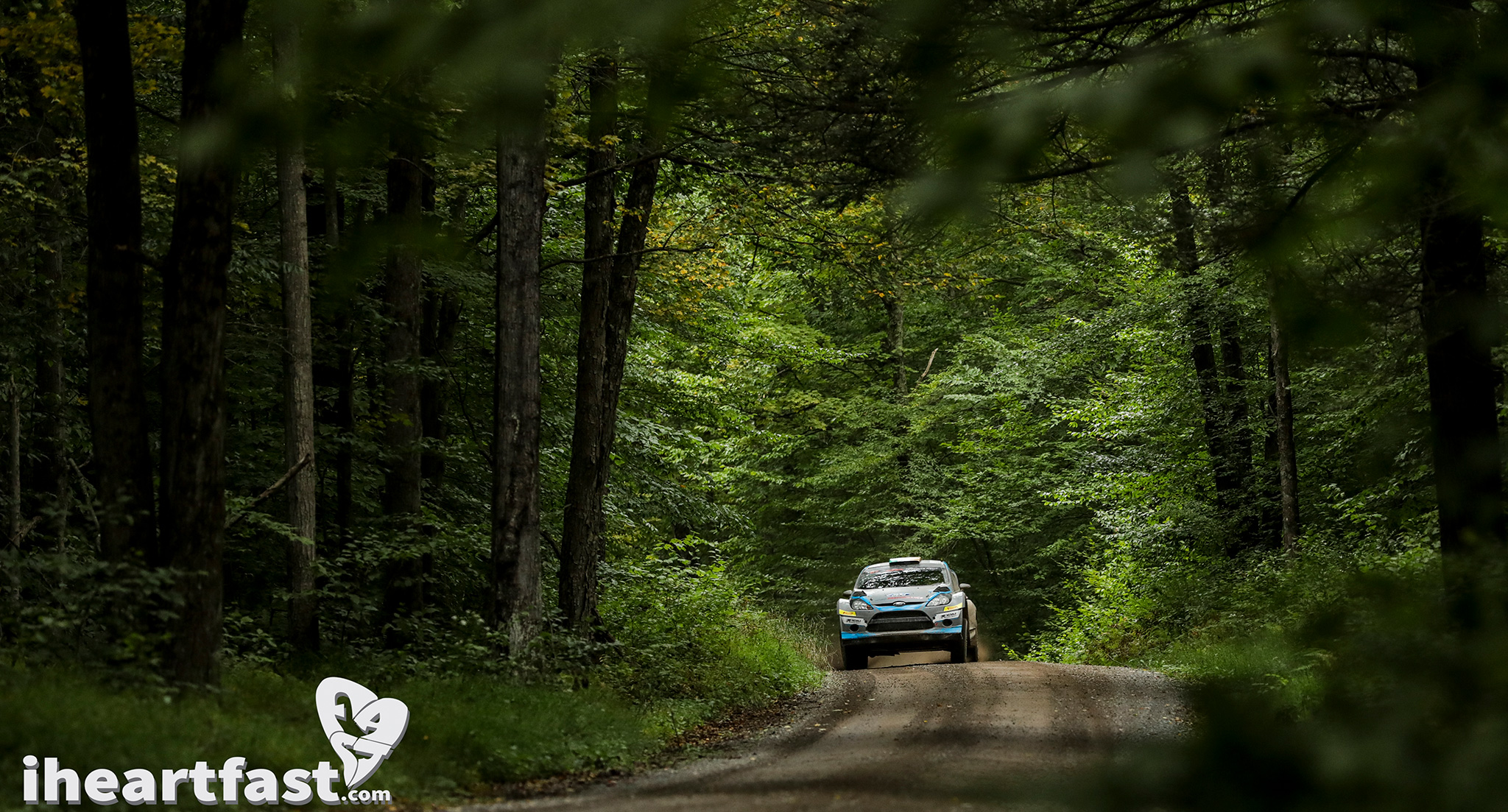 McKenna would climb back up to fourth position by the end of the day, one spot out of the podium, just behind Ramana Lagemann and Chrissie Beavis in their WRT ProDrive Subaru. Unfortunately, Lagemann's Subaru would suffer damage from the rough stages of the day and would be forced to retire after the first day.
"We broke some stuff on the car in the Waste Management stage. That stage to me… I don't know why we run it. It's totally out of character for the rest of the rally and it's just a car breaker. I think there could be a better way to have a stage here for spectators, which we definitely want to entertain, but beating the crap out of your car over 10 miles 4 times over the rally… I like most other competitors are self funded and doing for fun, and it's not fun when you're hammering on your equipment," Lagemann told Mike Shaw of OpenPaddock Rally at the end of Friday.
Lagemann would not be the only casualty claimed on Friday. Ryan Booth and Rhianon Gelsomino, who were leading O2WD after the first two stages would roll the car on the third stage and be forced to retire. Paddy Brennan and Matt James who were running in fourth through stage four also were forced to retire after suffering engine failure. All in all eleven cars were lost from competition before the end of Friday's stages.
Amanda Skelly and Sarah Freeze had a scary moment as they crossed the finish line of the final stage of the day. After losing a wheel bearing, blowing a shock and then losing brakes, a fire broke out on the rear corner of the car. Luckily, several teams sprung into action and quickly put out the fire. The team was able to get the car fixed up and ready to return for action on Saturday.
Saturday's Competition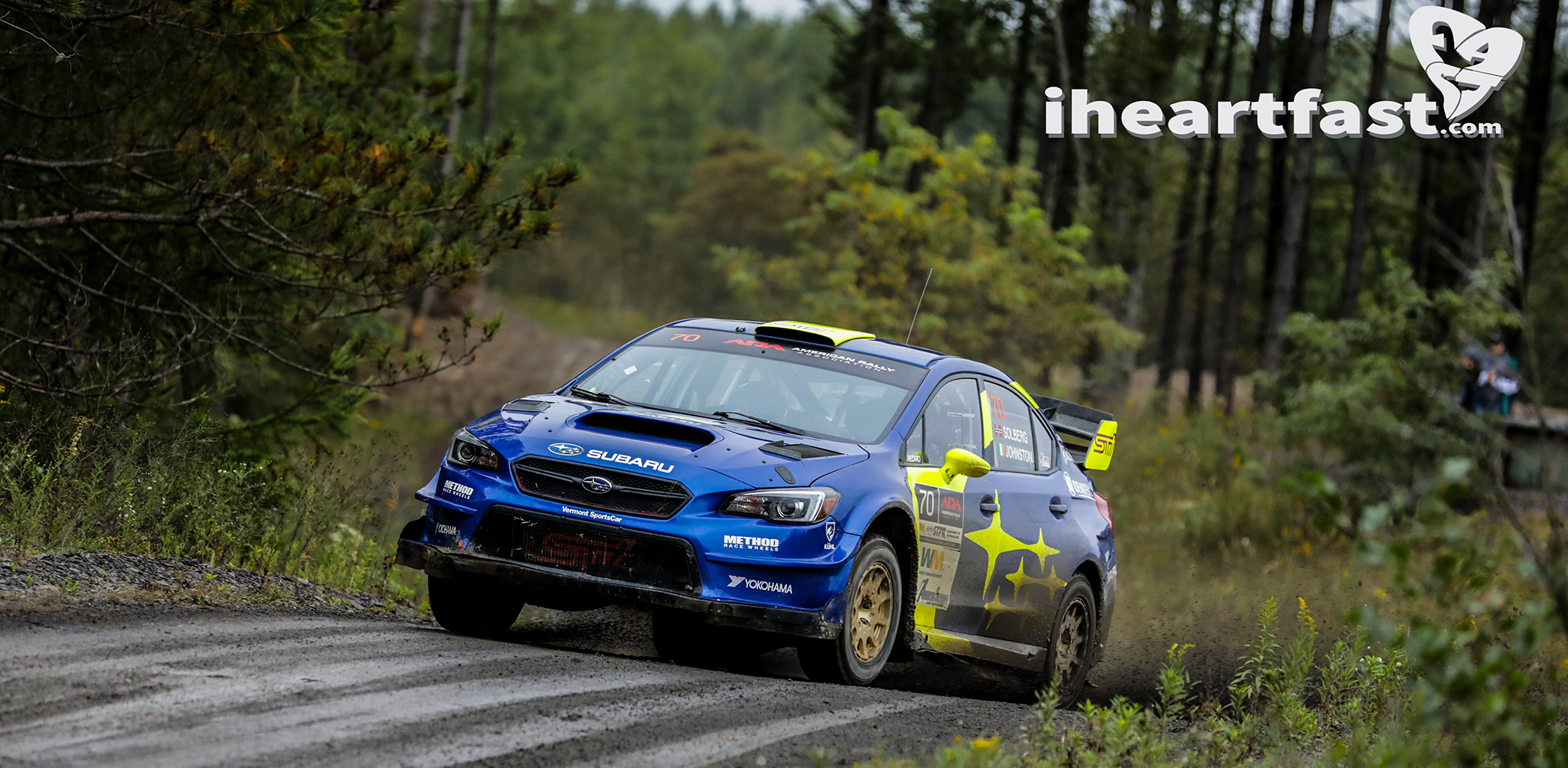 With only five stages on the final day of the event and some very slippy roads, Higgins would be hard pressed to make up enough time to catch Solberg. However, Solberg would suffer a mechanical issue on the third stage of the day causing his Subaru to operate only in Front Wheel Drive. The issue allowed Higgins to make up thirty-three seconds on the next two stages before Solberg was able to get his car fixed. Solberg was then able to take the stage win on the final stage and secure his second victory of the season.
"Fantastic! It's been a very challenging rally! I thought it was going to be problem free, it wasn't. It was tough this morning when the drive shaft broke, but we still lead with a lot and now I did a fantastic stage! Probably the best stage of the whole weekend," Solberg told Mike Shaw.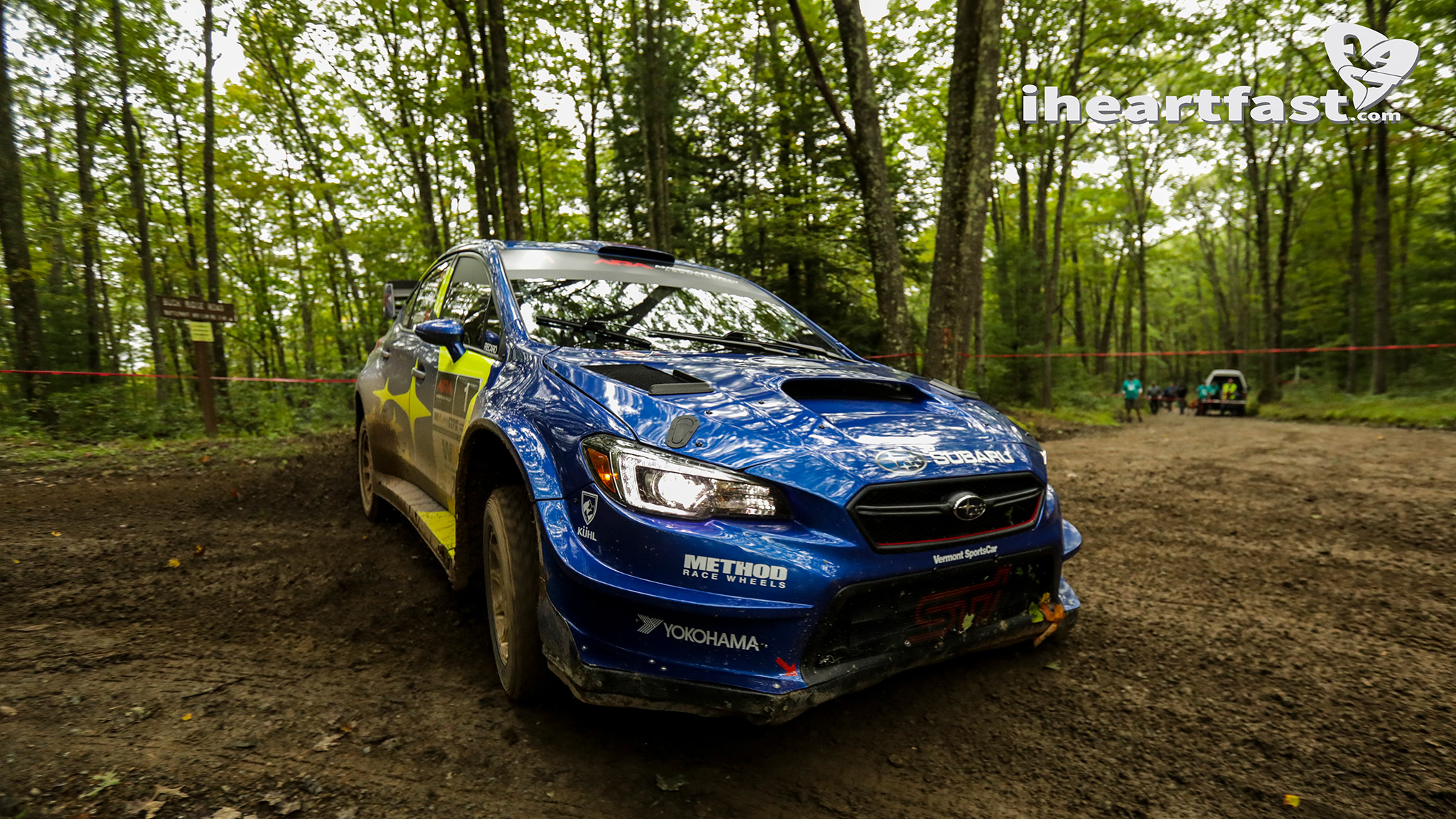 The second place finish by Higgins and Drew was enough for them to wrap up the 2019 American Rally Association Championship. The championship marked Higgins' 10th and Drew's 8th U.S. Rally Championship. Higgins told Mike Shaw, "It was good to get the championship, that was our goal all weekend. So done the job now and pretty happy about that. 10 Championships now [in America], so pretty stoked on that!"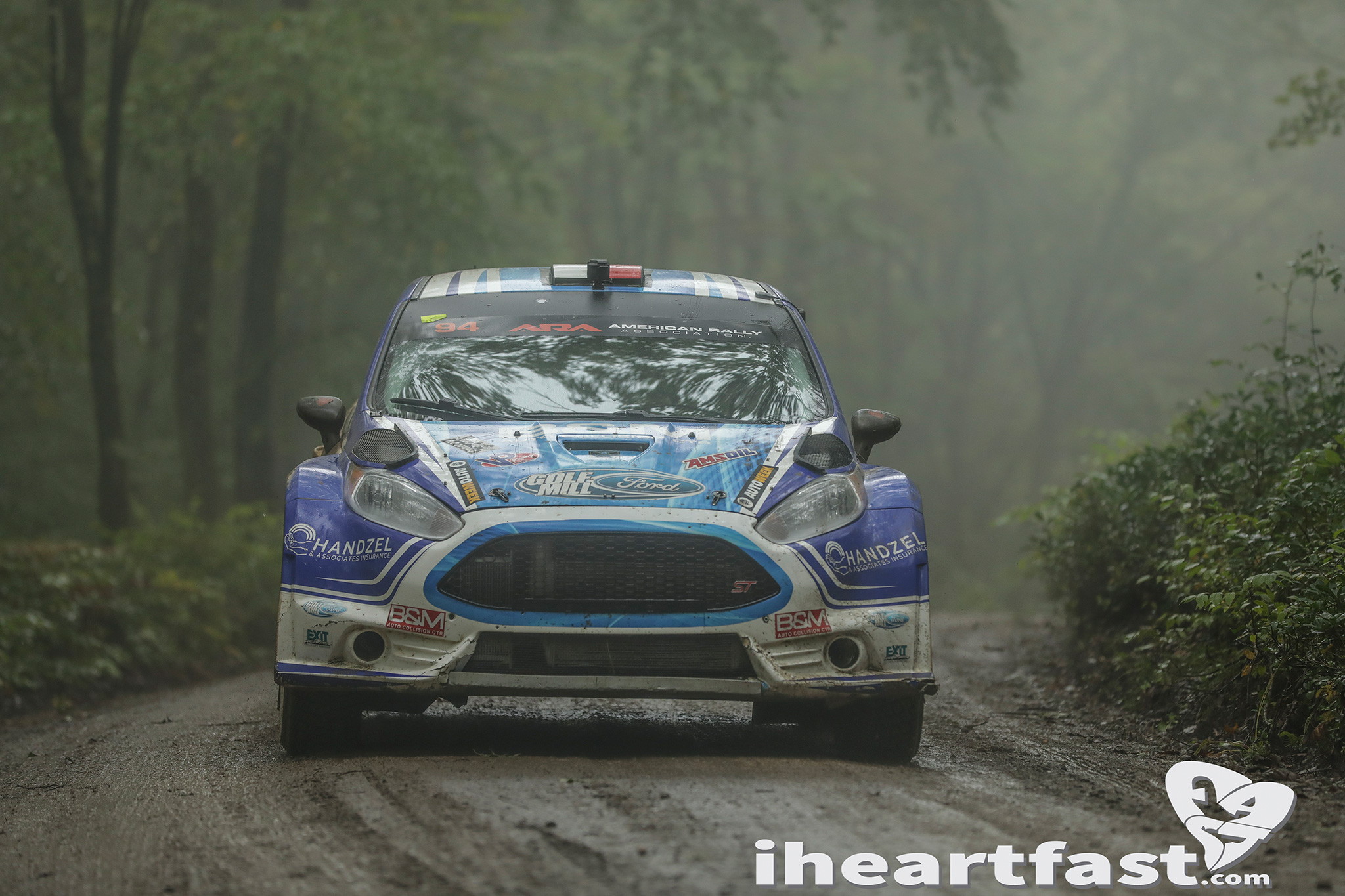 McKenna rounded out the podium positions, battling back from his slow start to take third ahead of Piotr Fetela and Dominik Jozwiak who suffered from center differential issues all event. Fetela told Mike Shaw, "This year we have had already three 4th places, but I can't complain! 4th is good behind those guys! So tough an event for us. The whole event we ran with an issue with the center differential, so the car feels like front wheel drive which was not easy to drive especially in these conditions. Can't really complain right now, thank you all so much, it was a great weekend!"
McKenna and Fetela are now tied for second overall in the Driver's Championships standings.
L4WD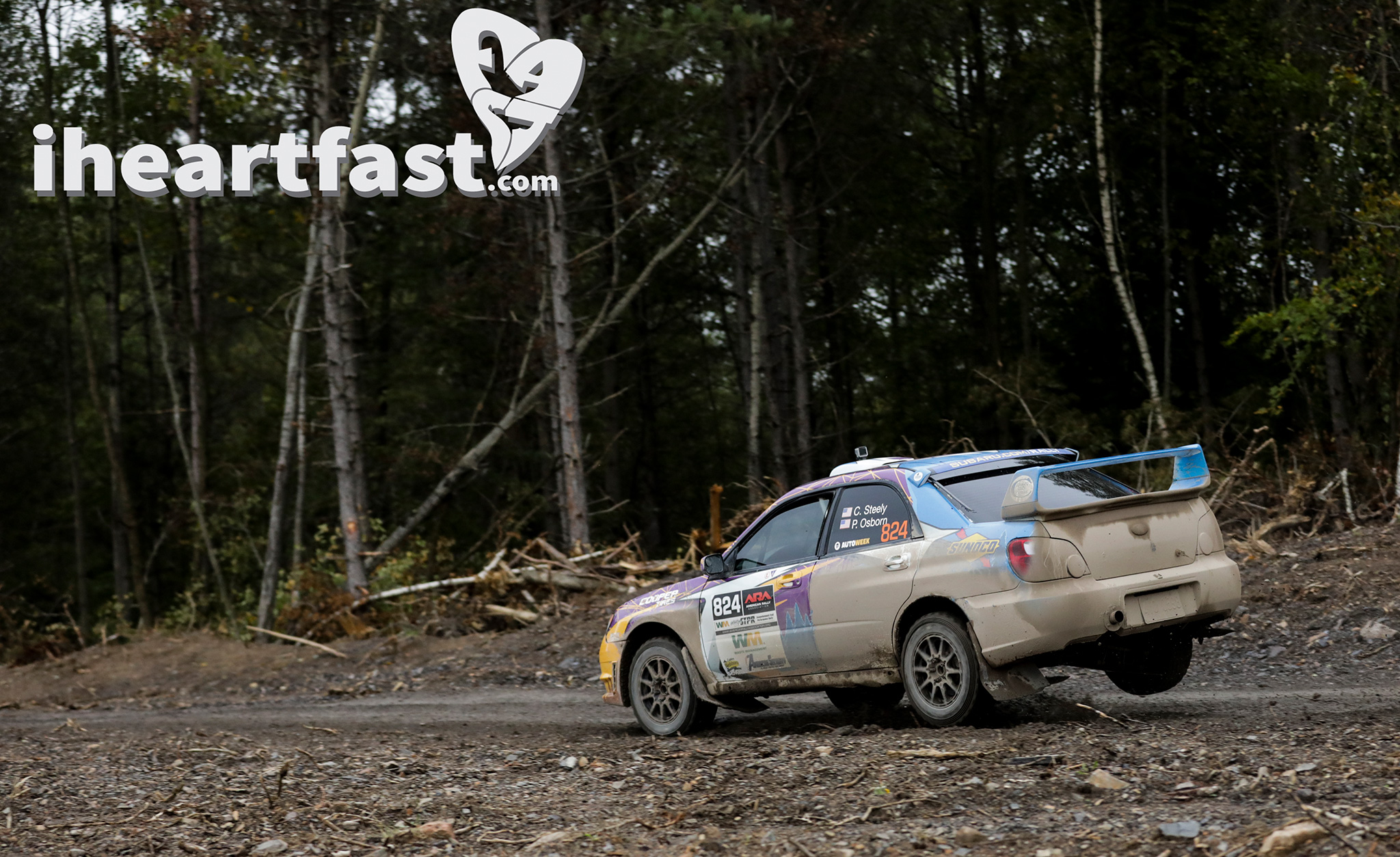 Cameron Steely and Preston Osborne of O.D.D. Racing wrapped up the Limited 4WD Championship with the L4WD victory at STPR and the fifth overall finish. "Tricky conditions as always at STPR. Cam had only finished 1 out of 6 STPR going into this race, so the goal was finishing to clinch the championship. The rain changed the road conditions after recce, but our experience with this race gave us an idea on what they would look like. He drove fast but smart all weekend, which ended up giving us the win and the L4WD championship. Lots of crashes and injuries so we wish everyone speedy recoveries," said Preston Osborne.
O2WD
With Ryan Booth out early, the battle in Open 2WD was fought out between the Lexus IS350 of Michael Hooper and Claudia Barbera and the Subaru BRZ of Erik Potts and Erin Kelly. Hooper would be too much for Potts taking a dominant win in very tricky conditions. Jordan Guitar and Zach Pfeil would round out the podium in their Honda Civic.
Hooper said, "Very challenging event for us having made my own notes for the first time and having particularly tricky stages. My notes still need some adjustment but big step in right direction… Many thanks to Claudia for adapting on the fly and keeping us on the road 'til the end… Booth is going to be a force for sure as his pace was blistering. We are looking forward to more battles later this year and the next as 2WD field deepens!"
The BMW of Calvin Cooper and Kelsey Stephens also suffered an off on stage eleven but were pulled out by sweep and were able to continue on. Kelsey said of the event, "It was rough for so many people! Those roads are insanely fast and crazy slick. Made for a very rough weekend for a lot of folks. It was certainly a test of commitment. We had an off on stage 11 when Calvin went a hair wide on a L4 the marbles swept us off and into a tree. I believed he would save it up until I got a glass shower and there was a tree where my window used to be. Kevin Binkley materialized out of the forest and took photos. Heavy sweep pulled us right out and we pressed on. Our service crew did an incredible job patching up the car before the last stage. Blew what little life was left in our suspension on the big jump and ended with some interesting camber."
NA4WD
The battle in the National NA4WD was a tight one as the Subaru of Nathan Usher and Marianna Usher was running neck and neck with the Subaru of Jon Kramer and Jason Smith with the exception of a flat tire suffered by Kramer on stage two, giving the Ushers the win. Fabio Costa and Boyd Smith would round out the NA4WD podium.
"A long weekend with challenging conditions. Slippy spots basically both days. Some really fast spots where you could get up to 110 or so and you get scared and slow down just a bit thinking, you know something could go wrong here. Went pretty well… Overall, a good weekend. We were pretty much running even with [Jon] Kramer yesterday except for his flat tire. And today we ended up being faster even though I didn't think we were pushing harder. The clutch issue was slowing us a little bit at the stage starts and the hairpins, and we developed some sort of fuel leak which we can smell, but we can't see. So…luckily we made it to the end and we'll get to deal with that at home on Monday I guess," Nathan Usher told Mike Shaw.
L2WD
The Subaru BRZ of Santiago Daniel Iglesias and Steven Harrell dominated the L2WD class taking the victory over the goSpeedRacing Fiesta ST of Robert Sanders and Karen Jankowski.
Santiago Daniel Iglesias said of the event, "Crazy weekend. Happy to have survived it. The weekend started out great. Thursday night parc expose was fun, we did a big smokey burnout on the way out. Early in to stage 2, I hit two large rocks at the same time going into a right turn. One punctured the tire and the other came through the floor right under my seat, full Timo moment. Hats off to my crew chief Erik… We got the car back together and got out of service just in time (30 minute service!) We got the National L2 win and clawed our way back to 3rd combined L2. Had we run 12 and 13 we may have even gotten more. This also gives me the lead in the East L2 championship (sorry Mike). Our pace was the best it's ever been and I'm super pumped for LSPR!"
Karen Jankowski said, "STPR was a great event for the goSPEEDRacing team finishing 2nd in the national L2WD class in their first time at this event. Roads are fast, super slippy especially Friday and extremely tricky, there is absolutely no room for error. We took advantage of the two day recce which allowed us to really focus on our notes. Super proud of Rob who has competed in every single ARA event in his first season and finished all but one. Now we focus as a team on a new car, new class, new sponsors and a new set of goals!"
Regional Competition
In regional competition, The MAP Rally Team of Mark Piatkowski and Aris Mantopoulos ran away from the competition, taking the regional overall win by over five minutes despite having wheel bearing issues. They would've also taken the win in the National NA4WD class by nearly three minutes had they been a National entry. Piatkowski told Mike Shaw, "It feels really good! I was honestly a little bit worried, but didn't want to tell you at the last service. We had a bad right front wheel bearing and this is like the worst place for that to happen. It pained me to go slower, but we're here and we're at the finish. First in class and first overall regionally, and I think 8th or 9th overall of the entire rally. It exceeds my expectations. So I'm thrilled! Maybe with a little bit more power maybe we could do a bit more [and enter National class], so we'll see. I mean, these slippy conditions suit this car right? It's kind of an equalizer. Anyway, it feels so good! So relieved!"
One of the great stories of the rally was Eric Kirse and Sean McElhare who finished second overall regionally and second in NA4WD. Last year Eric Kirse came out to STPR as a volunteer and this year he was on the overall regional podium as a competitor. The Subaru of Kevin Allen and Elizabeth Cordara finished out the overall regional and NA4WD podium.
Limited 4WD was a tight one all the up to the end with Mitsubishi EVO of Con O'Sullivan and Aileen Kelly eking out the win over the Subaru STi of Emmanuel Cecchet and Mike Willard by just 22 seconds. O'Sullivan told Mike Shaw of the victory, "It's a tough one [this rally], especially this stage here. Very good weekend, very enjoyable. Happy I finished." The Subaru WRX of Nick Balzer and Mike Brown rounded out the podium positions.
The Open 2WD class suffered heavy casualties, with only half of the field finishing the event. John O'Sullivan and Shane Farrell were able to keep their Ford Fiesta on the road and take home a dominant Regional O2WD victory, beating out the BMW of Joshua Hickey and James Spoth by over eight minutes. The final podium position went to the VW Golf of Scott and Michael Beliveau.
Also wrought with casualties was the Limited 2WD class which also lost six competitors to the treacherous roads of Pennsylvania. It also featured some of the closest and exciting action of the event. The Fiesta of Derek and Jessie Dekar battled the Pontiac Vibe of Doug Gekiere and Matt Hoffman, taking the win by just 22 seconds. Despite taking a 90 second penalty for getting out service late after losing both rear rotors on their VW Golf GTi, Luke Horrocks and Garnett Hayes took home the final podium spot finishing just over a minute off the leaders and by less than a second over the fourth place finish Fiesta of Derek James and Jess Apostolakes knocking them off the podium on the final stage.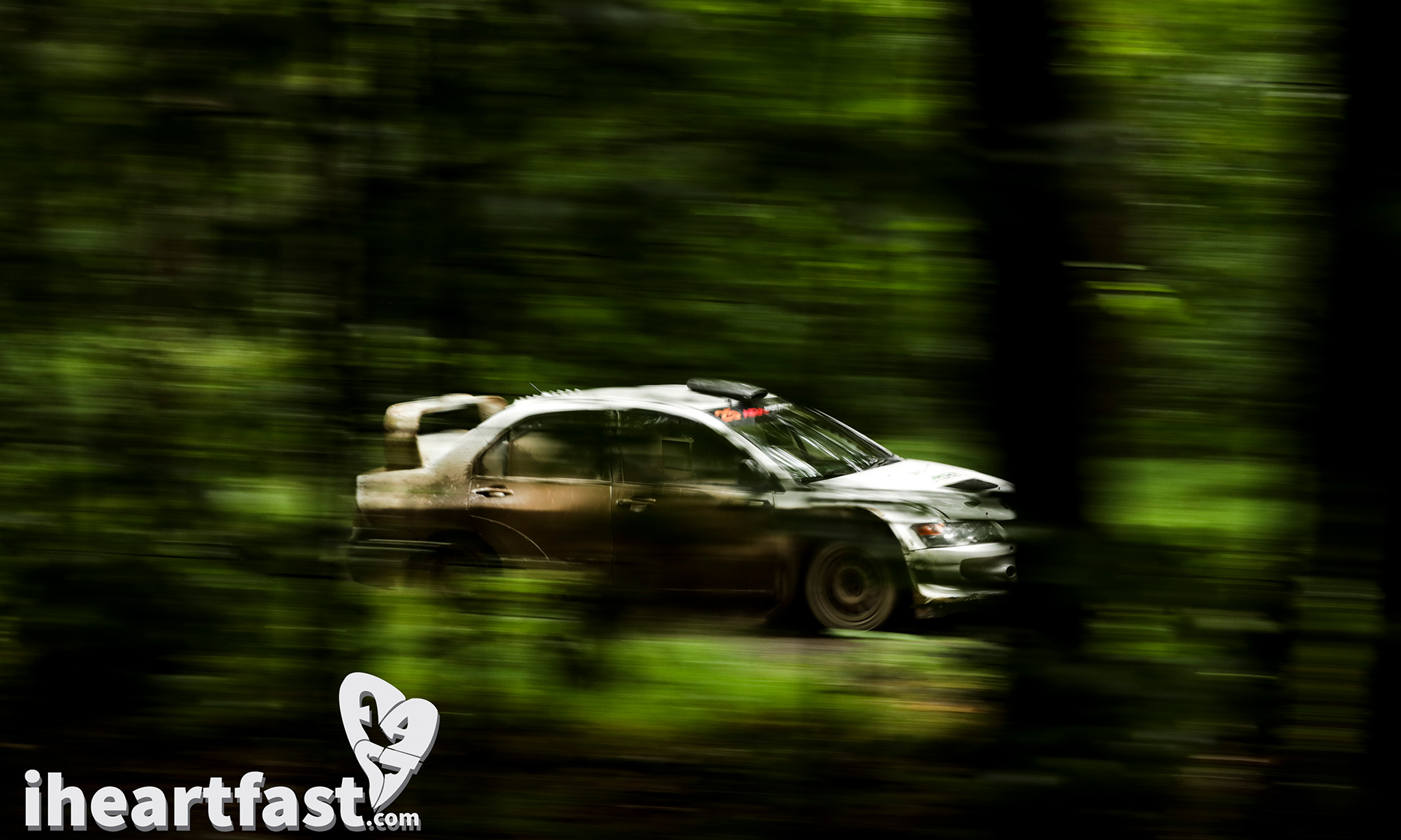 The final round of the 2019 American Rally Association schedule is the Lake Superior Performance Rally on October 18-19 in Houghton, MI. For full results and more information visit the American Rally Association site.
Special thanks to Ryan Stermer Photography for the photography from STPR. A big thanks to Mike Shaw for providing most of the driver/co-driver quotes and make sure to follow Mike Shaw Rally on Facebook, Instagram @oregonwings74 and check out his most excellent podcast on Open Paddock.
Follow iheartfast on Facebook and Instagram @iheartfast_official to stay up to date and see the best photos.