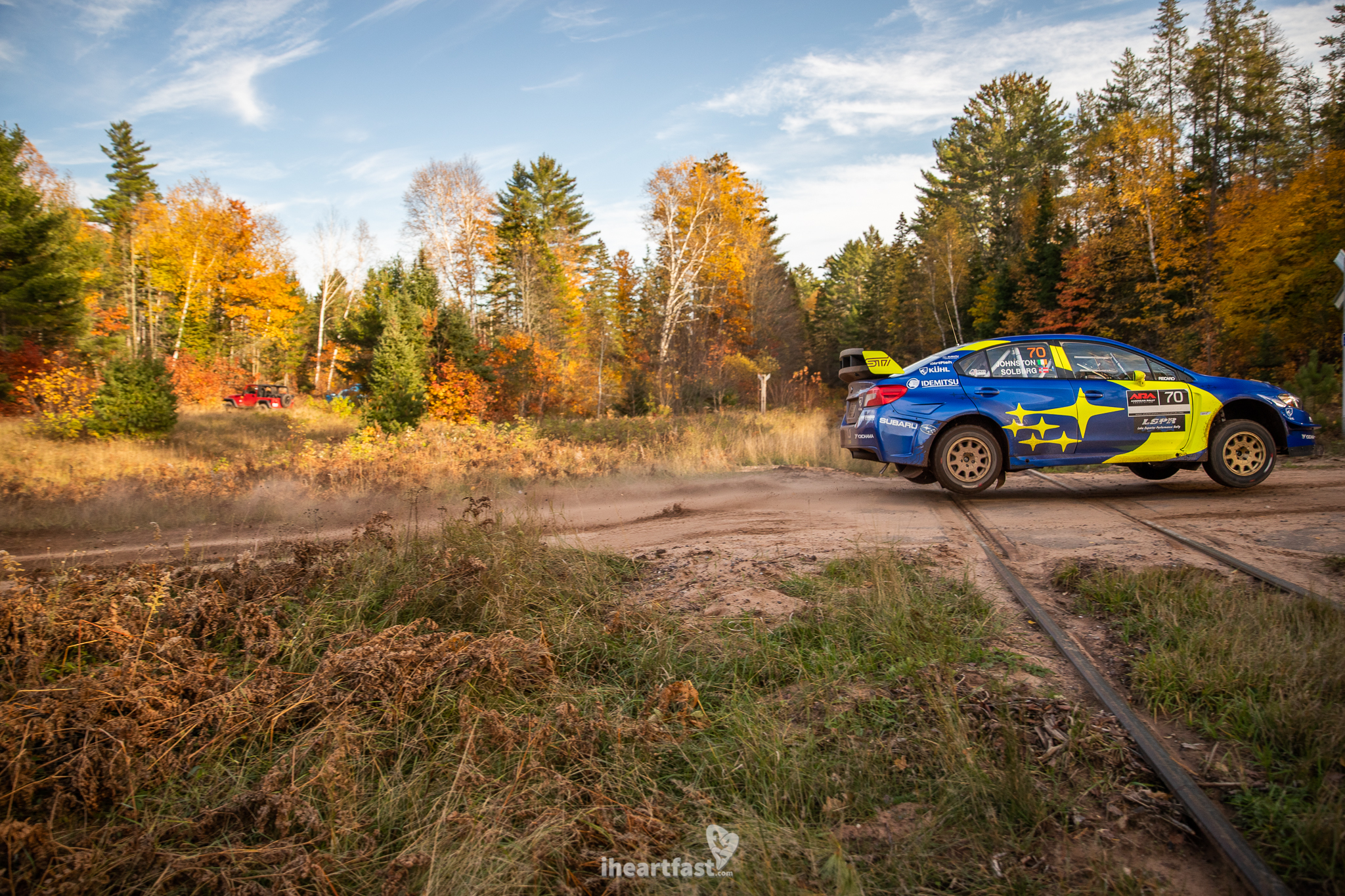 The 2019 American Rally Association National Championship season would come to a close amidst the colorful autumn foliage of the Upper Peninsula of Michigan at the Lake Superior Performance Rally. David Higgins and Craig Drew had already wrapped up another championship for Subaru Motorsports USA at the previous event, STPR, so the focus shifts to the battle for second place. Barry McKenna and Piotr Fetela enter LSPR tied for 2nd, while the rookie phenom, Oliver Solberg, was well within striking distance and should things go awry for those 3, Cameron Steely was mathematically still in the hunt.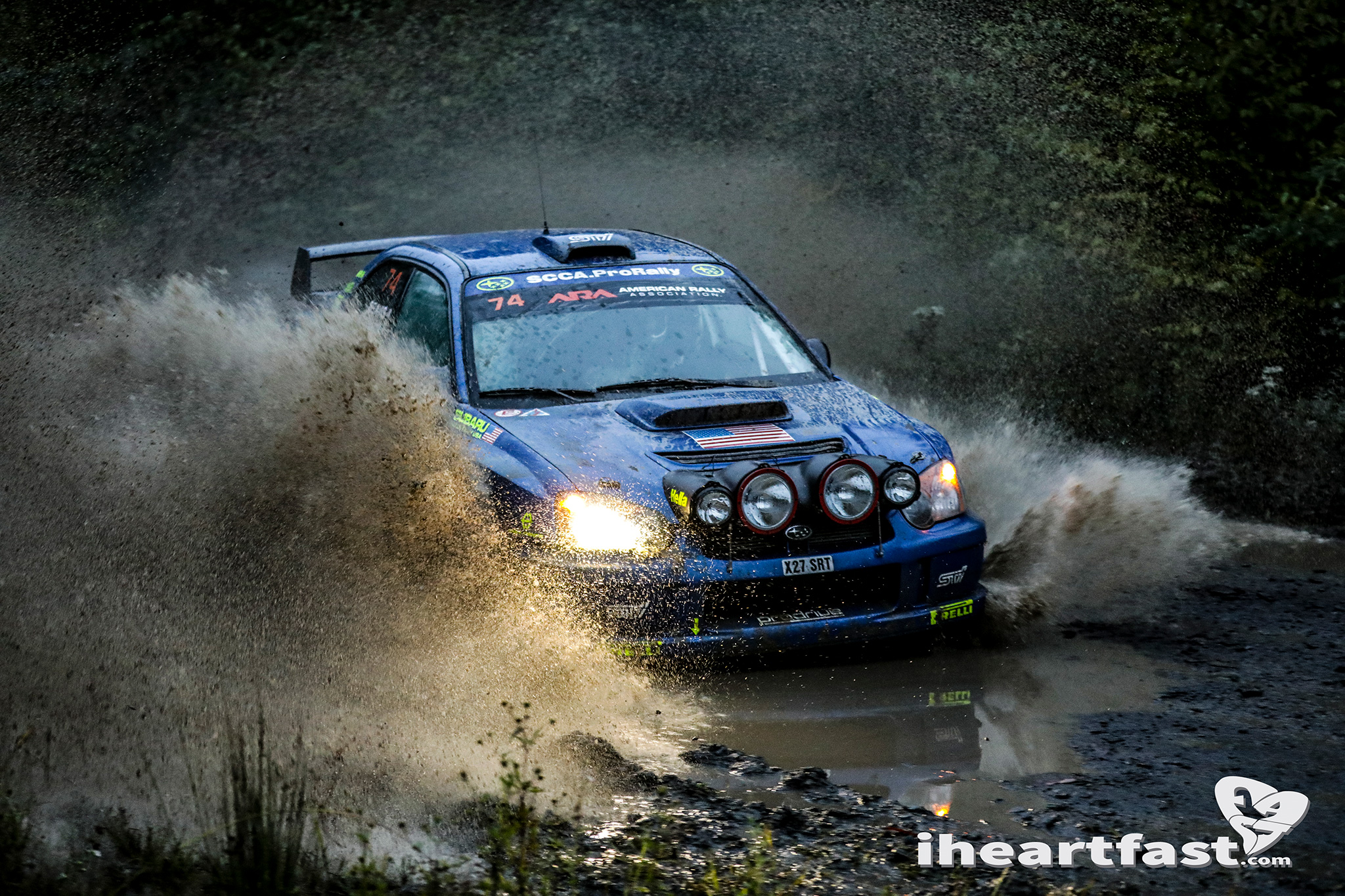 The 2019 edition of the American Rally Association Susquehannock Trail Performance Rally was a wet and wild affair. Rain fell for most of the weekend making for some slippy roads and treacherous conditions. With only two events remaining on the ARA schedule, David Higgins and Craig Drew entered the event with a chance to wrap up the 2019 Driver's and Co-Driver's Championships. Oliver Solberg, making his return, after missing the previous rally at Ojibwe, would be looking to challenge his Subaru teammates and attempt to pick up his second victory of his rookie season.
Mosquitos and wolves and bears, oh my, that was the story of the 2019 American Rally Association Ojibwe Forests Rally. The mosquitos were unrelenting, as they swarmed around the road and if you dare sneak a few feet deeper into the woods their numbers doubled and tripled. Some speak of a pack of mosquitos, the size of feral hogs, roaming the forest. A bear was spotted on recce, a wolf on a transit, and, oh yah, there was some exciting rally action as well.
The 2019 American Rally Association New England Forest Rally would be one for the record books. Record heat swept across Maine and on Saturday, the all-time hottest temperature for that day was set at 3 AM. It got hotter from there and the longest day of the rally, felt even longer. Rally teams took measures to combat the heat, buying up all the dryer venting they could, in an attempt to route more air into the cabin of the cars and cool down the driver and co-driver. The insects sure didn't mind the heat, in fact they seemed to thrive in it. Even after multiple applications of bug spray containing high doses of DEET, they swarmed all around me. I have to say, Maine has one of the largest varieties of insects I have ever seen. Mosquitos, many types of flies, bees, ticks, beetles (including a strange white and black water beetle), a fuzzy spider that was at least 4 inches wide hanging out half on a rock and half in the river and many others, too numerous to count were all spotted. It was so hot that I didn't mind when I slipped on a rock and splashed into a river and, I may have even contemplated wading out into the river just to cool down.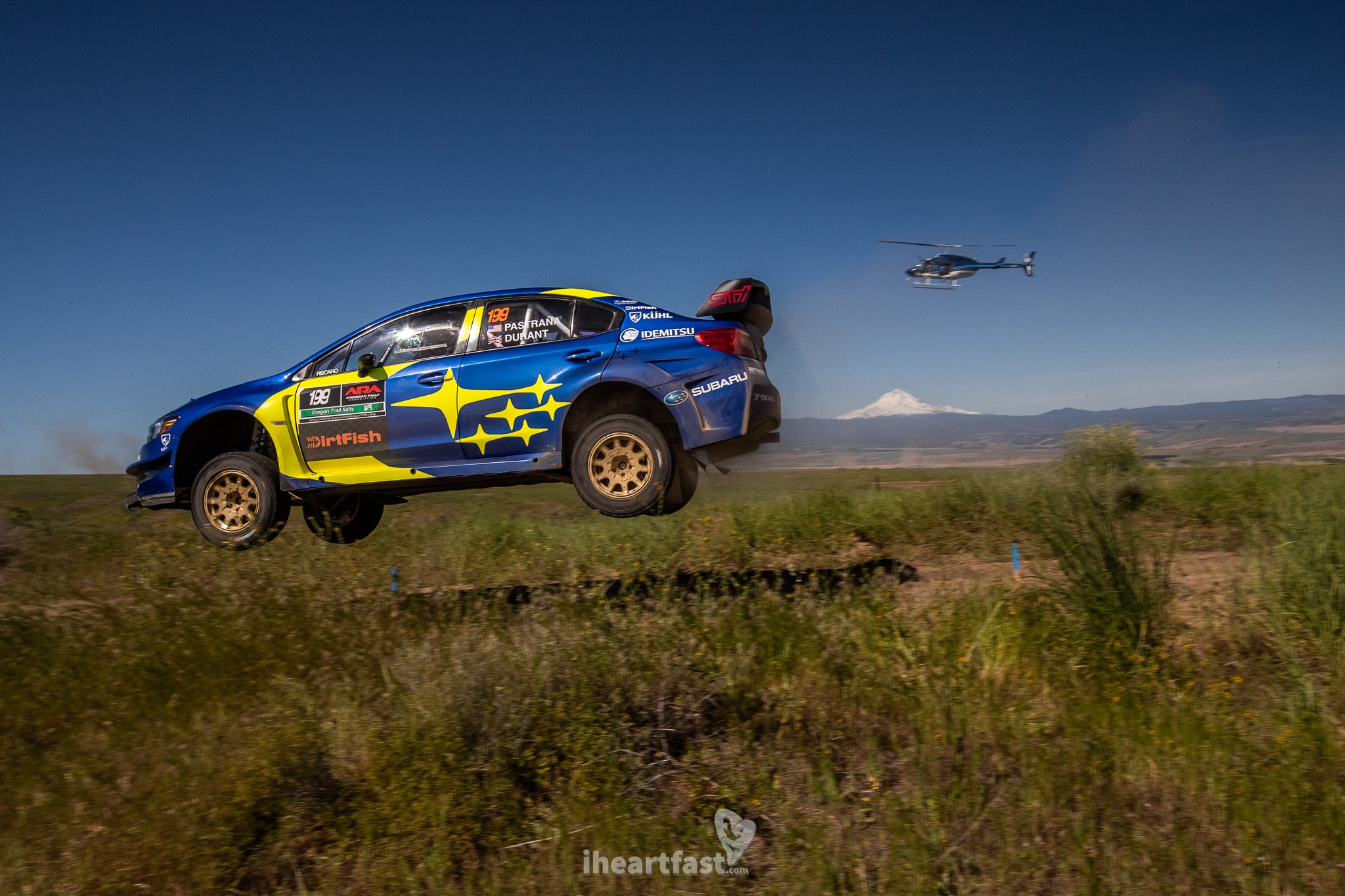 The 2019 edition of the American Rally Association Oregon Trail Rally was scheduled to get underway over a month later than its usual mid-April date. One wouldn't think that in the span of just one month conditions would change that drastically. Yet, as I set out on recce, it was evident by the almost complete absence of wildflowers which normally line many of the stages in abundance, that something was different.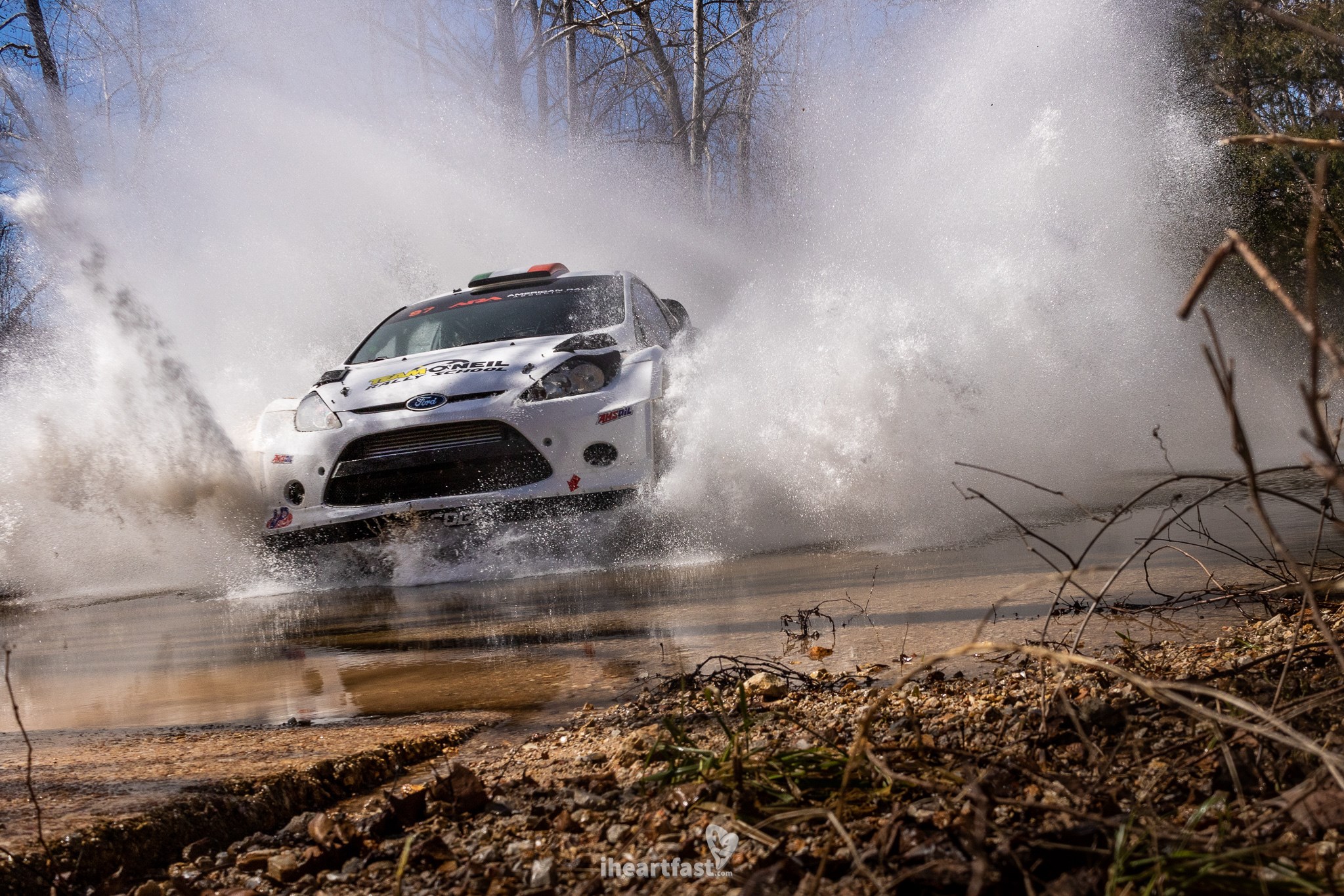 The 2019 Rally in the 100 Acre Wood marked my tenth trip to the rally held on the fast and flowing roads that intertwine the forests in the heart of Missouri around Salem, Steelville, and Potosi. I've witnessed many exciting moments during that time: from Travis Pastrana sliding sideways through the corner at my very first rally stage, to Crazy Leo flying over the cattle guard missing a front tire, Ken Block claiming his record 7th 100 Acre Wood victory and Fetela's crazy wreck after sending it over the now aptly named Fetela's Crest and that's just to name a few. With the American Rally Association taking over the duty of running the event and a stacked entry list of over 80 cars, that included the debut of Petter Solberg's son Oliver with Subaru Motorsports, last year's ARA champions David Higgins and Craig Drew, Ken Block's brand new Cossie V2, an AWD Chevy Sonic with a V8, and a whole cast of other exciting cars and drivers, this year was shaping up to be one of the most exciting years in recent memory.
The 2018 American Rally Association season has been an exciting one and New England Forest Rally was set to be no exception. Known for its jumps, kicks and big orange (painted) rocks, NEFR is almost always filled with drama and excitement. Last year, there was an extra dose of both as Travis Pastrana's co-driver, Robbie Durant suffered a back injury on the first day and he continued on with a different co-driver on Day 2, stirring up some controversy as Pastrana took the victory after his Subaru Rally Team teammates Higgins and Drew suffered some bad luck.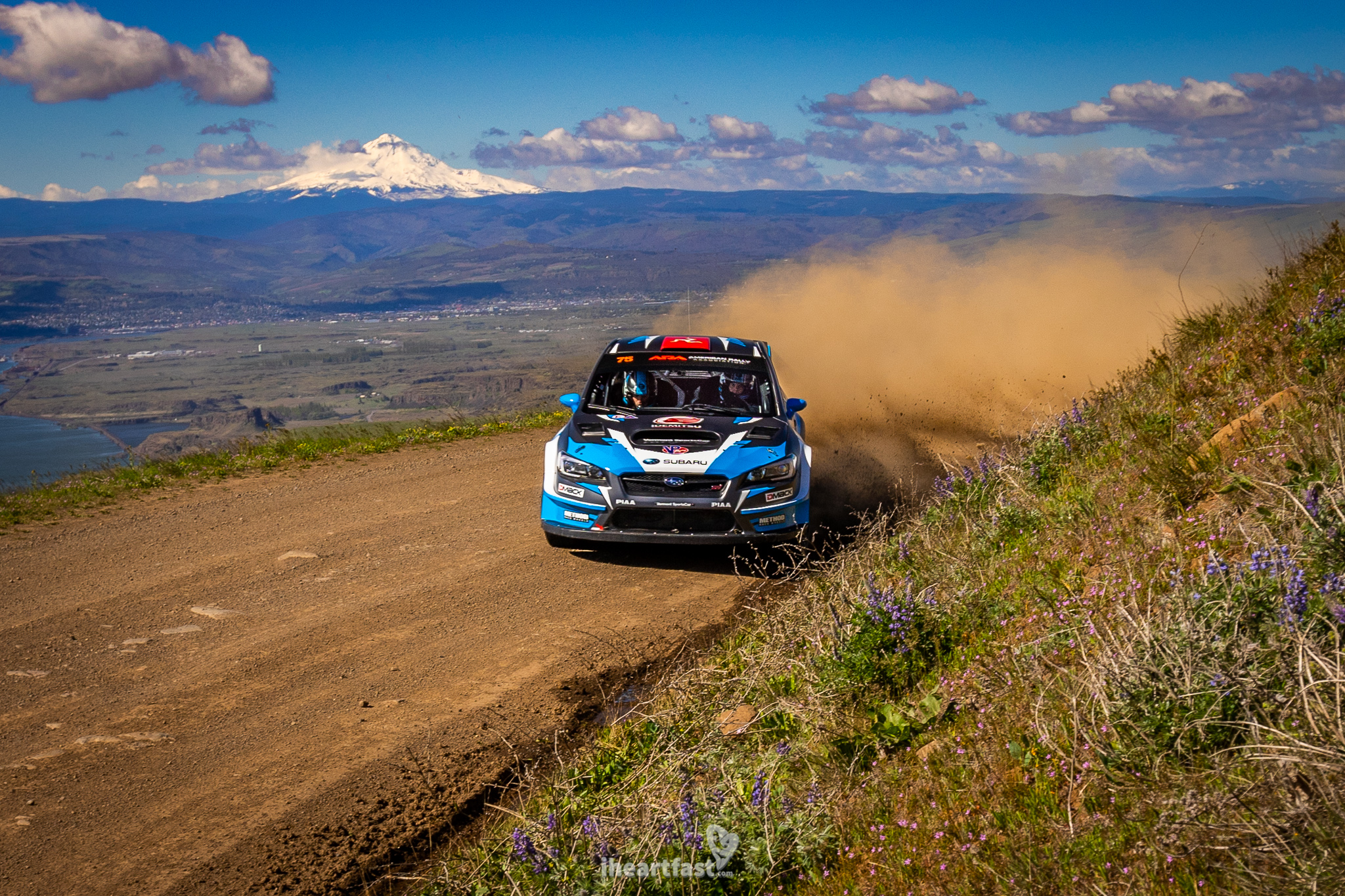 Oregon Trail Rally is one of my favorite events in the U.S. The stages are fast, with lots of elevation and beautiful landscapes as a backdrop. The rally spans 3 days, starting on Friday night at Portland International Raceway, before moving west to the Colombia River Valley near The Dalles. While it was a bit disappointing that last year's winner, Travis Pastrana, wasn't going to be making the trip this year, there was plenty of excitement to make up for it. Sitting in for Pastrana in the 'other' Subaru Rally Team USA car would be former WRC and current Subaru Rallycross driver Chris 'Atko' Atkinson. As if that wasn't enough, Oregon Trail would mark the return of Ken Block, who also has some WRC experience under his belt. Block would be piloting a vintage Group A WRC Escort Cosworth, sporting one of the best wings in the history of wings I might add. It would be interesting to see how the older Cossie would match up against the newer Subaru of Higgins and Atkinson and McKenna's Fiesta.