2019 ARA Rally in the 100 Acre Wood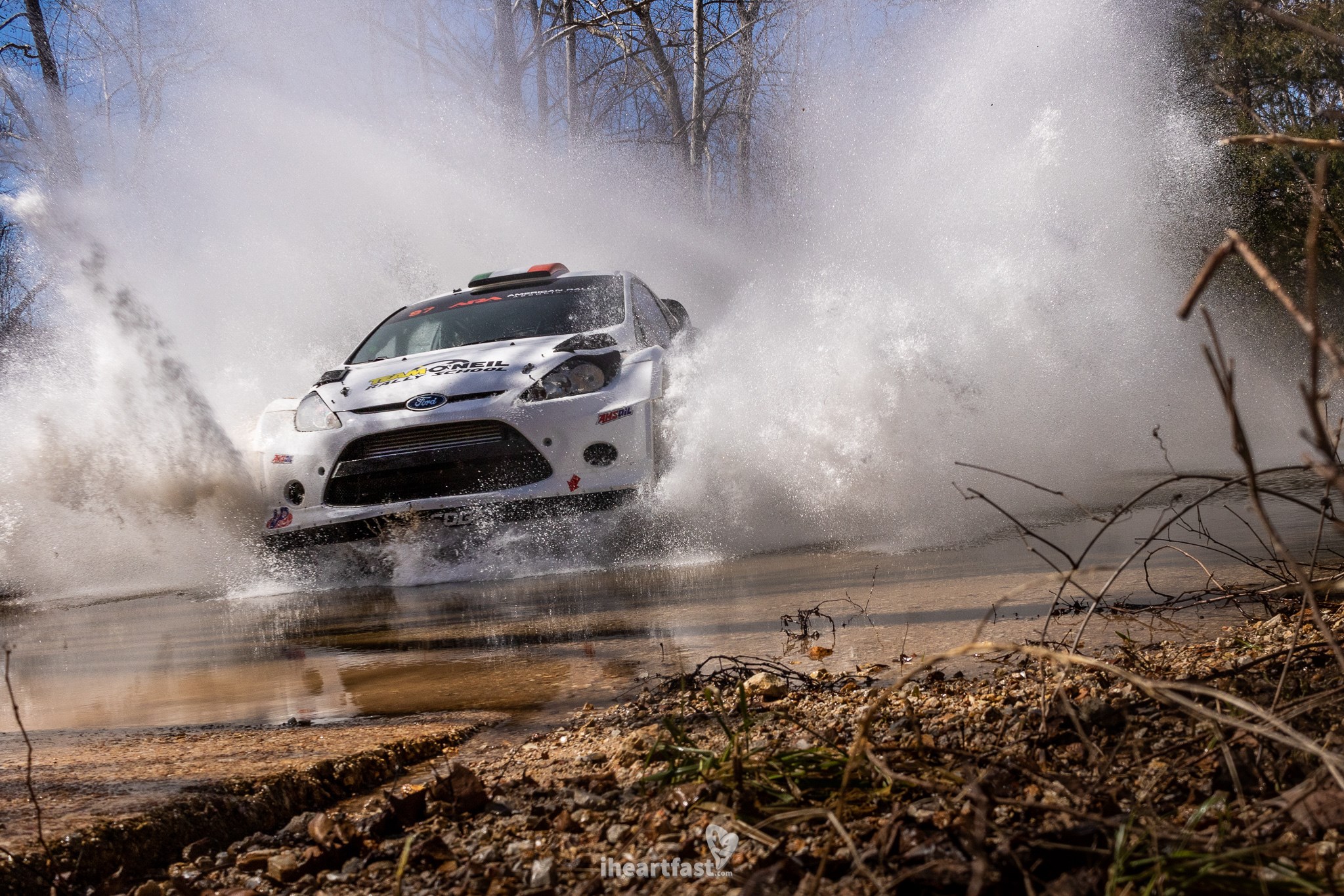 The 2019 Rally in the 100 Acre Wood marked my tenth trip to the rally held on the fast and flowing roads that intertwine the forests in the heart of Missouri around Salem, Steelville, and Potosi. I've witnessed many exciting moments during that time: from Travis Pastrana sliding sideways through the corner at my very first rally stage, to Crazy Leo flying over the cattle guard missing a front tire, Ken Block claiming his record 7th 100 Acre Wood victory and Fetela's crazy wreck after sending it over the now aptly named Fetela's Crest and that's just to name a few. With the American Rally Association taking over the duty of running the event and a stacked entry list of over 80 cars, that included the debut of Petter Solberg's son Oliver with Subaru Motorsports, last year's ARA champions David Higgins and Craig Drew, Ken Block's brand new Cossie V2, an AWD Chevy Sonic with a V8, and a whole cast of other exciting cars and drivers, this year was shaping up to be one of the most exciting years in recent memory.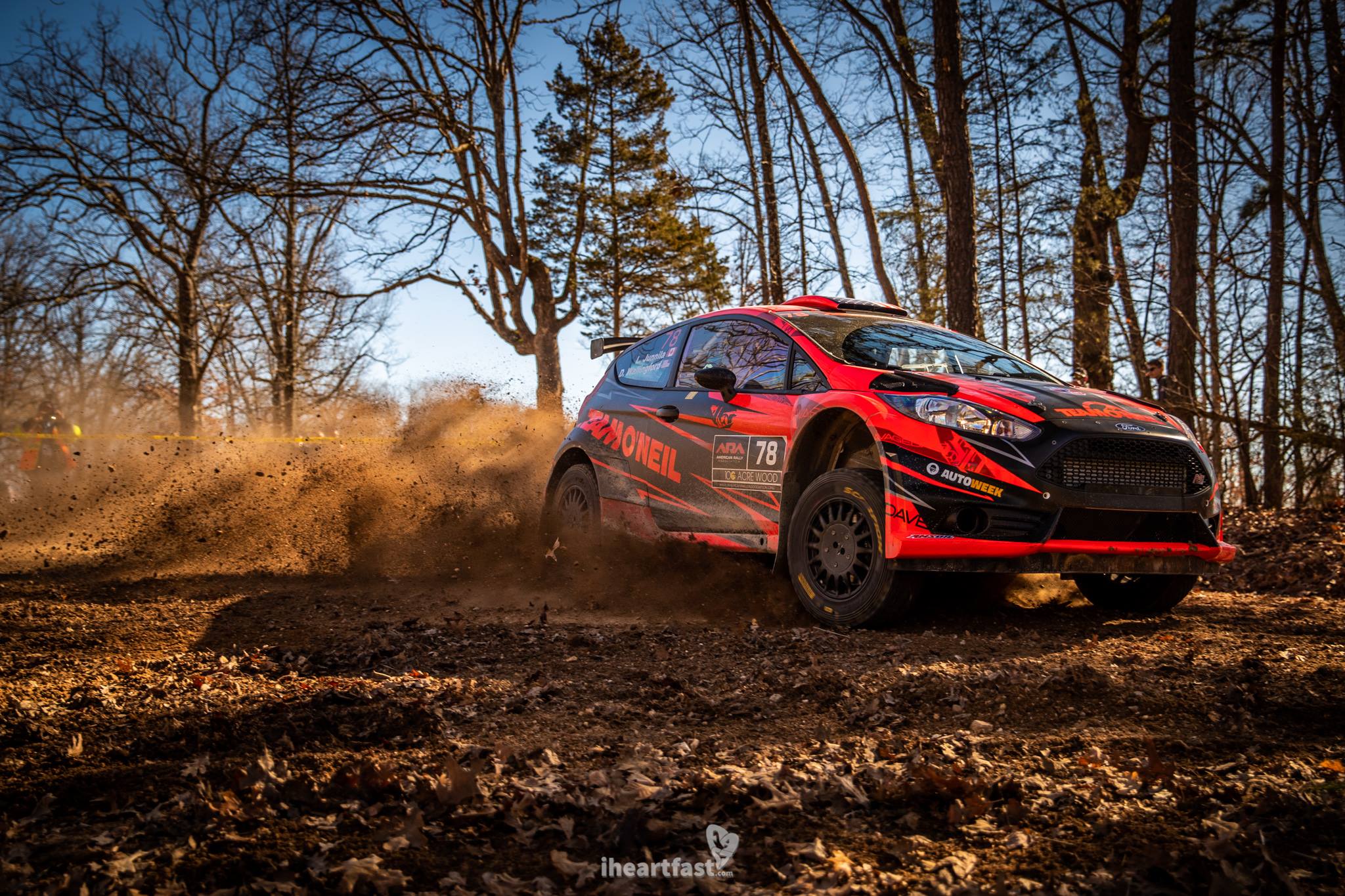 The area had received some heavy rainfalls in the days leading up to the event and as recce got underway many of the roads were wet, muddy, rutted and even impassable, as deep water flowed across the road. However, as I had noticed in the past, these roads dry out incredibly quickly. With a strong wind and some warm sunshine Friday morning to help, the road conditions were shaping up to be almost perfect.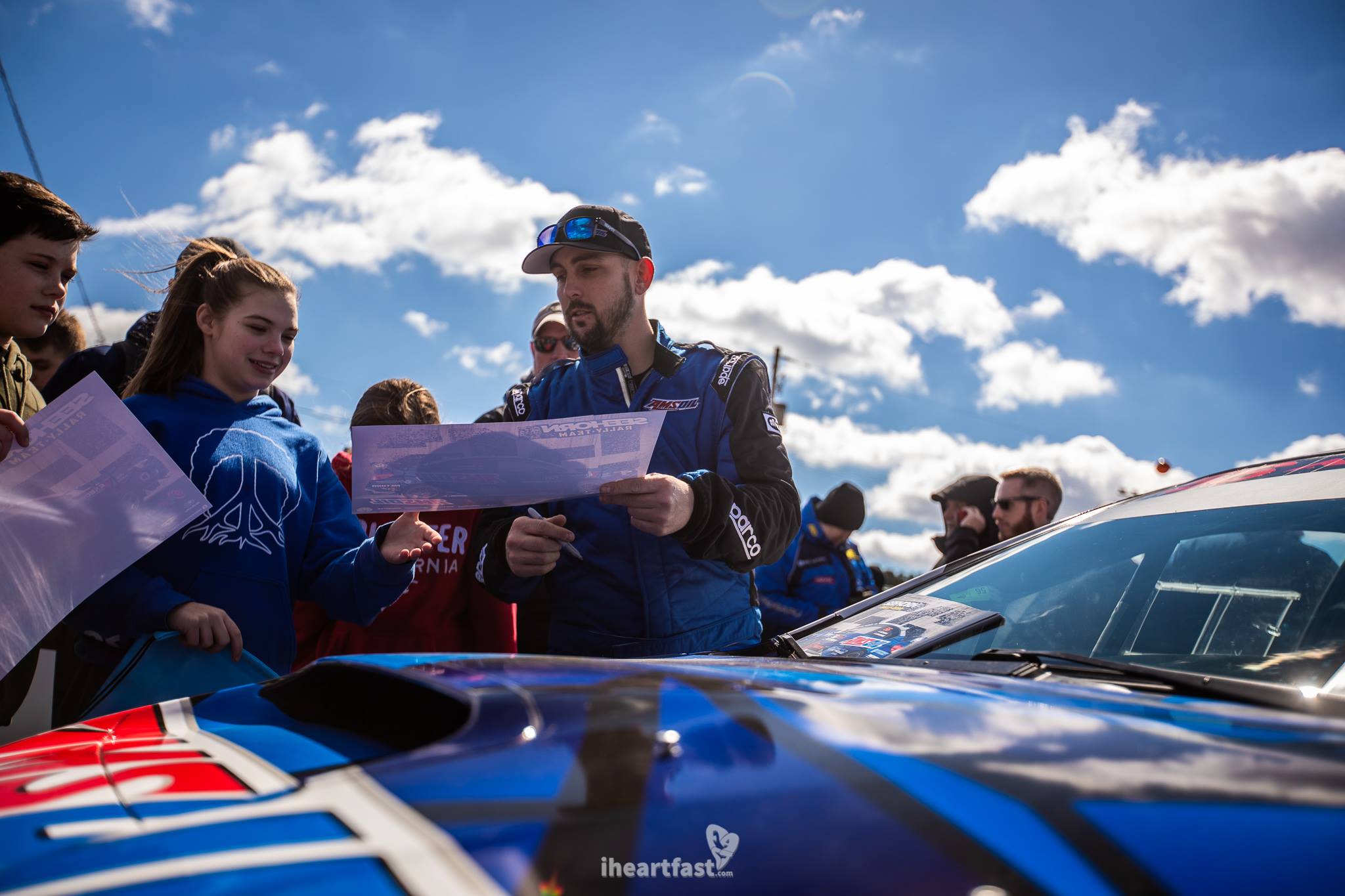 The action on Friday kicked off in the fan-packed Potosi park. Fans came from all over the states to see their favorite cars and meet the drivers during the Parc Expose. It was here that the rally's first stage began in the roads that ran along the park. For an extra special treat, WRC champion Petter Solberg was in attendance to support his son Oliver and spend some time with the lucky fans.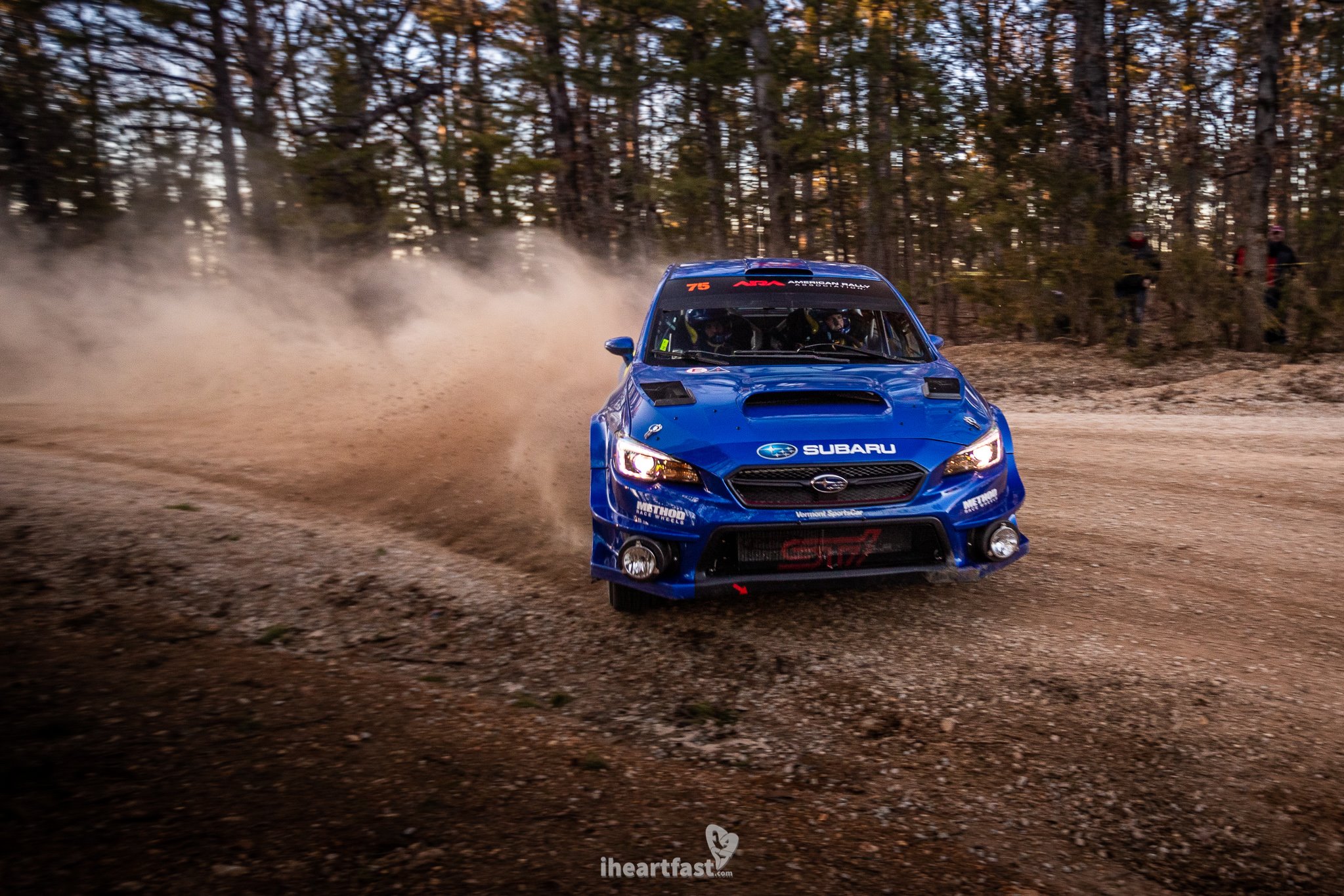 The battle for the top spot got off to a quick start, with David Higgins and Craig Drew jumping out to the front after the first stage ahead of his Subaru teammate Oliver Solberg and Barry McKenna in the McKenna Motorsports Ford Fiesta. They would stay in the front for all of Friday, taking a 45 second lead over McKenna and Solberg, but leaving them well within striking distance as the sun set on the first day of the rally. Solberg, in his first gravel rally, ran into some troubles on Friday as he clipped a large rock, leading to a tire blowout allowing McKenna to finish the first day sitting in second.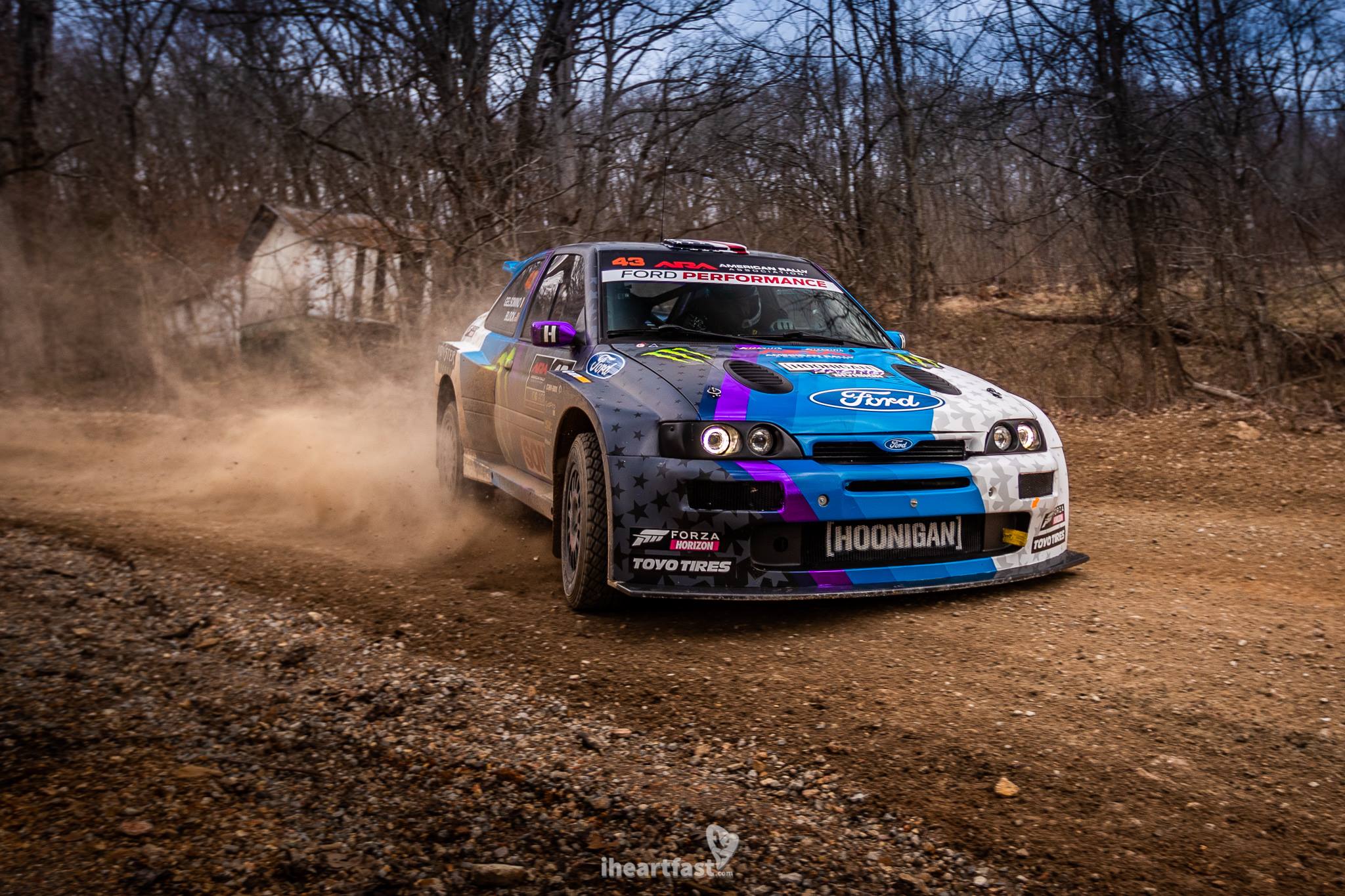 After putting down some impressive times on the first 2 stages and sitting in 4th overall, Ken Block and Alex Gelsomino's rally would be over, way too soon, just short of the end of the third stage. After only 30 or 40 testing miles on the gorgeous new Cossie V2, a mechanical issue causing engine failure would put an end to it's debut event, as it makes its way on The Cossie World Tour.
"Disappointing end to our come back at the 100AW with a mechanical DNF, but we are very excited about the new car and initial impressions of it. Definitely an improved package compared to our old Cossie, with many upgrades and evolutions in all aspects of it. It's very fun to ride in at speed and the fans already love it. Additionally the car is very photogenic and the pictures from the couple stages we ran last week all look great. We look forward to spending more time testing it in the coming weeks, in preparation for the next stop of the Cossie World Tour in New Zealand," said Gelsomino.
He added, "We have a lot of work to do still on the setup side of things and of course the mechanical failure from Missouri is currently being investigated by the team. We have roughly 50 miles on the car at the moment, which is ridiculously low when it comes to testing and R&D."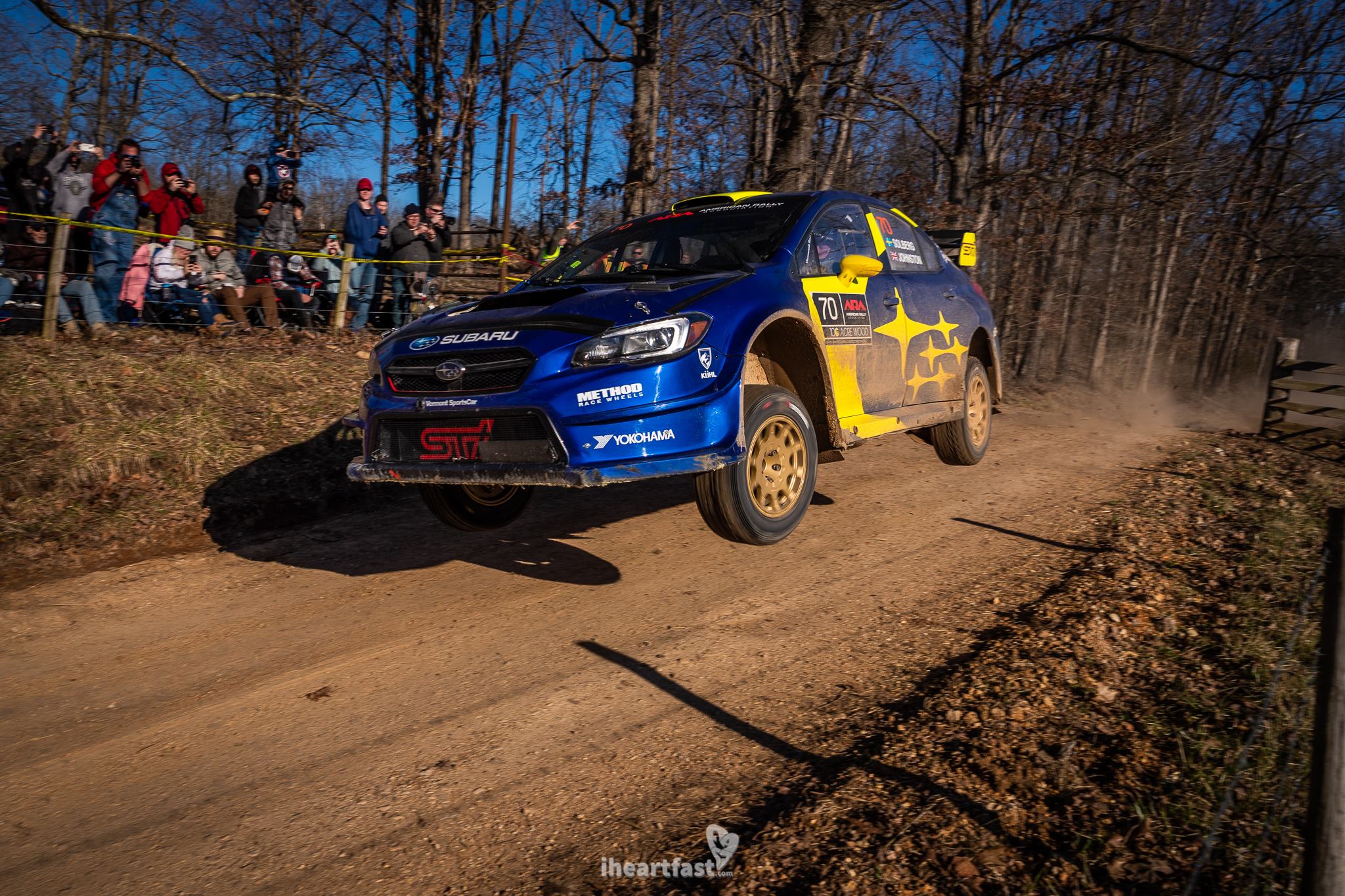 Saturday's stages featured two runs over the famous Fetela's crest and a trip to the Southern Loop stage that featured multiple water crossing a very badly rutted section making it one of the more challenging stages of the rally. McKenna and Solberg were locked in a battle, trading stage wins as Higgins backed off a bit, taking no chances with his 45 second lead. Then, on the fourteenth stage of the rally, a bad sensor forced Higgins to stop on stage for nearly 5 minutes propelling McKenna into the lead.
A spin on the final stage of the rally by McKenna, almost spelled disaster for the Fiesta, but they were able to recover quickly enough to hold on to a 6.8 second lead over the 17 year old Solberg and take home the overall victory. Even with the 5 minutes lost due to the electrical issue, a dissapointed Higgins took the final podium spot over Sno*Drift winner and current ARA championship points leaders Piotr Fetela and Dominik Jozwiak.
"Well it was great to come out on top at such a fast rally such as 100 acre wood. As you know there is a lot of luck involved in rallying and with such bad luck and misfortune last year to get the win was great. We struggled most of the weekend with top end speed and the pace of the Subarus. As always the highlight from every weekend rallying in America is racing against such talents as David Higgins and Oliver Solberg it's always a great pleasure. Really looking forward to the next round and again hope we can take the fight to them on the stages," said Leon Jordan.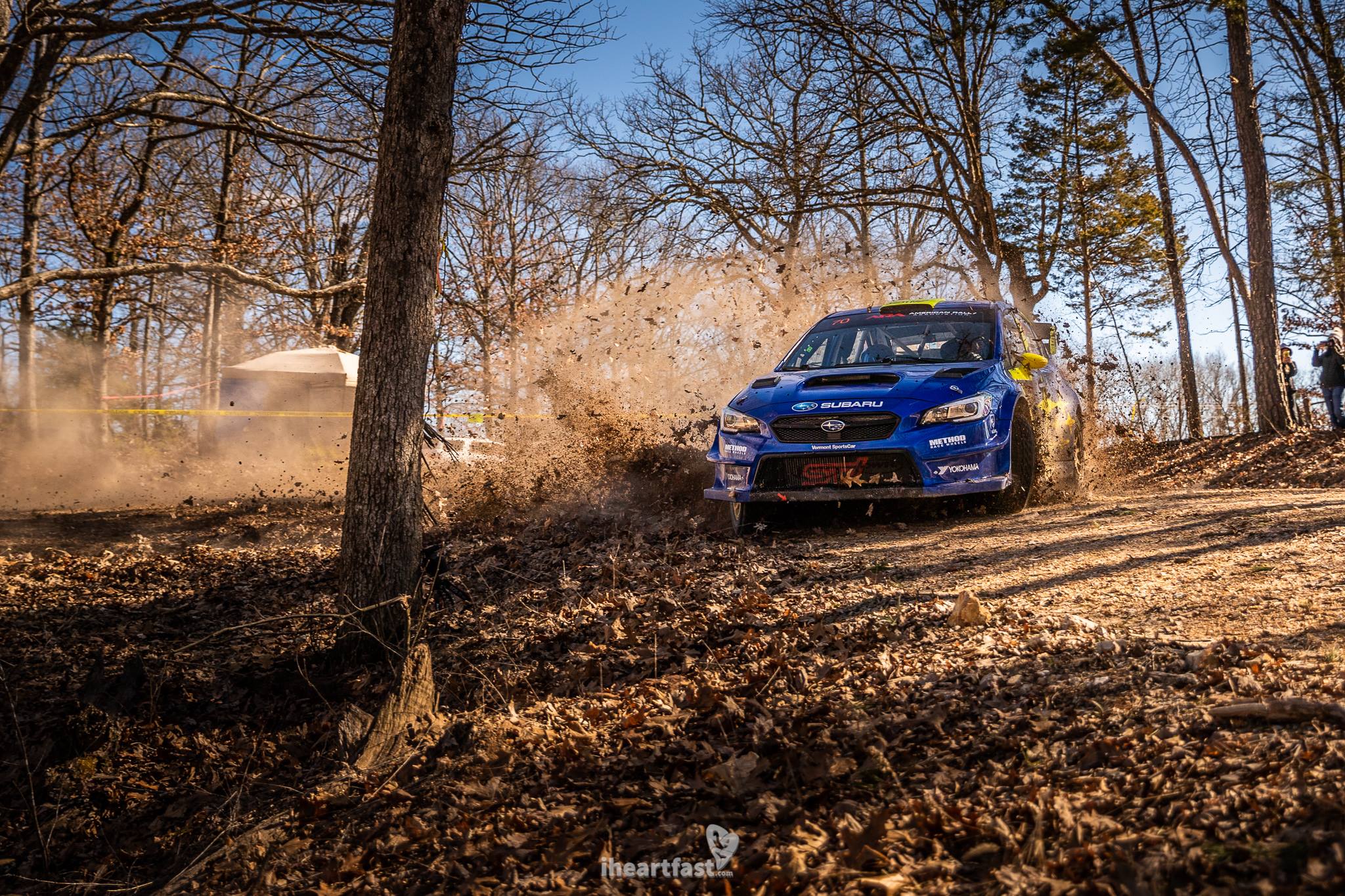 McKenna and Jordan have shown impressive pace in the Fiesta throughout the last few years grabbing many stage wins, but this was their first overall victory, an impressive feat over the manufacturer back Subaru Motorsports team. Oliver Solberg showed signs of future greatness in his first event in the Subaru Motorsports car and will definitely be a challenger throughout the season. It's shaping up to very exciting season with multiple challengers for the championship.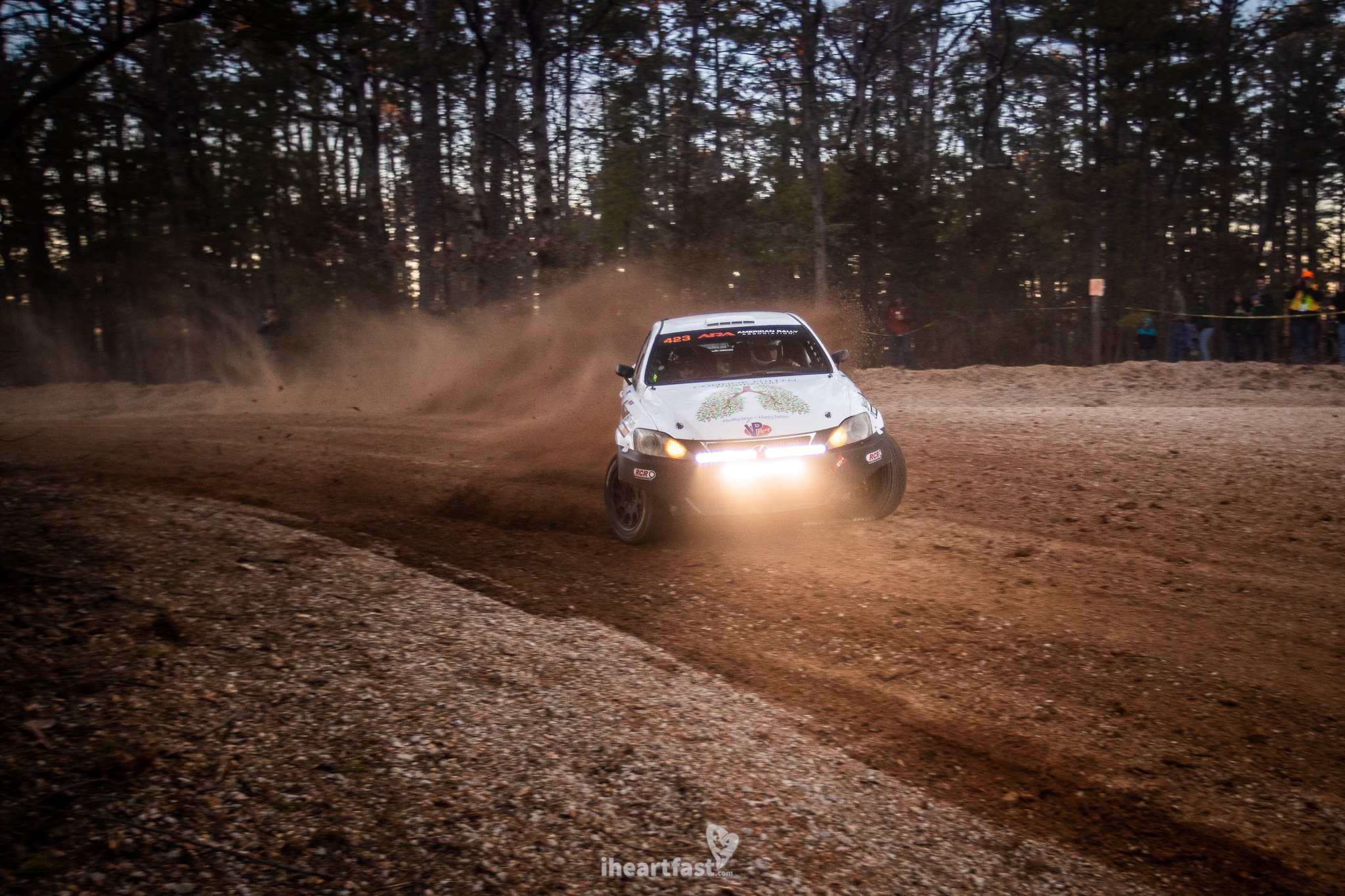 The battle between River City Rally's Michael Hooper and Claudia Pullen in their Lexus is350 and Seamus Burke and Darraugh Mullen in their JRD Rallysport Ford Escort MK2 in Open 2WD was no less exciting. The fight went back and forth, until Burke suffered a power steering pump issue giving Hooper the lead at the end of Friday. Both teams kept pushing through the Saturday stages, but despite Burke sending it so hard over the cattle guard on the final stage of the rally that he broke some front suspension bits, he couldn't over take Hooper's Lexus.
"Battling Burke is the most challenging and gratifying thing I've done behind the wheel, win or lose. It was obvious Burke's pace was 1/2 second/mile faster than us, but an early spin and mechanical issues with the Escort gave us an edge. It took all of my mental concentration and committing 100% to Claudia's spot on notes to hold him off, and even then it was just barely. We were flat out. But we will be flat outer next year to find that pace. Burke is definitely pushing us to a new level," said Hooper.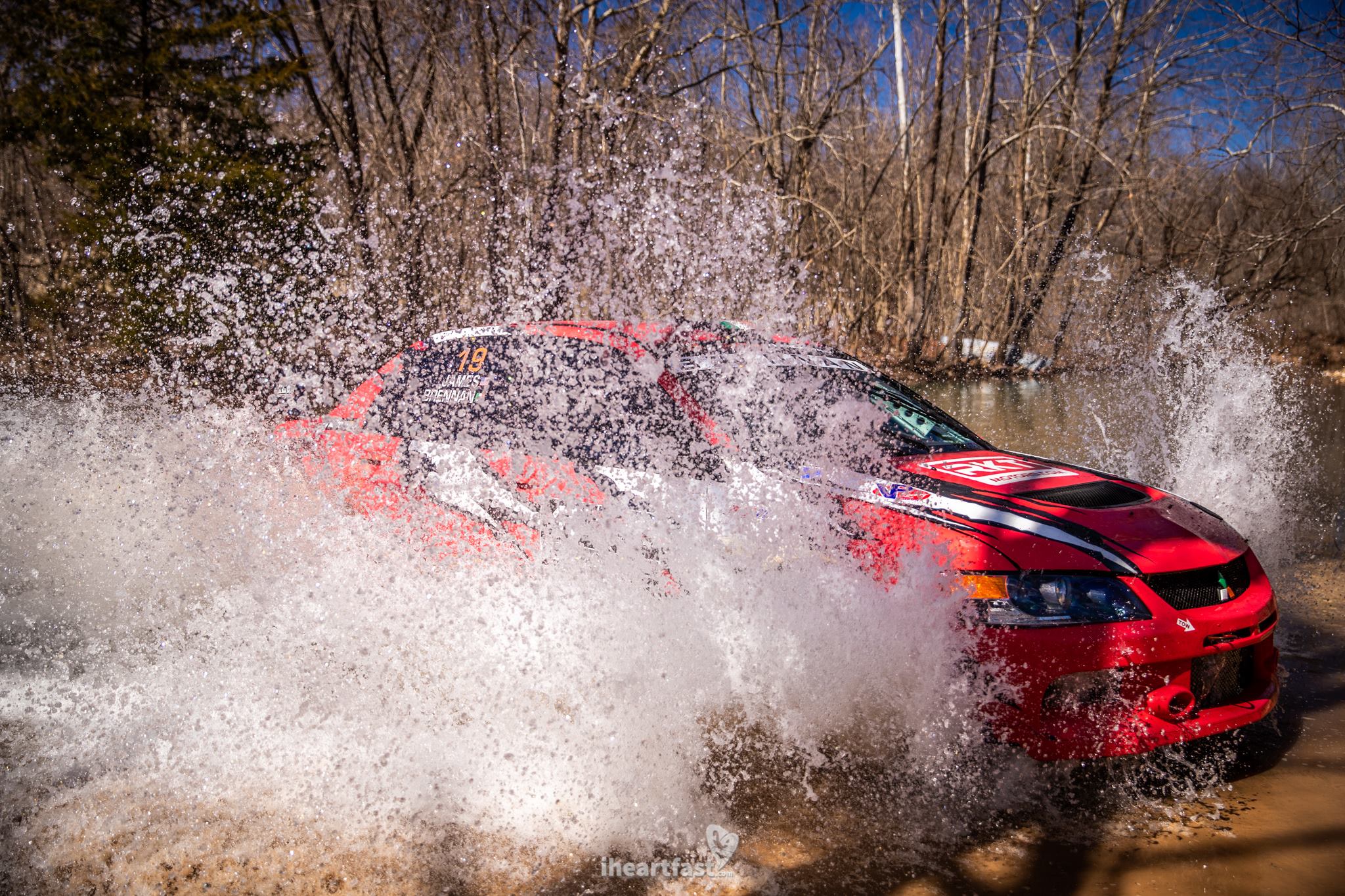 Paddy Brennan and Matt James in their RKT Motorsports Mitsubishi Evo IX took the L4 (Limited 4WD) class victory and fifth overall in a close one over Tim Rooney and Anthony Vohs in their PMR Motorsports Subaru. Nate Usher and Marianna Usher took the NA4 (Natural Aspirated 4WD) class victory and ninth overall in their Subaru.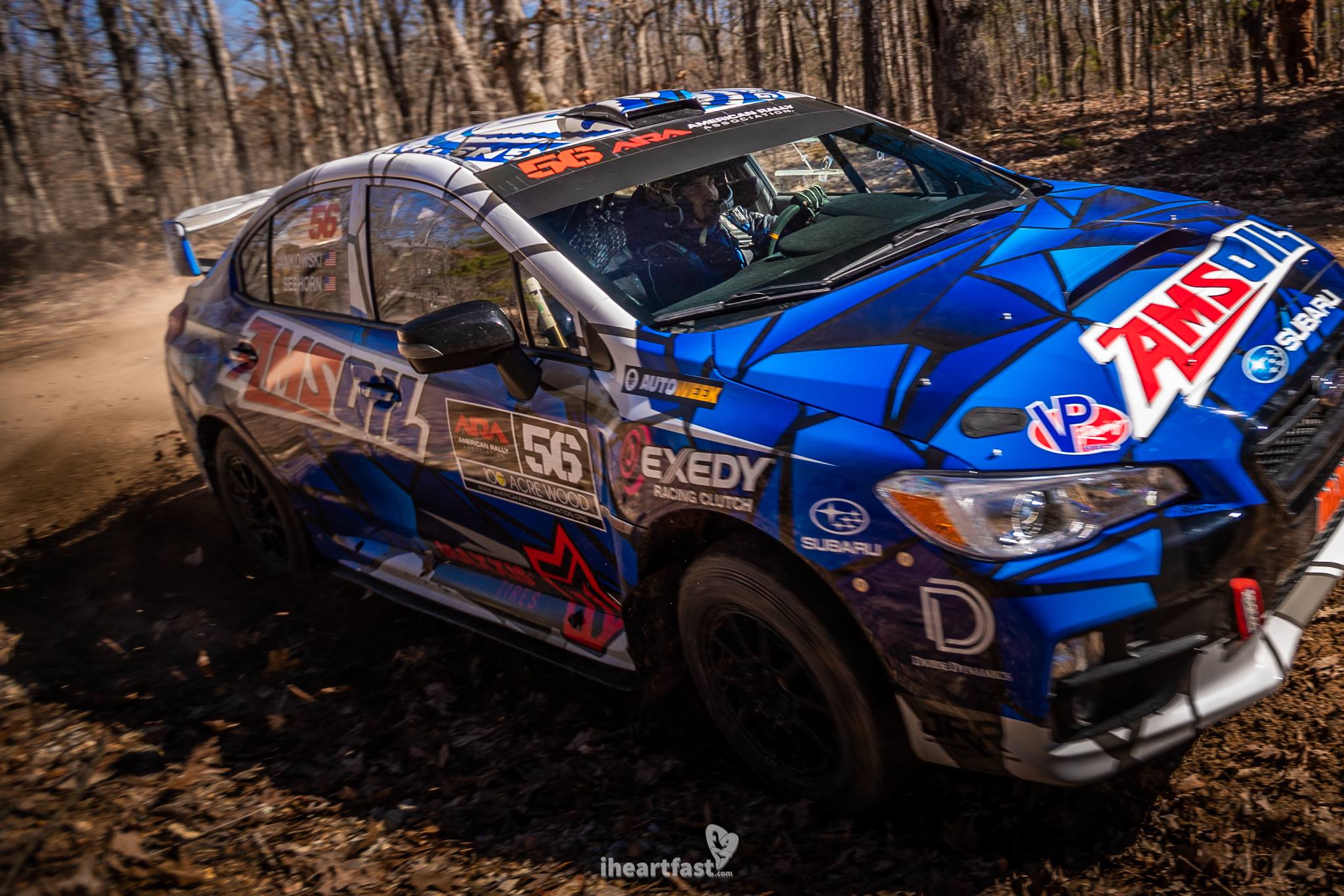 It was a tough event for many of the initial 75 entrants; no less than 35 of them suffered significant damage on the challenging stages. Jeff Seehorn and Karen Jankowski were running near the top all weekend until an engine failure midway through Saturday's stages in their Amsoil Seehorn Rally Team Subaru forced them to retire. An engine issue also forced Sno*Drift runner ups Cameron Steely and Preston Osborne in their O.D.D. Racing Subaru to retire on Friday. Last year's Rally America champions Dave Brown and Mike Brown also suffered an engine failure leading to an early end to their rally. Travis Nease and Scott Putnam, third place finishers at Sno*Drift suffered a mechanical issue and had to retire after just one stage.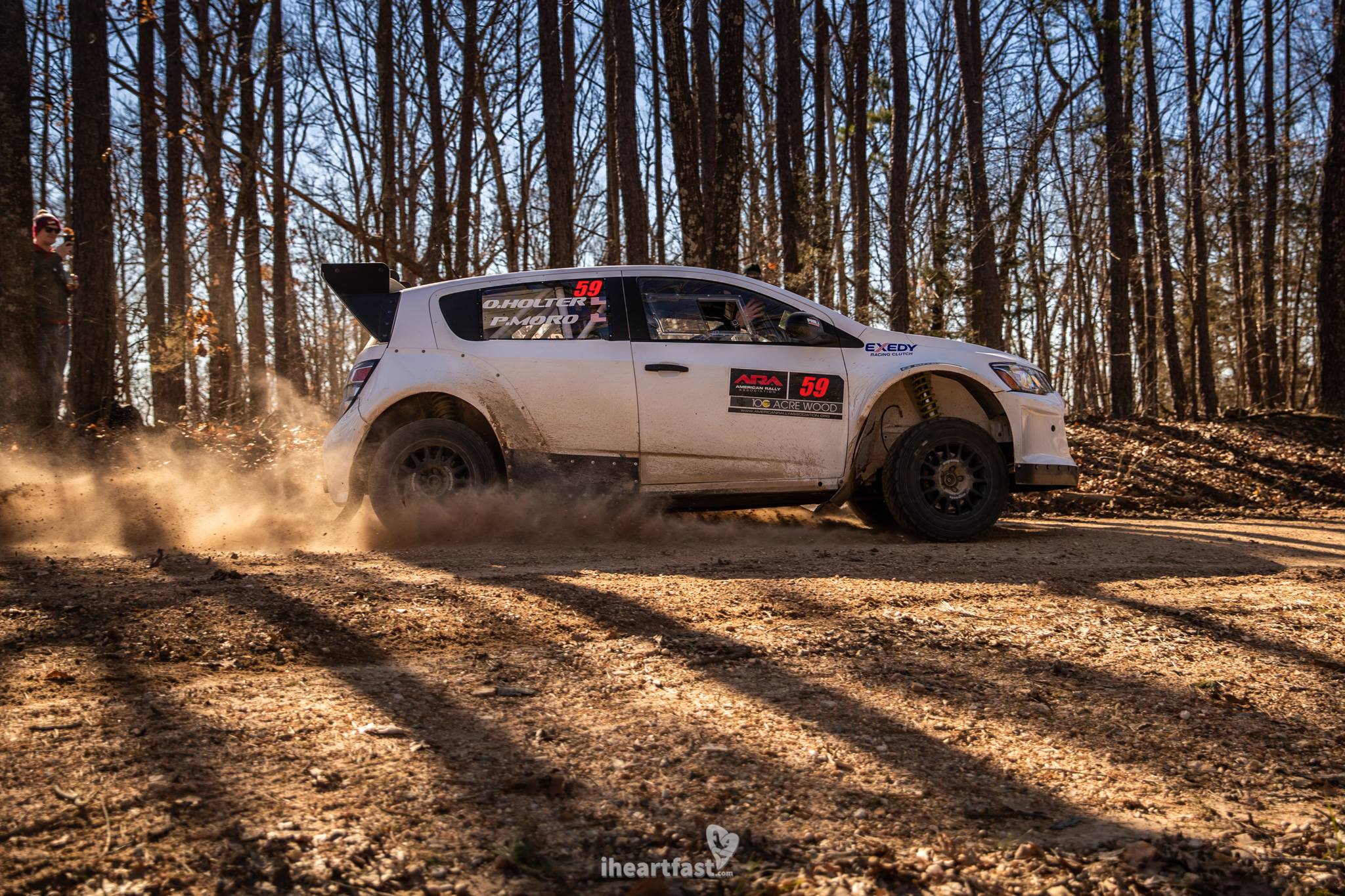 One of the more exciting cars to watch and hear was the PMR Motorsports v8 powered AWD Chevy Sonic, which quickly became a crowd favorite. Unfortunately they suffered broken tie rods on Saturday and were forced to retire. Savage Dave Wallingford, making his return to rally after suffering injuries last year at WRC Rally Mexico, and Leanne Junilla were looking good in their Fiesta R5 before making a big splash at the water crossing that caused a broken radiator which led to their retirement. After running impressively in fourth place for much of Friday, Martynas Samsonas and Ervinas Snitkas Mitsubishi EVO suffered a broken transfer case, putting an end to their run.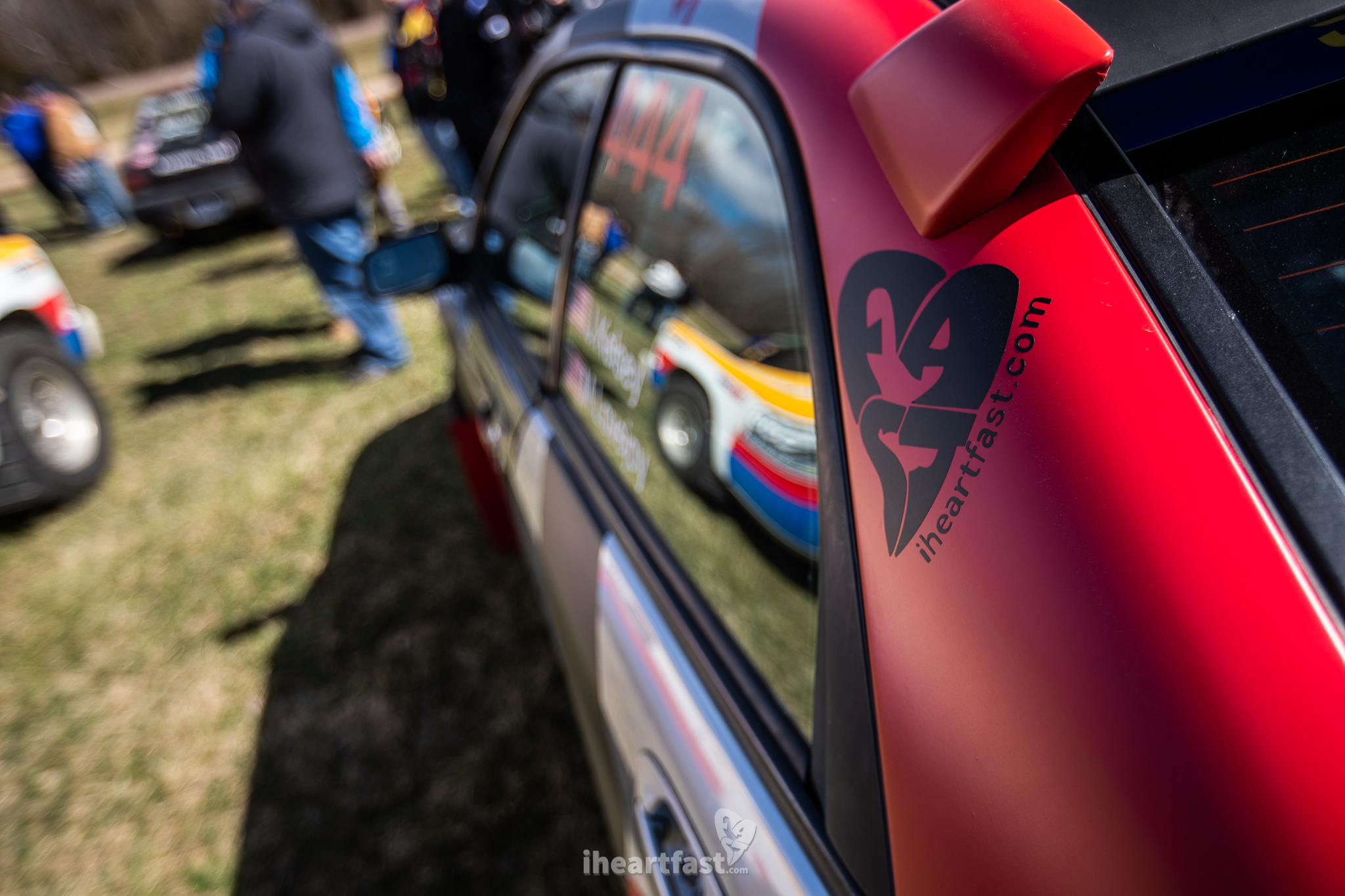 Making their rally debut, in the iheartfast sponsored Subaru, were Jovan Kelsey and Mike Lovejoy. Despite suffering a debeaded tire on the final stage of the rally, they impressively finished the rally in 26th overall nationally. "At speed through the woods in our Subaru, its a lot to take in at first. Once I thought I had a handle on it, we'd dodge a rock or slide wide or come up on a disabled car. Its a lot to process but we got better as the event went on," Lovejoy said about his first event. Its no simple feat to even finish your first stage rally and we hope to see them back out on stage again soon!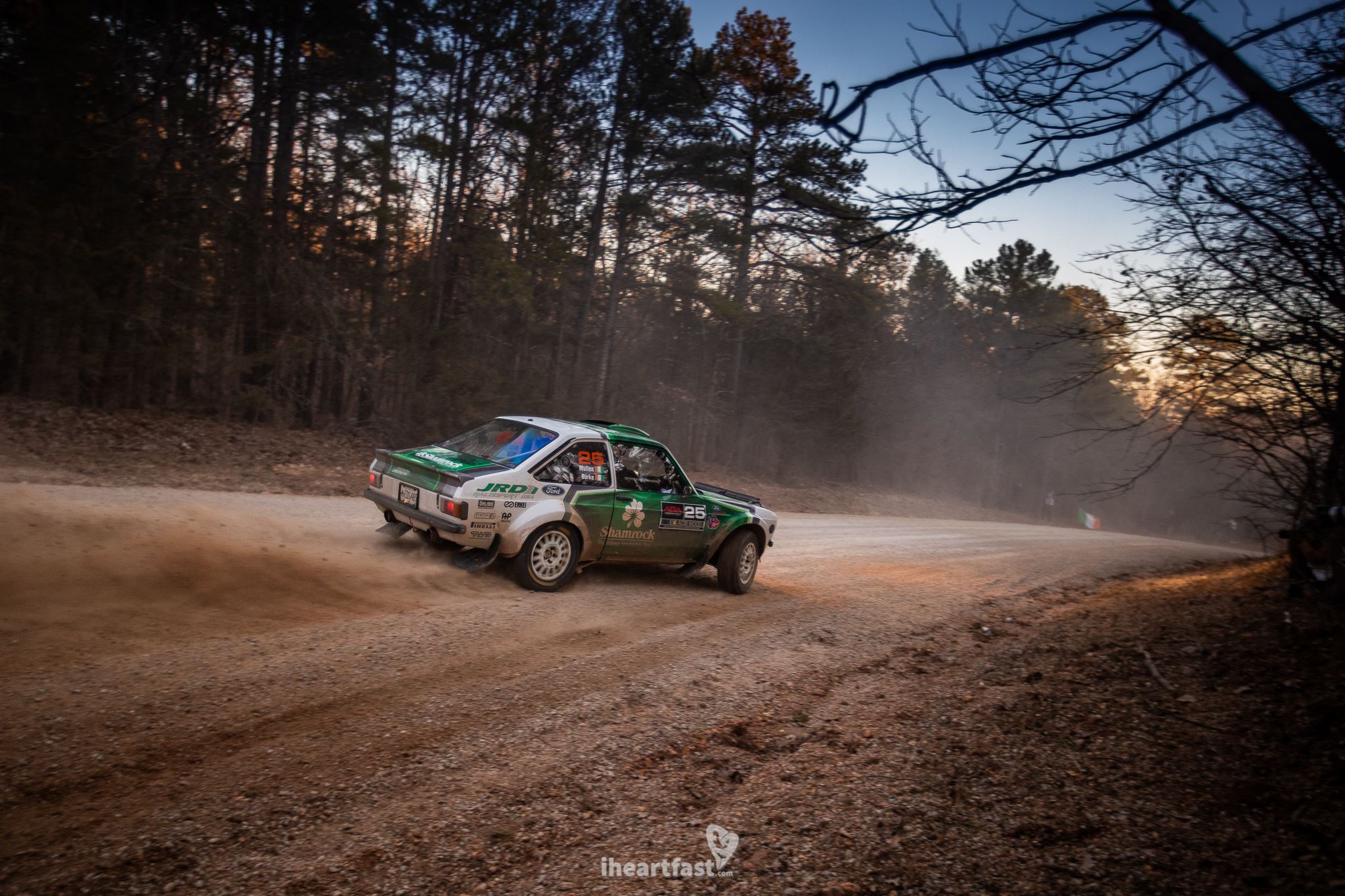 Next up, the third round of the ARA National Championship series is the Olympus Rally in Shelton, WA on April 27-28. Check out the American Rally Association site for full details and results.
Don't forget to follow us on Facebook and Instagram – @iheartfast_official to keep up on all the latest news and photos.