2018 ARA New England Forest Rally
The 2018 American Rally Association season has been an exciting one and New England Forest Rally was set to be no exception. Known for its jumps, kicks and big orange (painted) rocks, NEFR is almost always filled with drama and excitement. Last year, there was an extra dose of both as Travis Pastrana's co-driver, Robbie Durant suffered a back injury on the first day and he continued on with a different co-driver on Day 2, stirring up some controversy as Pastrana took the victory after his Subaru Rally Team teammates Higgins and Drew suffered some bad luck.
Subaru Rally Team's David Higgins and Craig Drew came into NEFR with a solid lead for the ARA Championship, but would have some stiff competition at NEFR Last year's ARA champion, Travis Pastrana, after just completing four Evil Kneivel type tricks earlier in the month on national TV, was set to make his return to stage rally for the first time this season. Barry McKenna and Leon Jordan have been setting some impressive stage times in their Ford Fiesta R5 and would be looking towards putting some real pressure on the SRTUSA driver's. Adding to the excitement would be Ken Block and Alex Gelsomino making their 2nd appearance of the year in the Hoonigan Group A Ford Escort Cosworth. Privateers Jeff Seehorn and Karen Jankowski, coming off a 2nd place overall finish at Olympus would also be looking to push for the top spot after making some upgrades to their Subaru.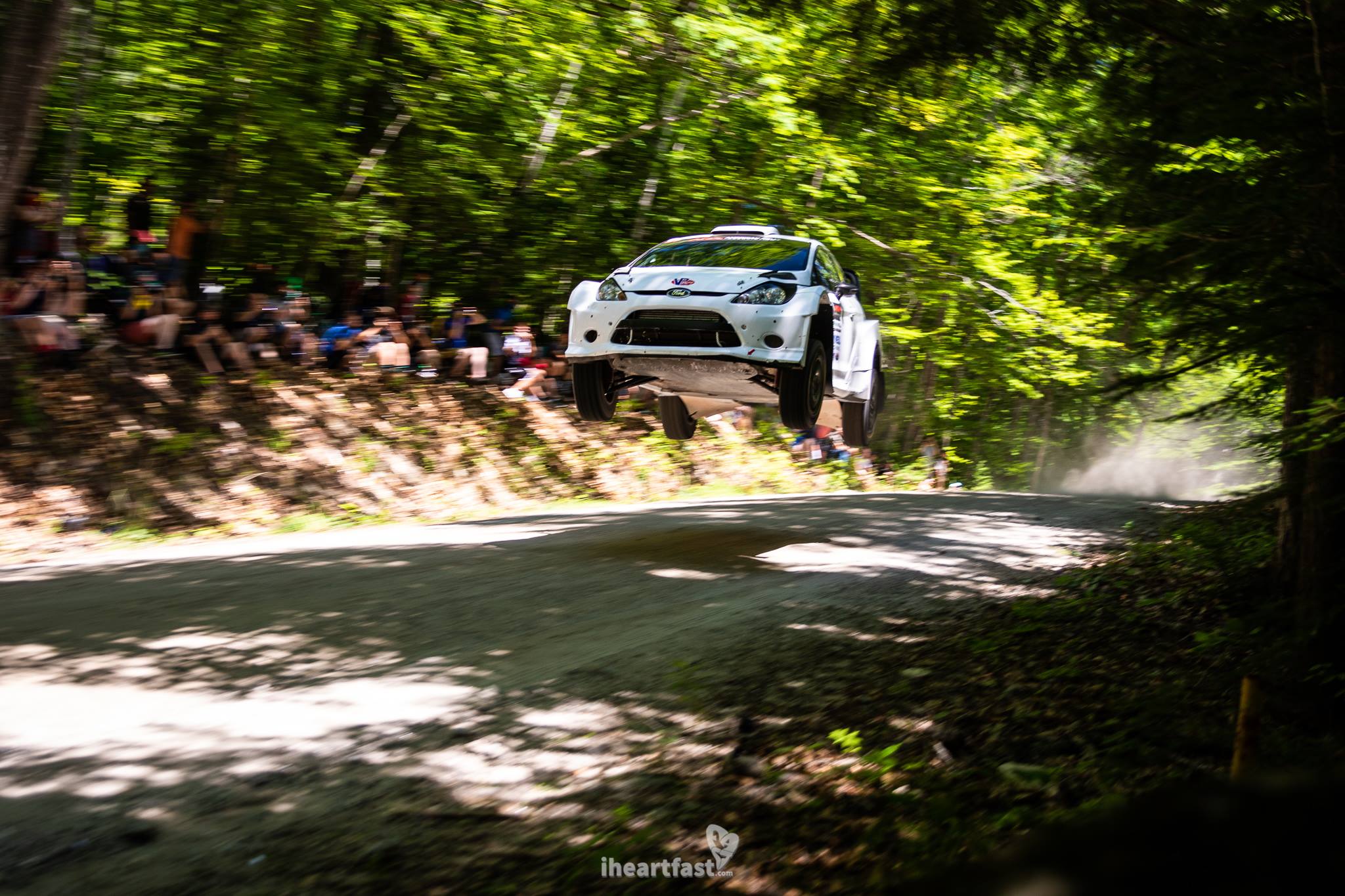 Competition kicked off on probably the most famous stage of the entire rally, Concord Pond. Known for it's multiple big jumps and fast sections it is arguably one of the most exciting rally stages in the United States. Spectators line the road to see who will jump the highest and this year it was ran twice back to back, meaning bigger jumps the second time for those who had gained some confidence the first time through.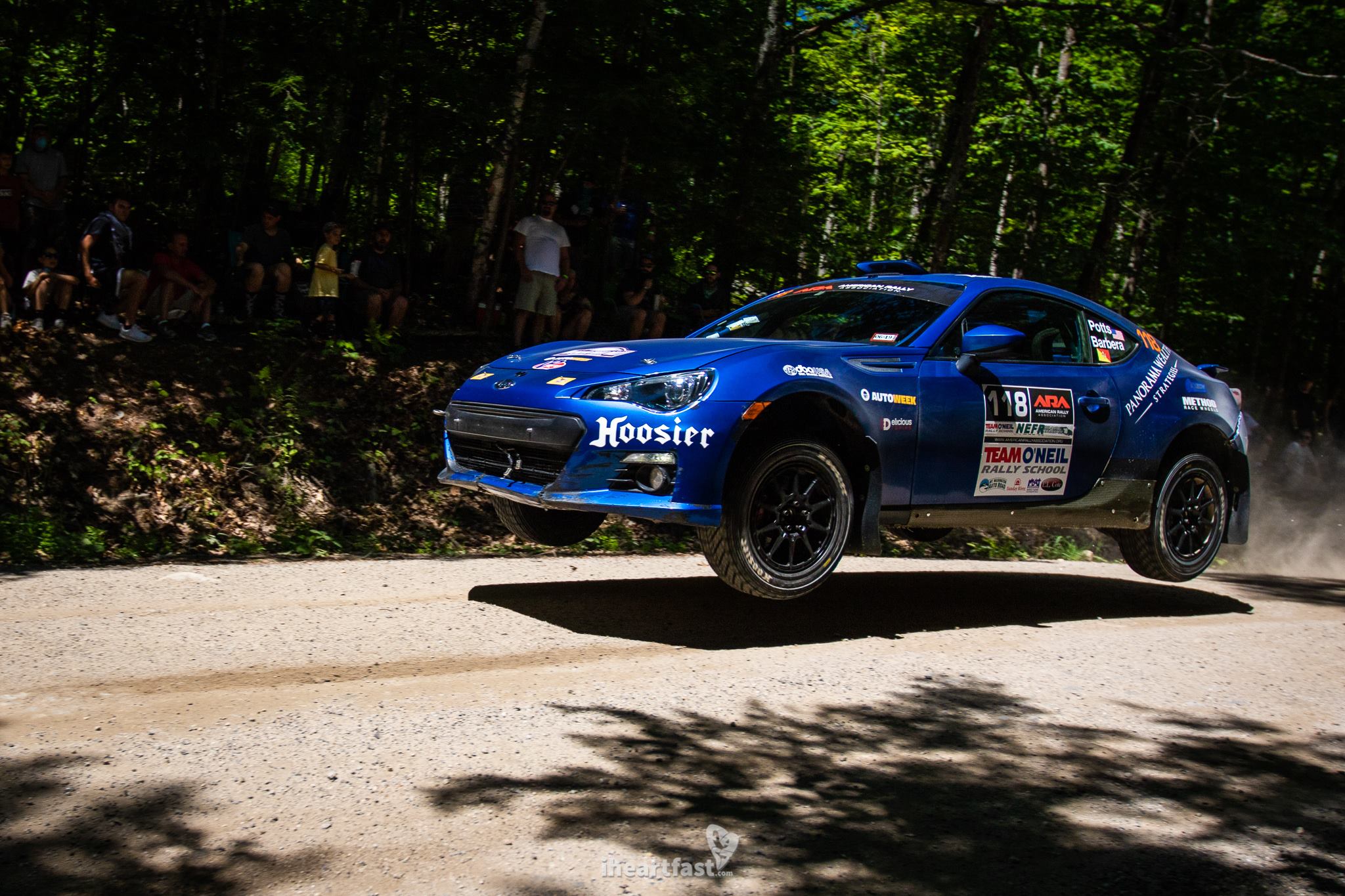 Did I mention the jumps? Yah, they were big.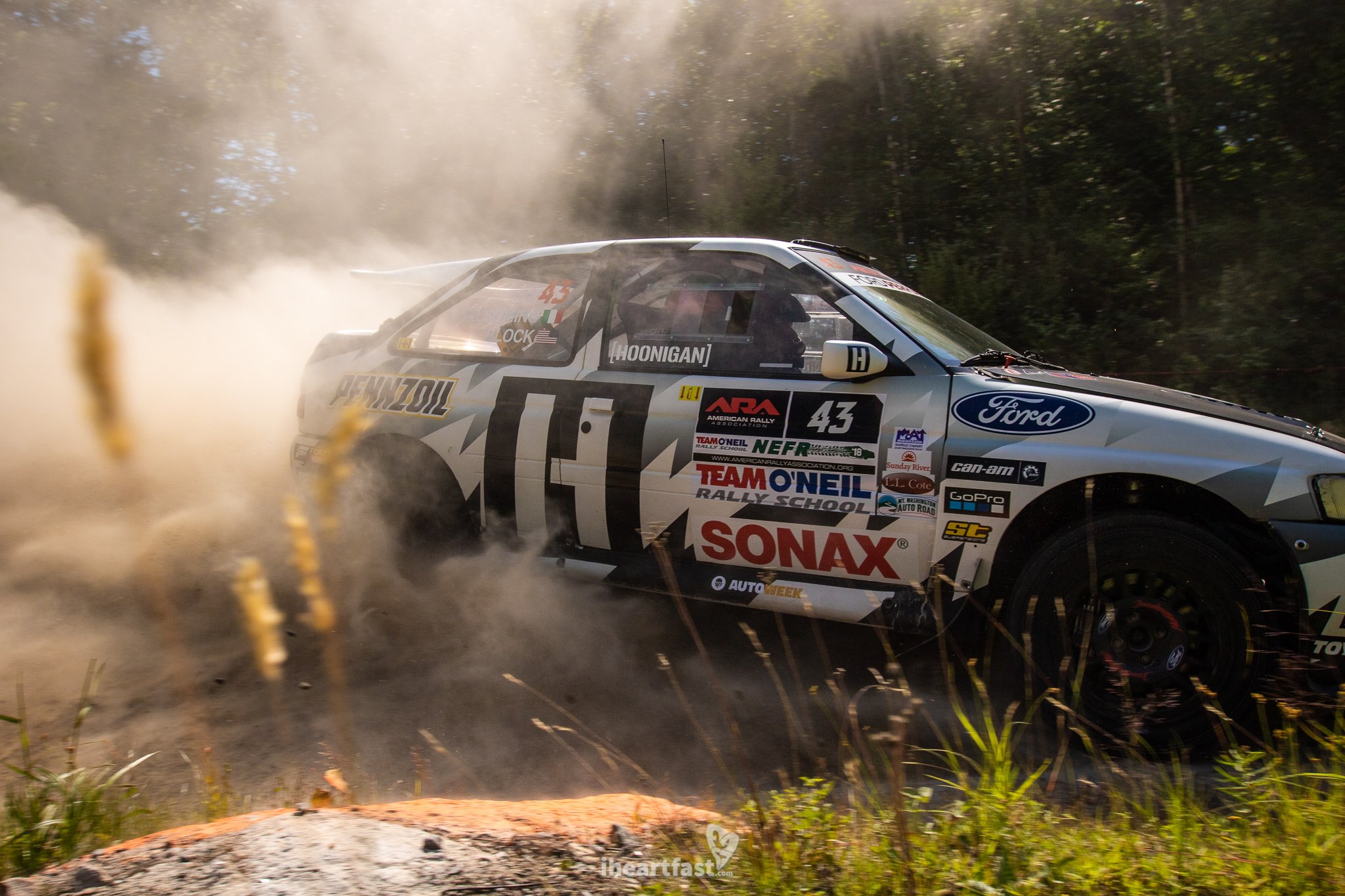 The third stage claimed McKenna's Fiesta with a broken wheel ending their hopes once again of challenging for a podium spot. The retirement bumped Block in his 90's Escort Cosworth up to the 3rd place, even while battling transmission issues the entire day. What would happen next, tragic, yes tragic, I think is the word that would best describe it.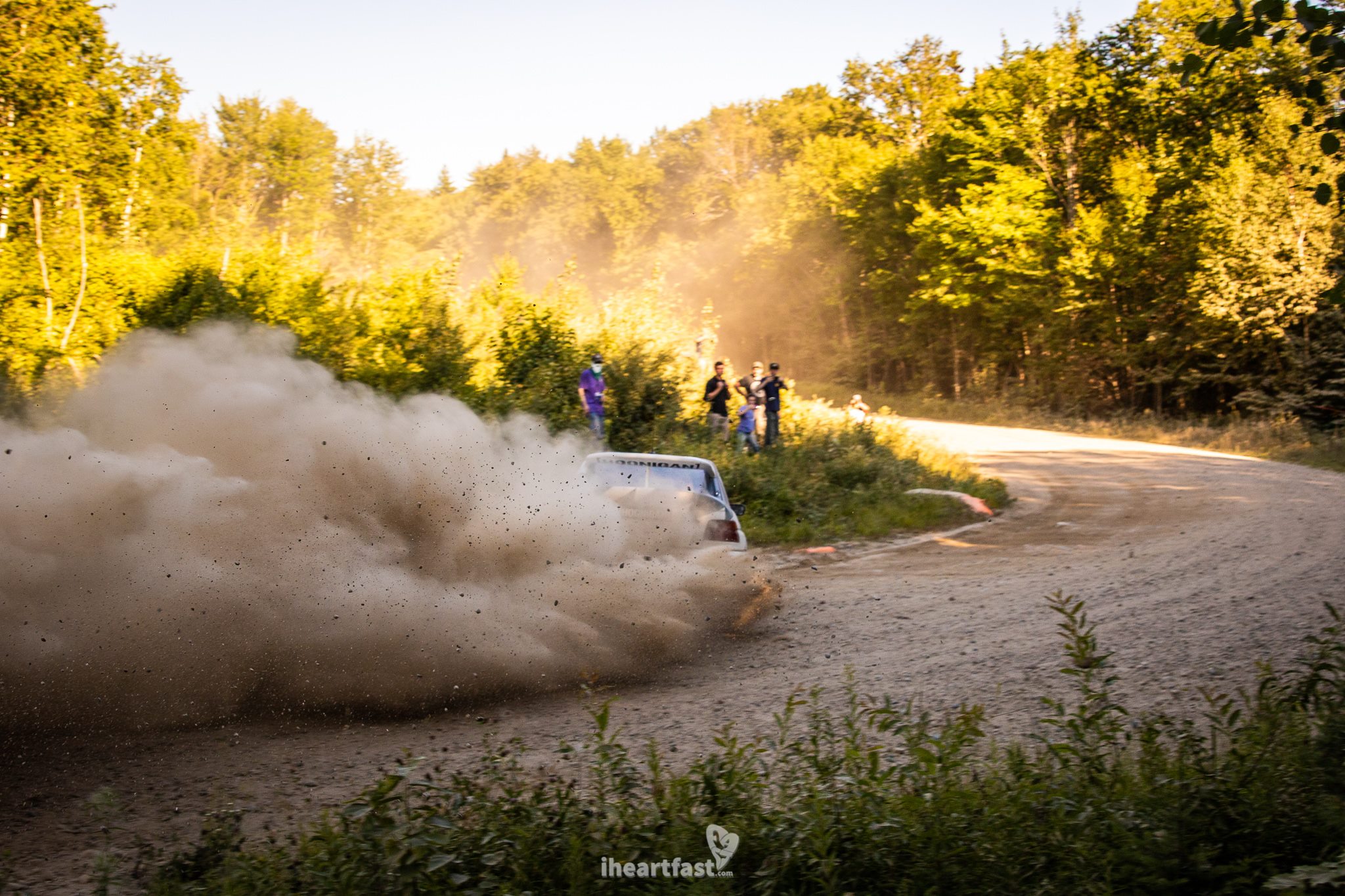 As Block slid toward a giant rock on the edge of the road, the transmission refused to downshift to 3rd gear and he came in faster and tighter than he wanted. The sideways car caught the rock and rolled, twice, landing on it's wheels. As Block attempted to put the car back into gear to continue on, flames shot out of the hood. They quickly climbed out of the car and tried everything possible to put out the fire that was quickly engulfing the car.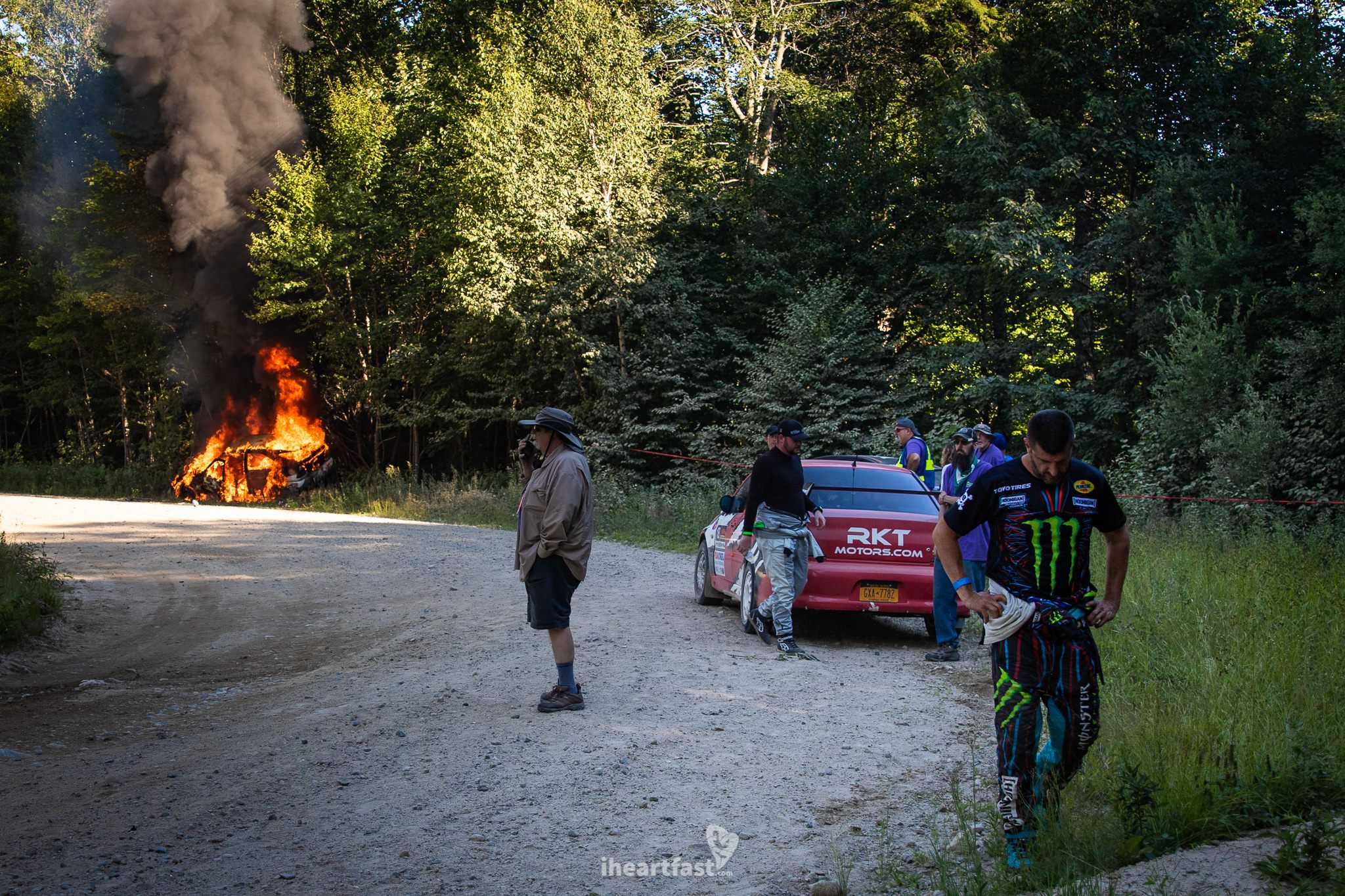 But, there was nothing to be done. After exhausting all of the fire extinguishers, from the spectator buses, from two other competitor's cars that arrived on the scene, the fire raged on.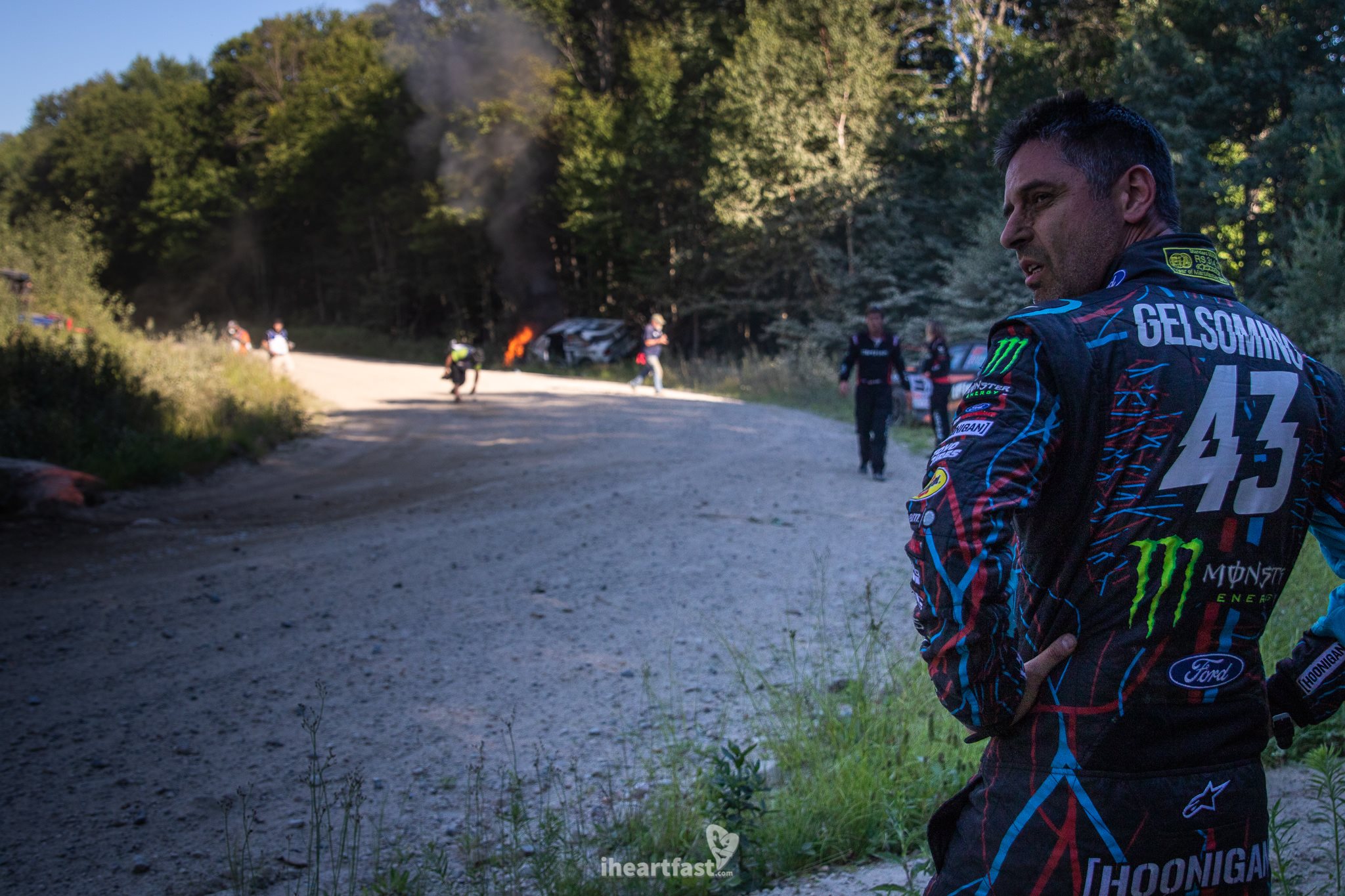 The fire raged out of control and quickly consumed the car leaving everyone nearby feeling defeated and helpless. I know, I was there. As the flames burst out of the hood, I wanted to help, to do something anything. As Block, stood in the middle of a live stage road to wave down the next car coming towards them in hopes of using their fire extinguisher, I wanted to help, but there was nothing to be done. You could feel the desperation, the pain as the flames grew bigger and spread. It was heart wrenching. There was so much emotion in the air, it's hard to put into words. In moments like those, sometimes a photo is worth a thousand words.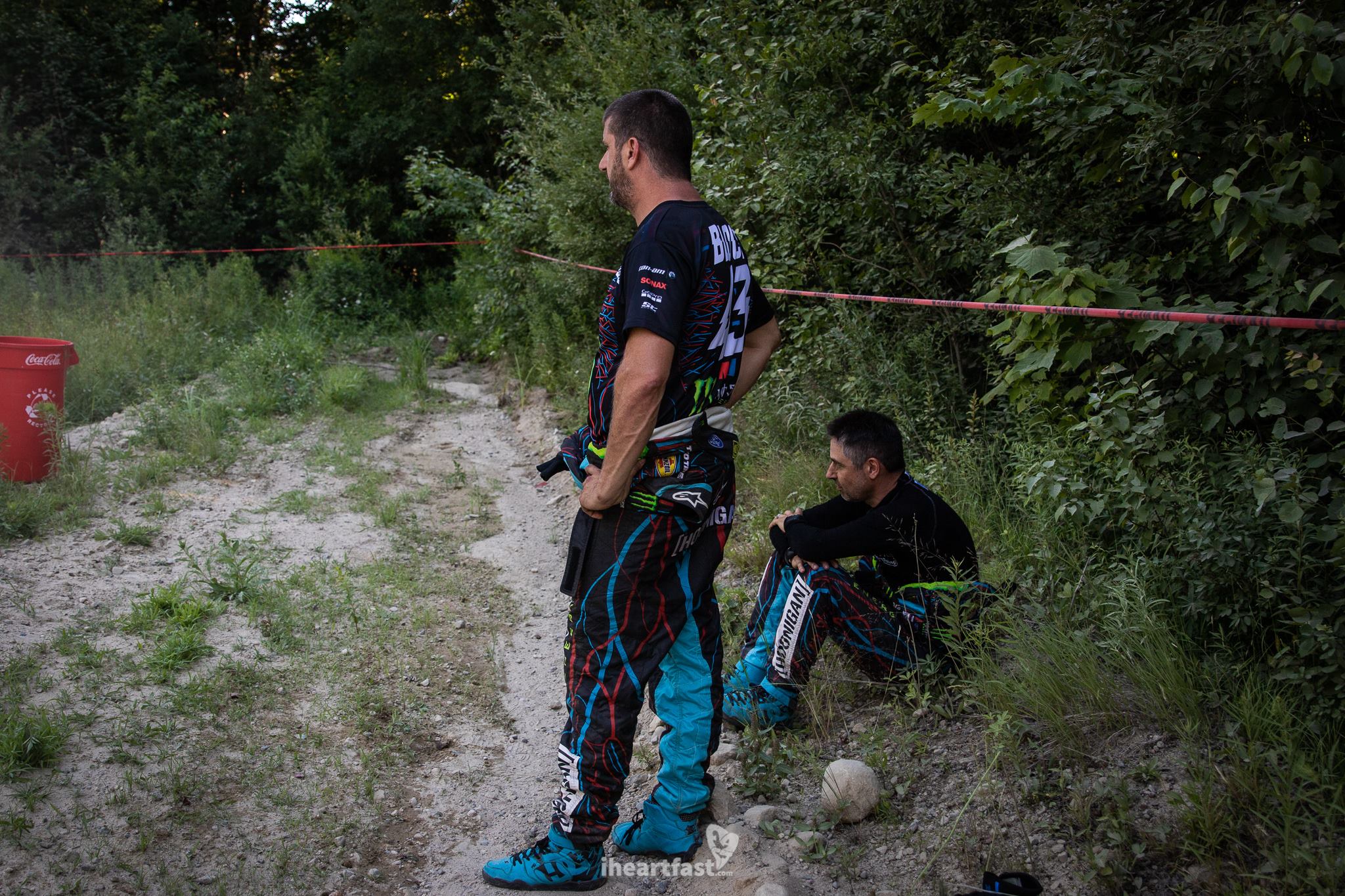 All that could be done was to sit and watch the flames overtake the legendary rally car. As it's well known in rally, you press on regardless and with that spirit, soon enough, Block was making the best of the situation. He even cracked a few jokes and started kicking around the idea of building his other Cossie chassis for next year, it'll take more than a fire to keep the HHIC away from stage rally.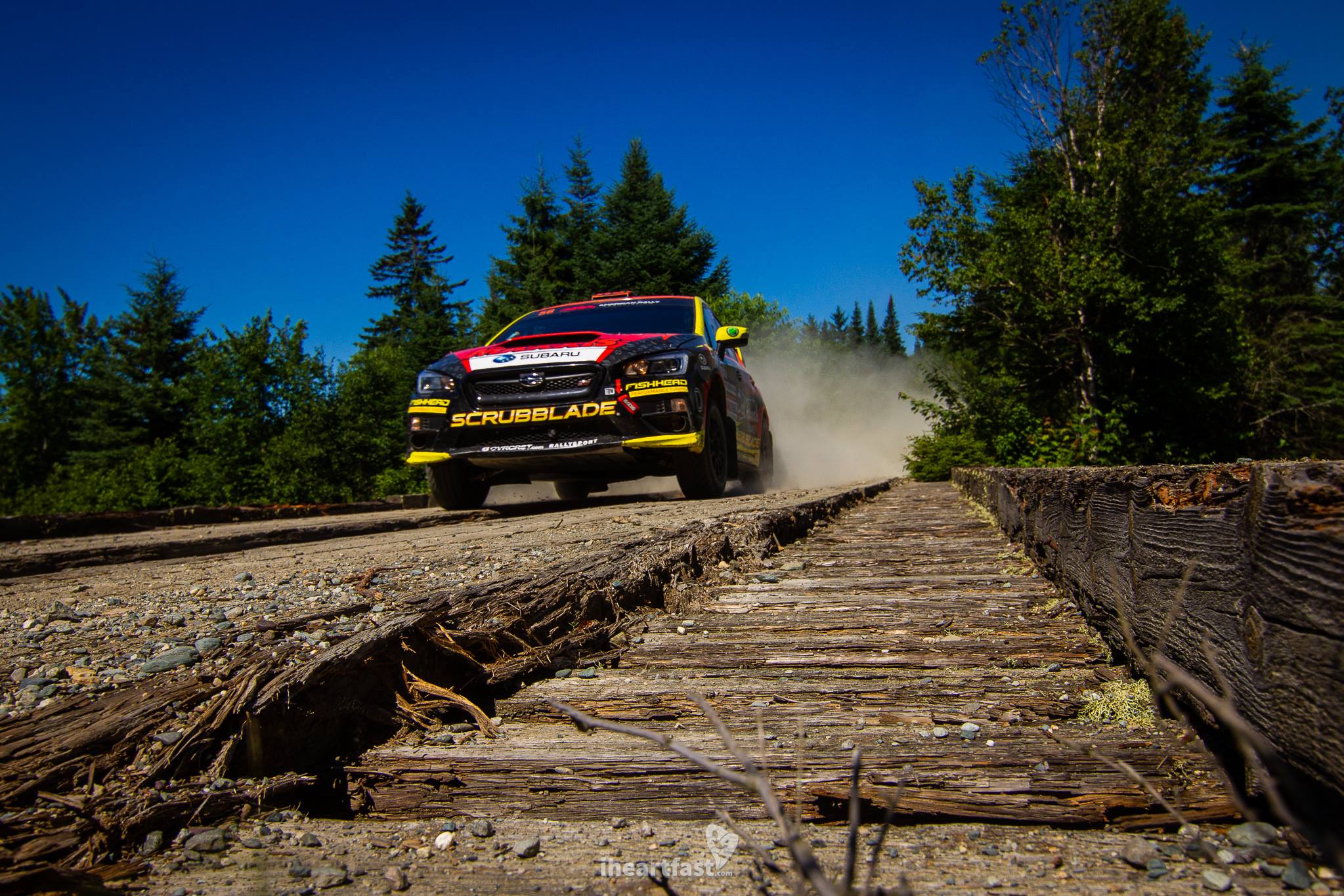 The rest of Stage 4 was obviously cancelled following the fire, leaving Higgins and Drew with a fairly commanding lead over Pastrana and Durant. The dusty conditions had come into play, with Pastrana running after Higgins causing him to miss a corner and lose 40 seconds on stage 3, accounting for most of the gap between the 2. Seehorn and Jankowski had made their way up to third with a full day of rally action yet to come.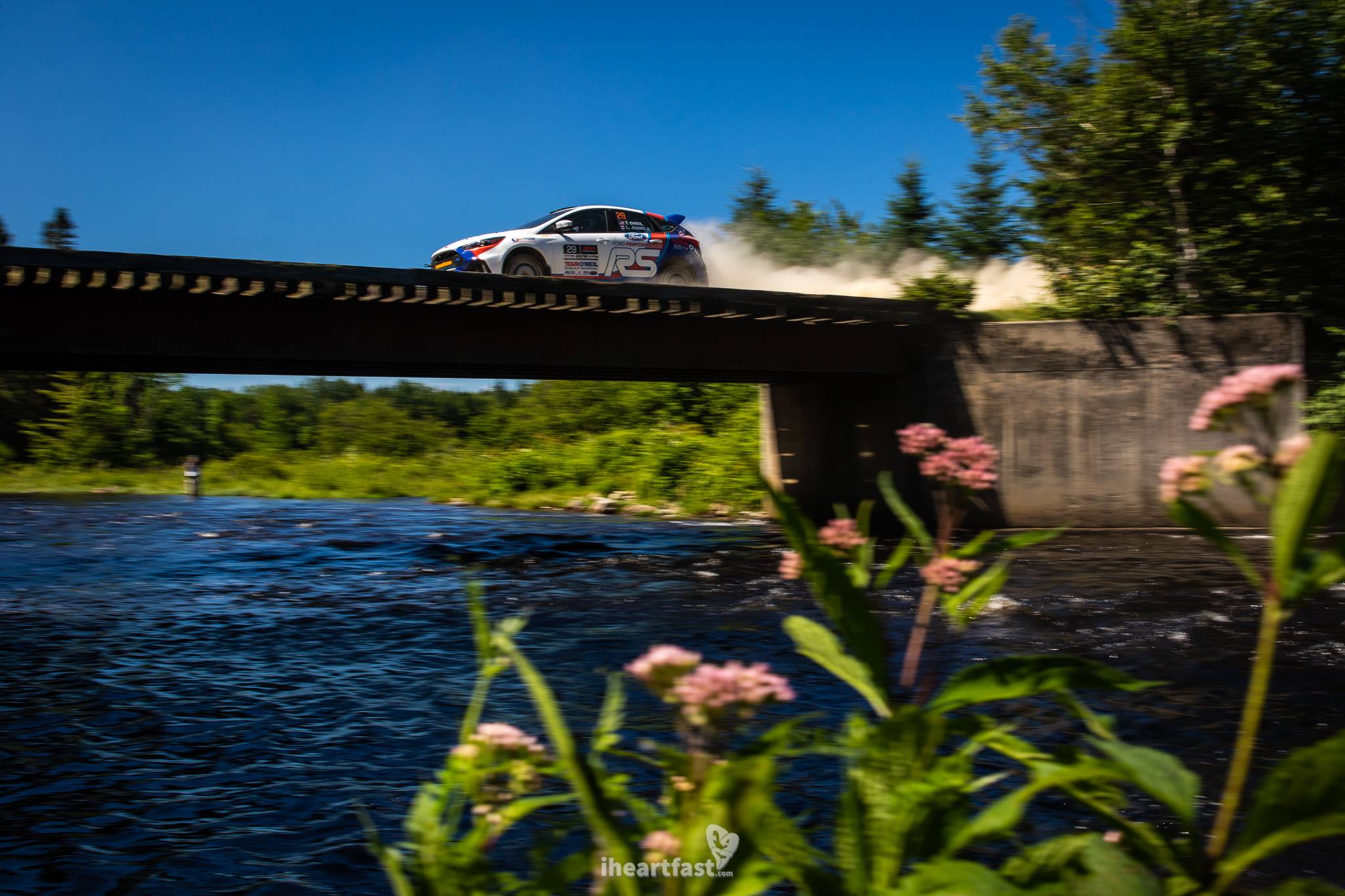 The competition was tough on Saturday as Pastrana pushed to make up time on Higgins, taking back 10 seconds by the end of the day. However a 10 minute penalty as a result of declaring an incorrect check in time, put Pastrana and Durant out of contention and they were forced to settle for a 3rd place finish overall. After missing STPR, Seehorn and Jankowski claimed another 2nd place finish overall and first in class, Limited 4WD. Higgins and Drew with a dominant performance claiming victory by six and a half minutes.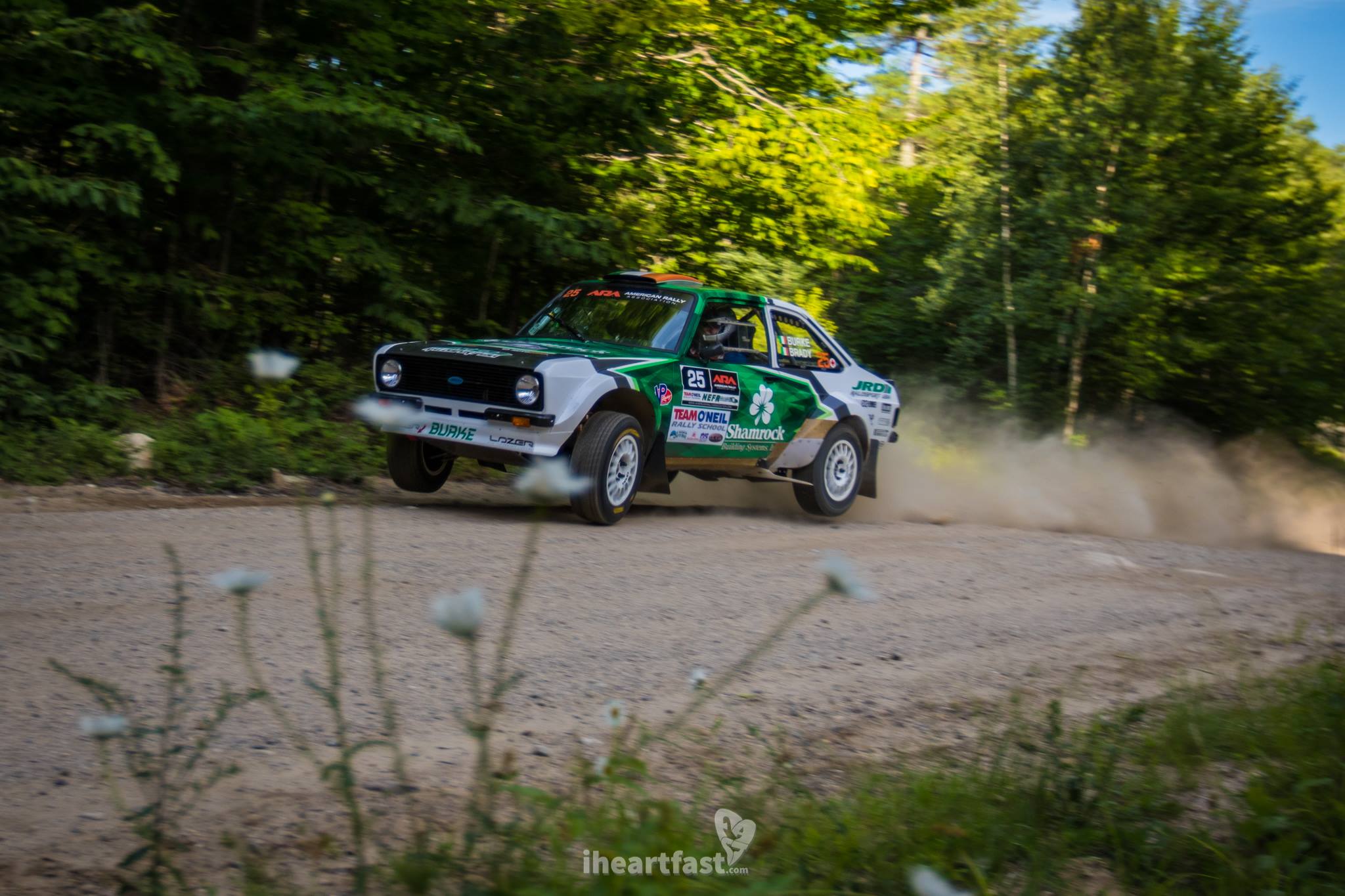 Seamus Burke and Martin Brady in their JRD Rallysport V6 Mustang powered MK2 Escort follow up their overall podium finish at STPR with a fourth place overall and first in class, just ahead of Open 2WD championship leaders Erik Potts and Claudia Barbera-Pullen in their Subaru BRZ.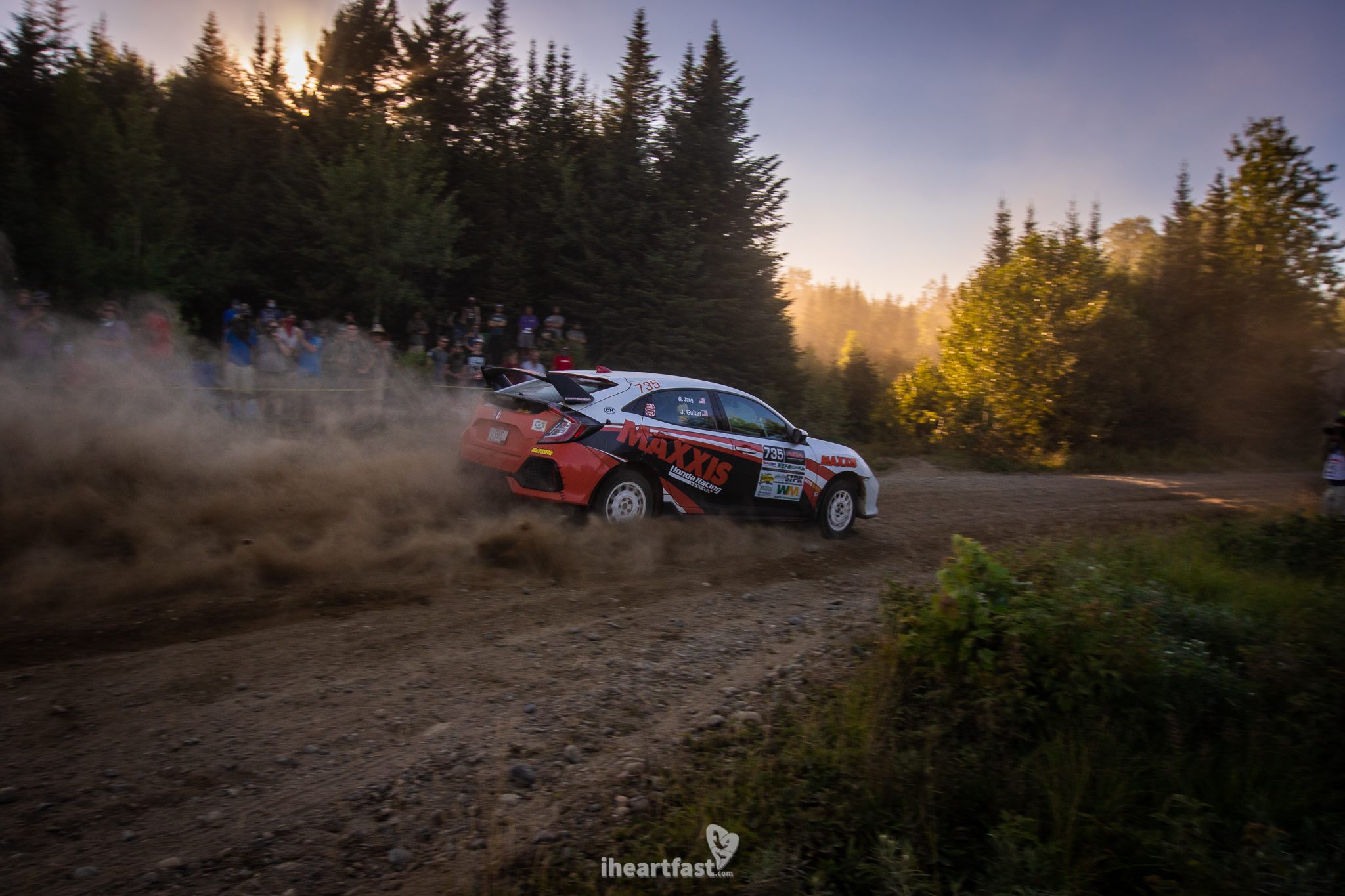 The Honda HPD team of Jordan Guitar and William Jang were able to battle their way to the win in Limited 2WD over the Hoonigan team Lucy Block and Krista Skucas and the Over-Hyphenated team of Keanna Erickson-Chang and Rhianon Gelsomino in a tight one.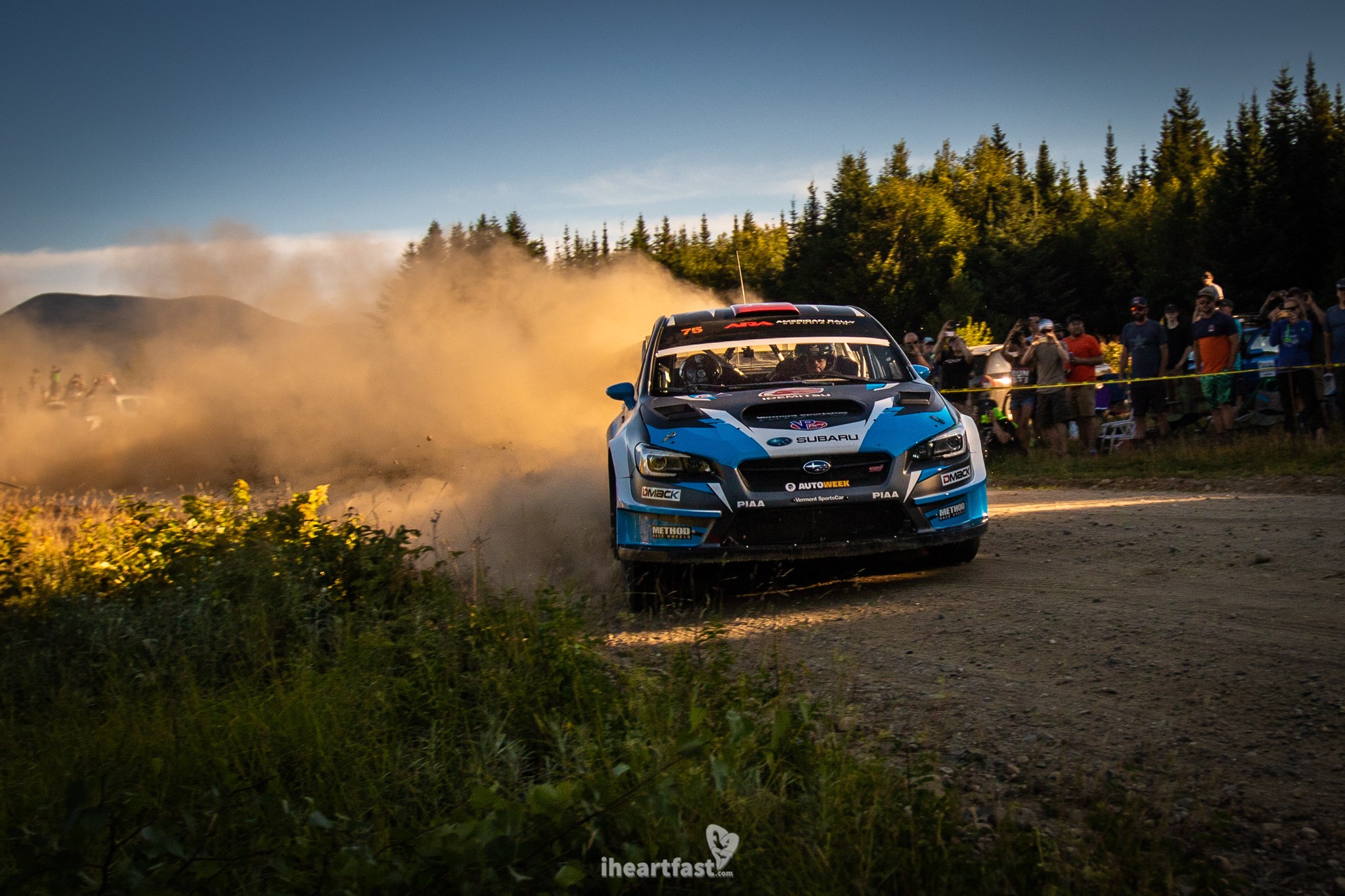 Next up on the American Rally Association schedule is the Ojibwe Forests Rally in Minnesota. David Higgins and Craig Drew will be hoping for better luck than last year as they look to extend their championship points lead and set out to battle Subaru Rally Team USA teammates Travis Pastrana and Robbie Durant who bested them at this event last year.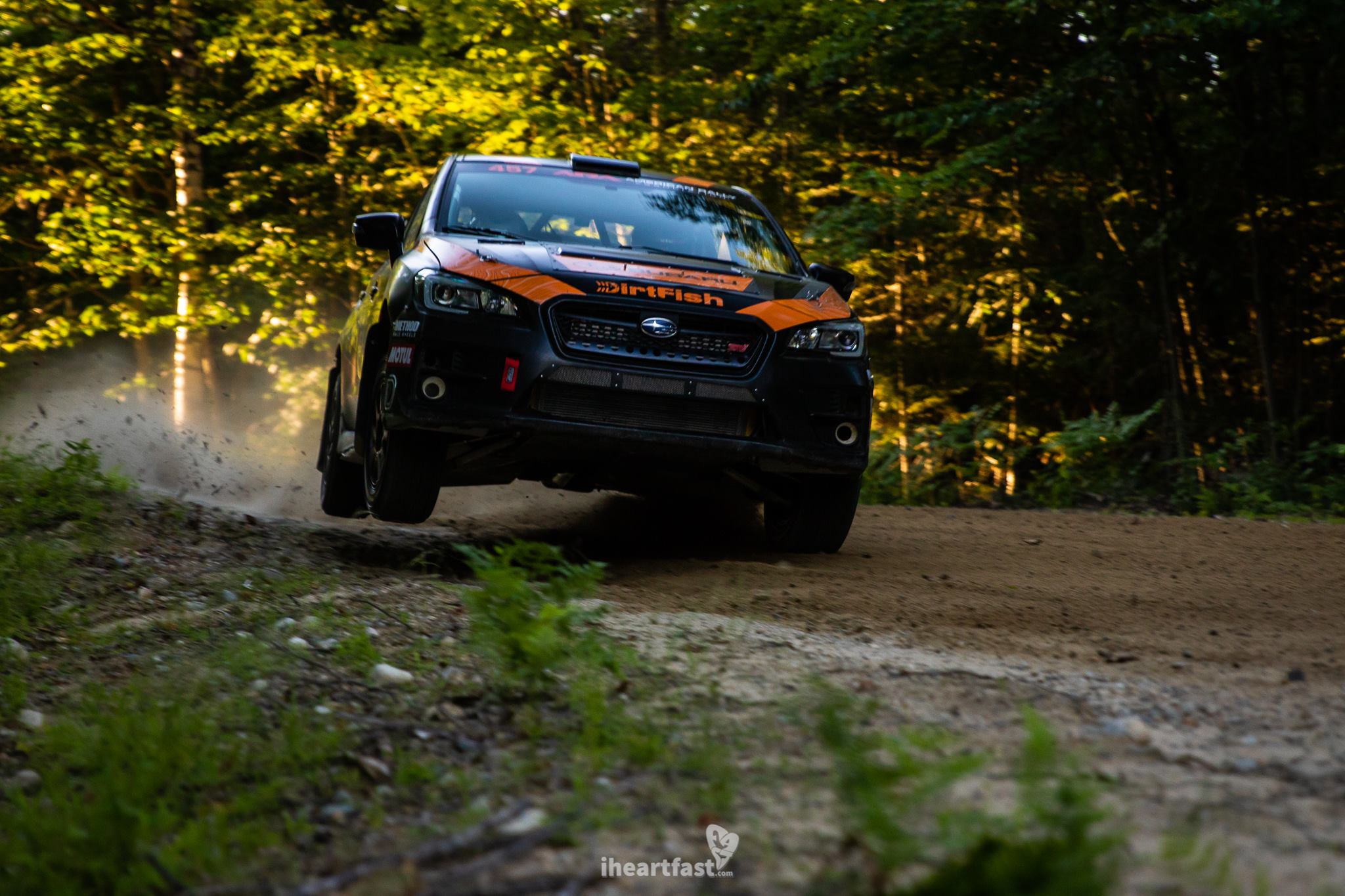 For full results click here or visit the American Rally Association or more information on the next rally Ojibwe Forest Rally website.