2019 ARA Lake Superior Performance Rally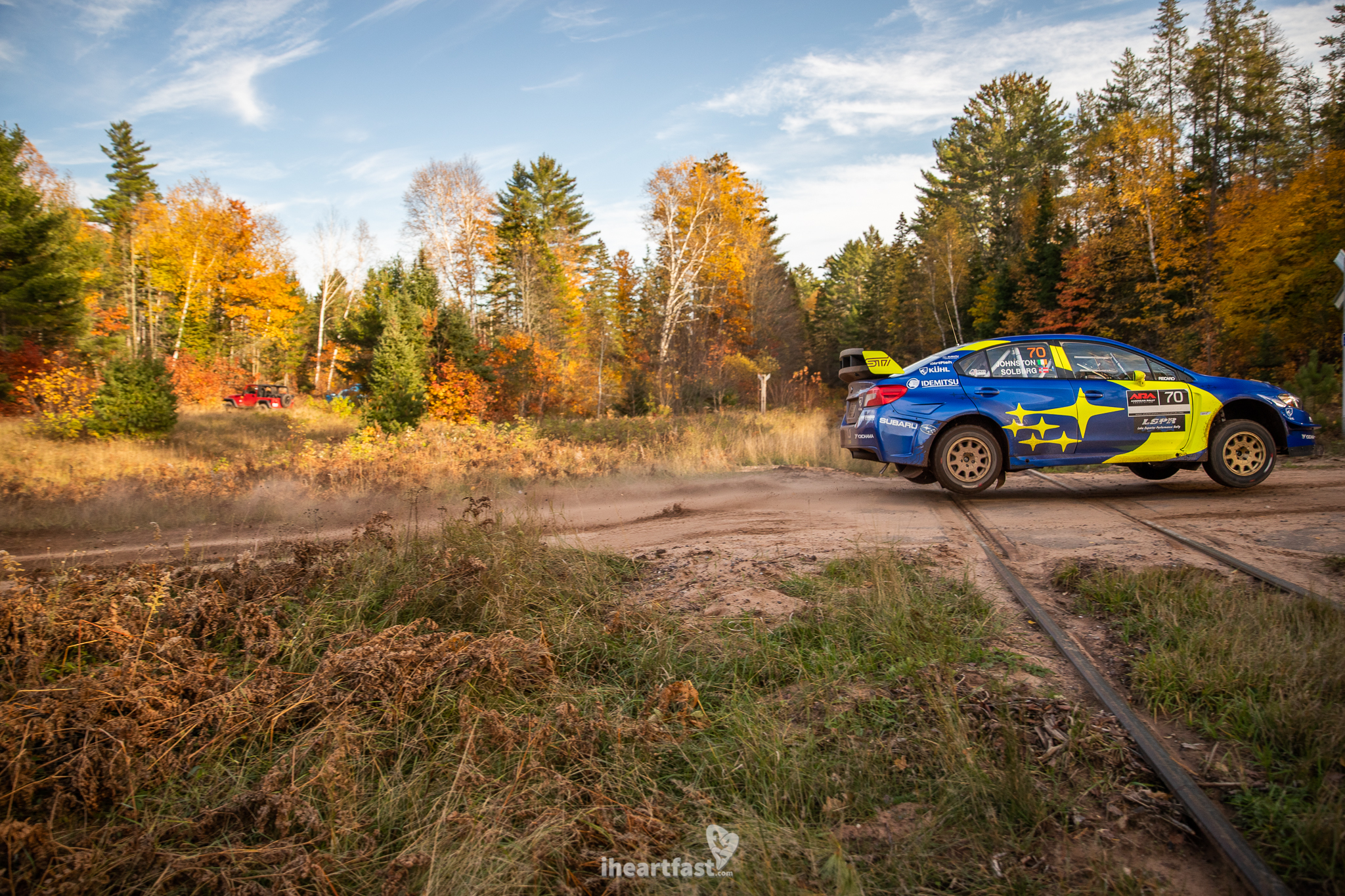 The 2019 American Rally Association National Championship season would come to a close amidst the colorful autumn foliage of the Upper Peninsula of Michigan at the Lake Superior Performance Rally. David Higgins and Craig Drew had already wrapped up another championship for Subaru Motorsports USA at the previous event, STPR, so the focus shifts to the battle for second place. Barry McKenna and Piotr Fetela enter LSPR tied for 2nd, while the rookie phenom, Oliver Solberg, was well within striking distance and should things go awry for those 3, Cameron Steely was mathematically still in the hunt.
LSPR is a favorite for many competitors. Featuring fast, flowing, and technical roads and some of the best scenery of the rally schedule, it's no wonder why. However, the weather can be tricky, as was the case last year when an unexpected snow storm hit the area for the final day of the rally causing for some treacherous conditions. Luckily there was no snow in the forecast for this year, but a chance of rain lingered, threatening to make already wet and rough roads even wetter.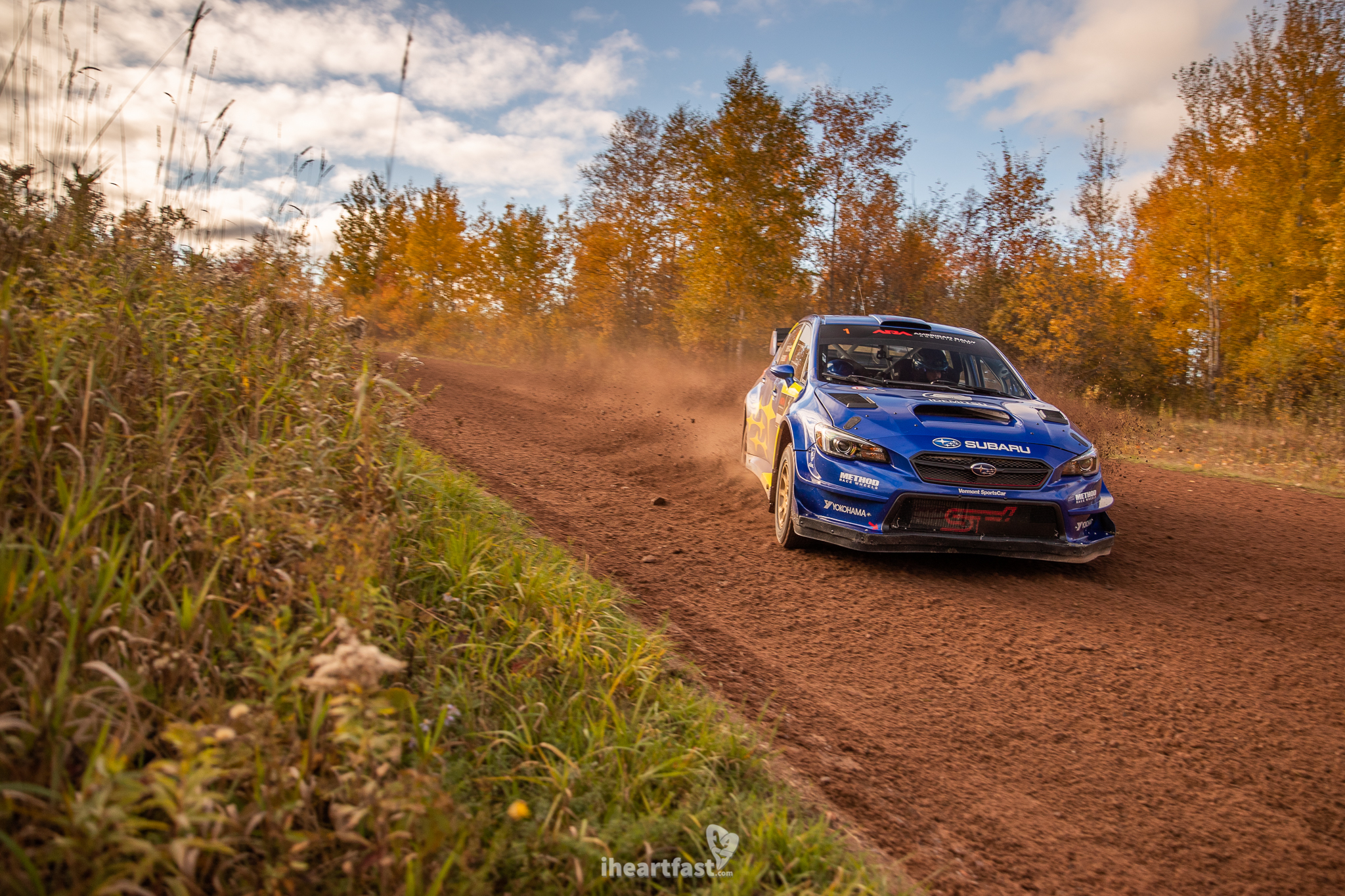 By the time Friday's competition got underway the shadows were already growing long in the forests of the Upper Peninsula. David Higgins and Craig Drew got off to a quick start setting the fastest times on the first four stages and opening up a fourteen second advantage over Subaru teammates Oliver Solberg and Aaron Johnston. But as darkness had totally settled in Higgins suffered an issue and went off the road hitting a stump and ending their day on the fifth stage of the night, vaulting Solberg into the lead.
Solberg would take stage wins on the remaining four stages of the day, giving him a nearly two and a half minute lead over Barry McKenna and Andrew Hayes. Ramana Lagemann and Nathalie Richard in their WRT ProDrive Subaru would end the day in third just over five minutes behind the leaders, followed by Piotr Fetela and Dominik Jozwiak in fourth and Grzegorz Bugaj and Ela Dziubianski in fifth.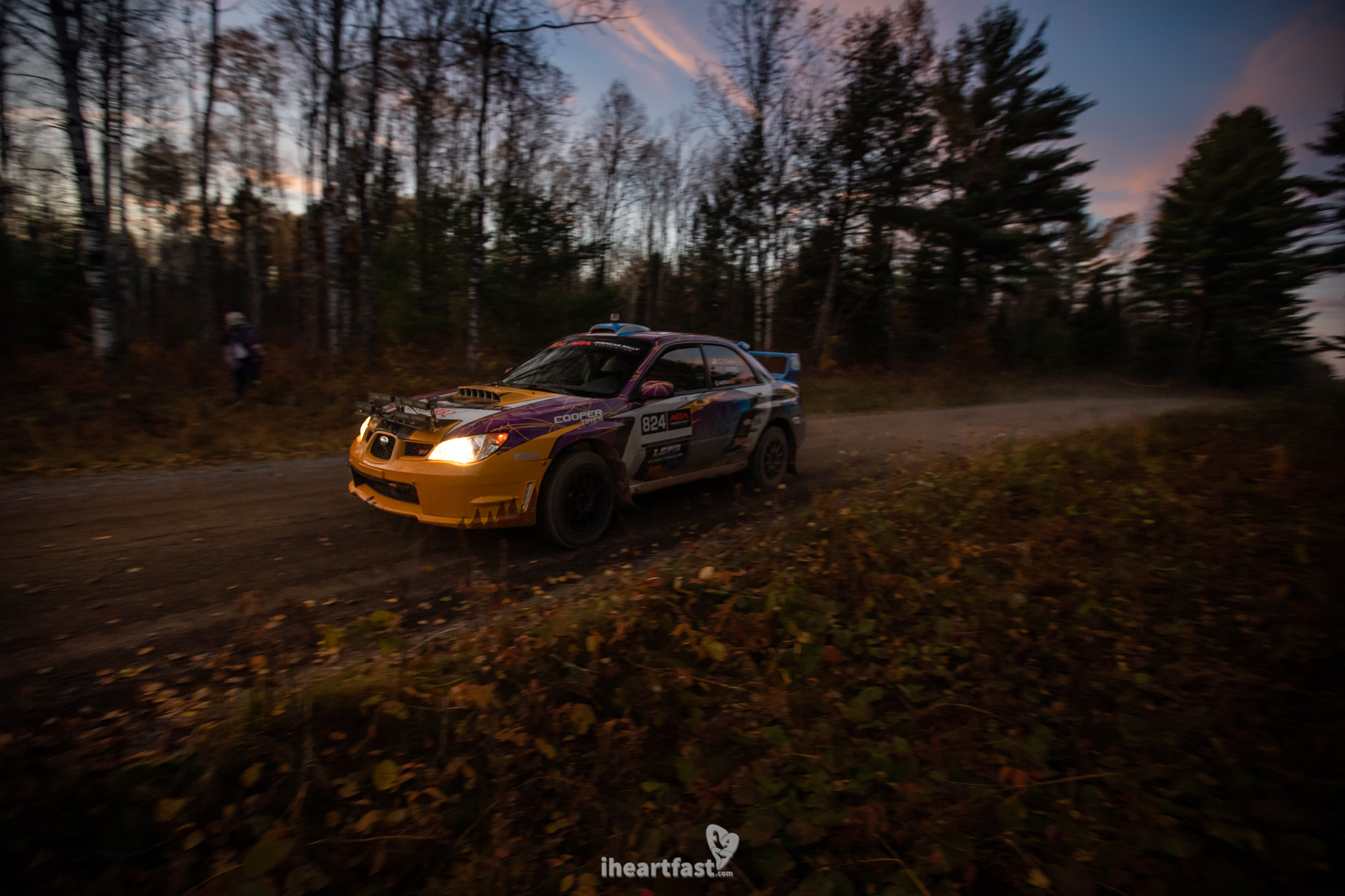 Higgins and Drew would not be the only casualties claimed on the opening day of competition. Cameron Steely's hopes of capturing one of the podium spots in the Driver championships went up in flames, literally. On the third stage of the night Steely and Steven Harrell's car caught fire. Luckily the fire was put out by the next car that came upon them and the car was saved, but their weekend was over. Ryan Booth, coming off his debut in the WRC at Wales and Rhianon Gelsomino suffered engine failure on the first stage of the event, but they were able to return for the final day of competition after a quick engine swap overnight. The Sneak Attack rally team of Nathan Usher and Marianna Usher had an off, rolling the car and suffering significant damage.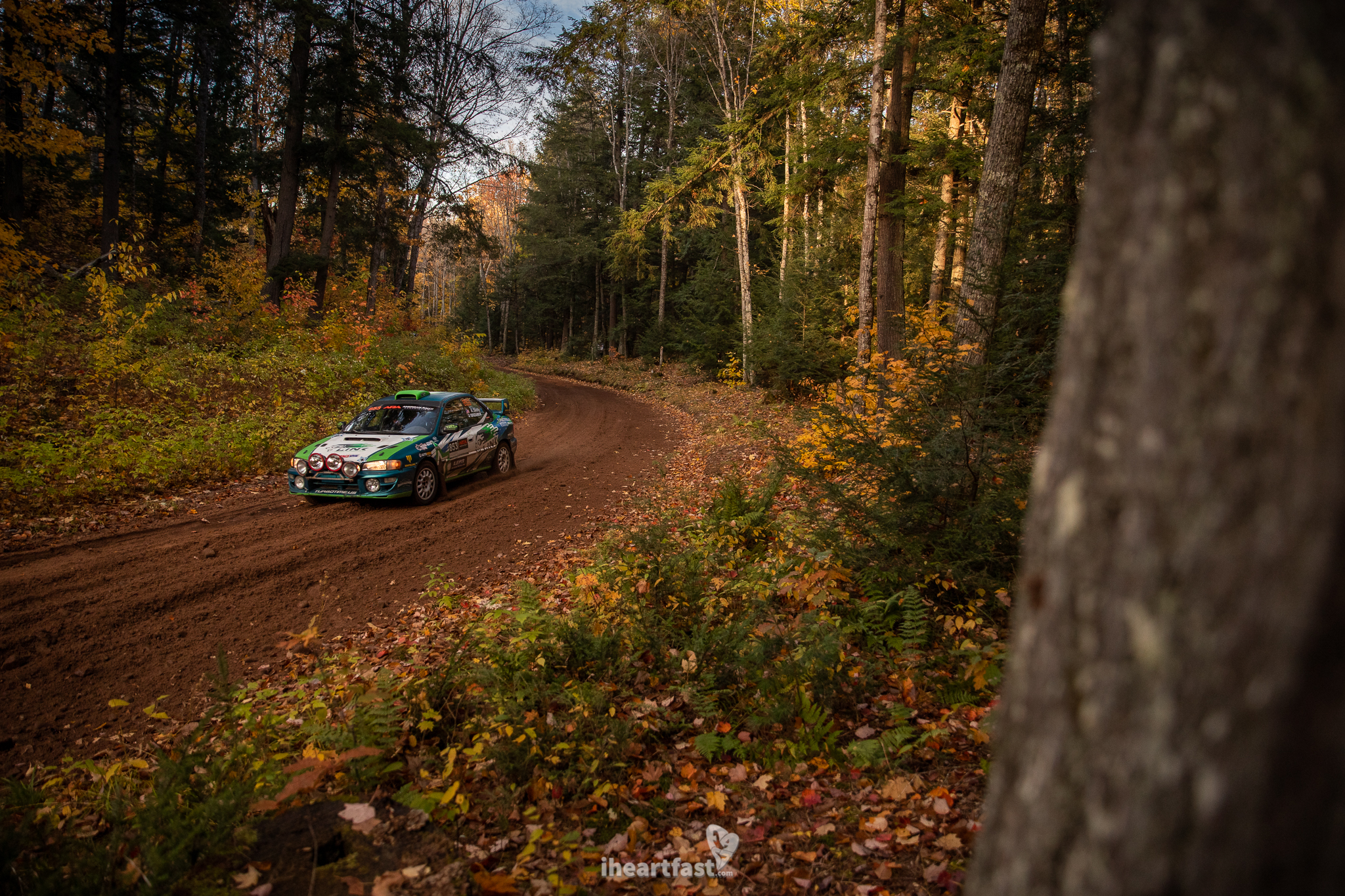 Amanda Skelly and The Noble Star Rally team had a rough week with the saddening loss of their crew chief Gino, to suicide. Gino was a beloved figure throughout much of the rally community and will be missed greatly. "This week has been so full of so many emotions. Comprehending loss to suicide is not something I can truly put into words," said Amanda. Their rally also got off to a rough start when the transmission on her Subaru got stuck between gears on the opening stage. Luckily they were able to press on and Super Rally on Saturday.
Saturday's Competition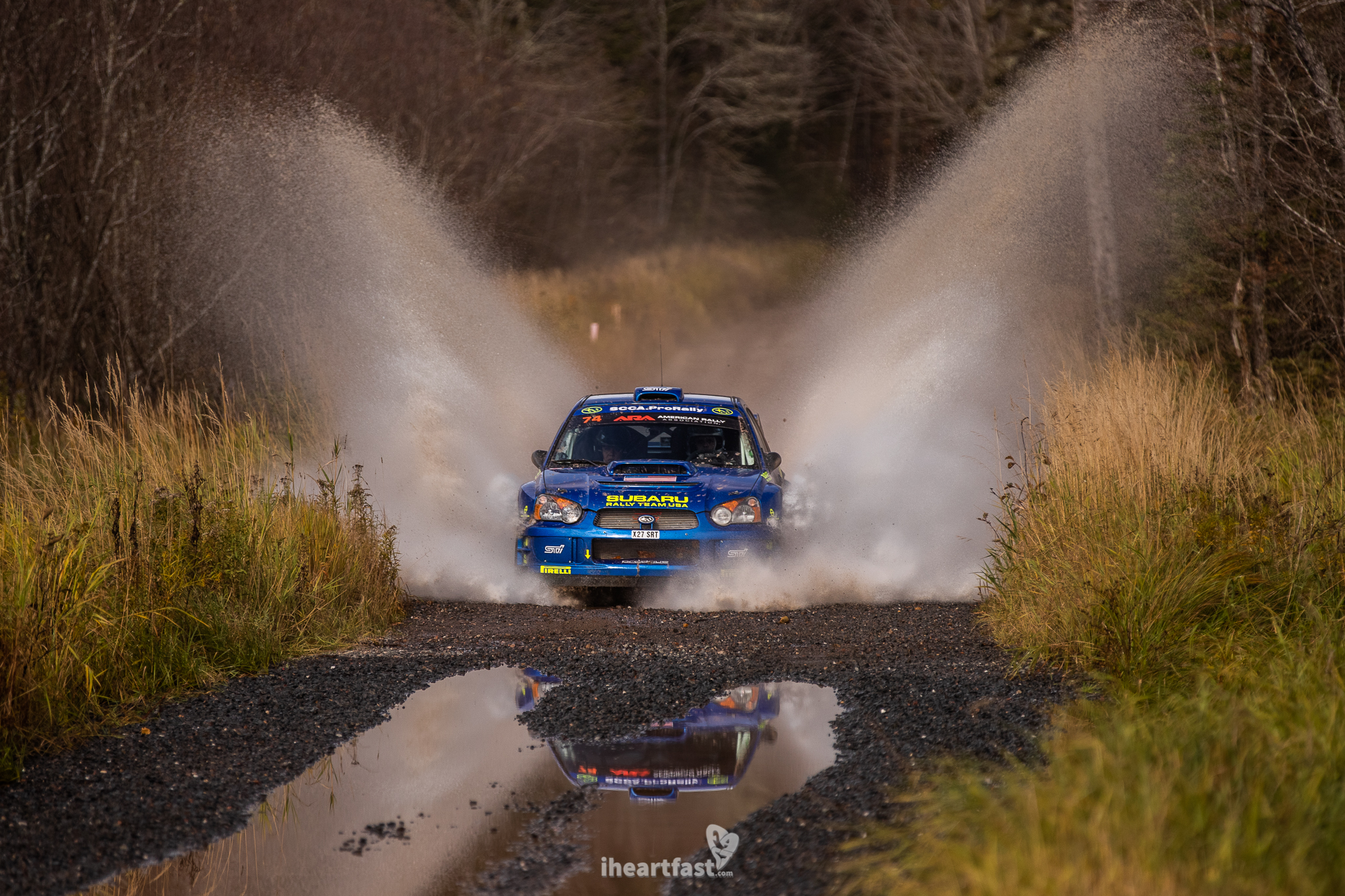 Saturday was another rough day for a lot of teams. Higgins and Drew made a return and took a stage win on the opening stage of the day, but another mechanical issue ended their day prematurely. Lagemann's Subaru suffered damage to the exhaust and they decided to retire instead of risking any additional damage to the car. Michael Hooper and Claudia Barbera's Lexus, running near the top 5, sheared off a rear shock on the opening stage of the day and their day was done. "The DNF is pretty hard. I could have avoided it if I followed my gut and didn't run those arms. We worked hard and were very committed on stages 5-9 (on 4 mud covered our lights halfway through) to try and get to our goal top 5 overall. Tough to take all the risk for nothing," said Hooper.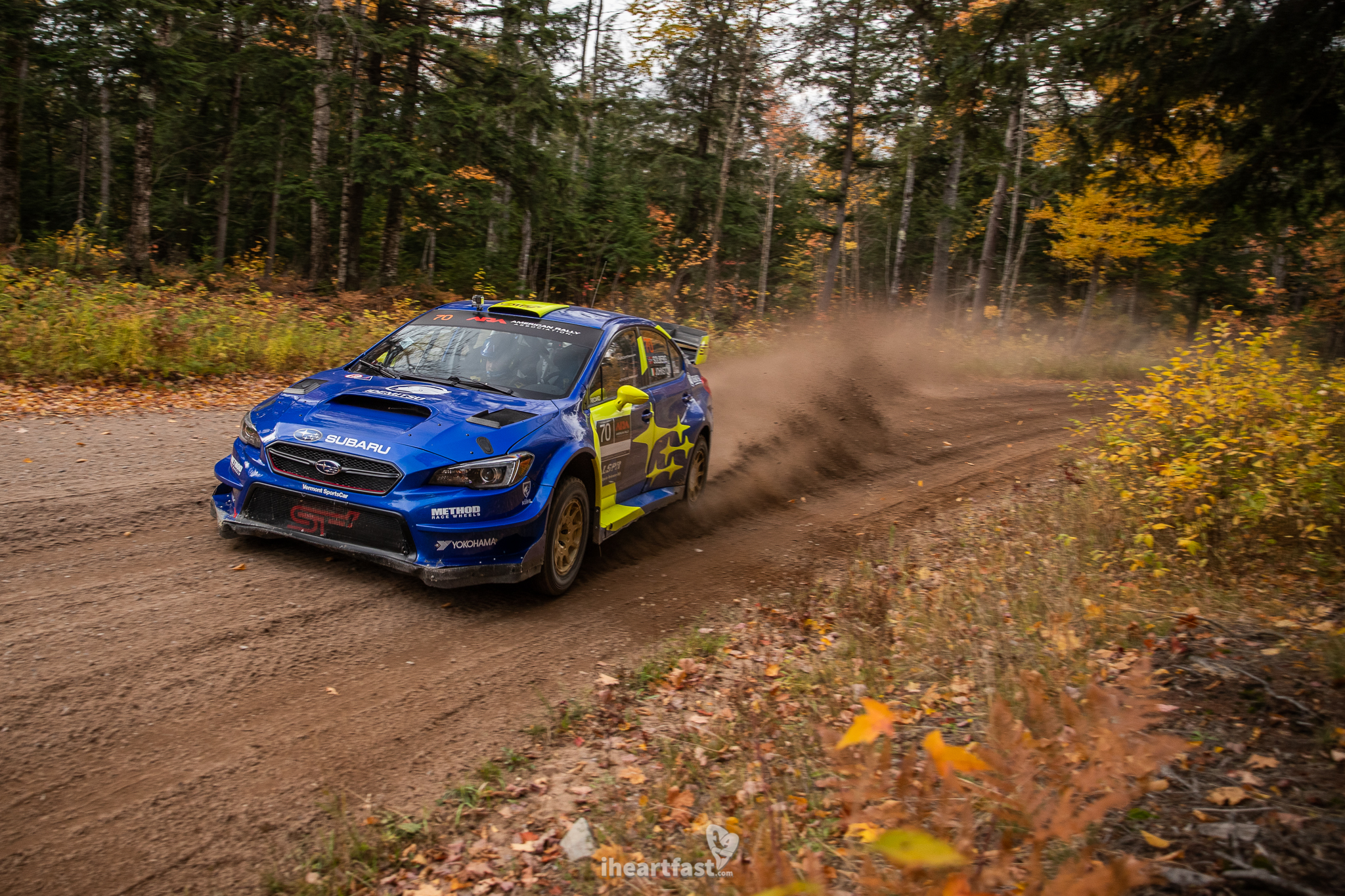 Solberg, however, sailed through Saturday's stages, taking fastest times on all but one stage on his way to victory. McKenna kept up enough pace to take second, despite numerous issues including losing power steering and having to do a gearbox change in service. "Anything that could go wrong did go wrong on the last 4 stages, but we got to the end," said McKenna. With Lagemann out, Fetela took over the final podium spot. Solberg's victory, his third win in six attempts in his rookie season, was enough to bump him in front of Fetela in the Driver's Championship and 3rd overall, while McKenna's finish cemented his 2nd place in the Championship.
Solberg told Mike Shaw of Open Paddock Rally, "It was a very good weekend. I have to say it's very nice to end the season with a win, it's fantastic. The weekend didn't start off perfectly, and I had to get used to the car again, which took four or five stages to get used to it. Then we showed good speed and it was good fun for us as well. End the season on a high!"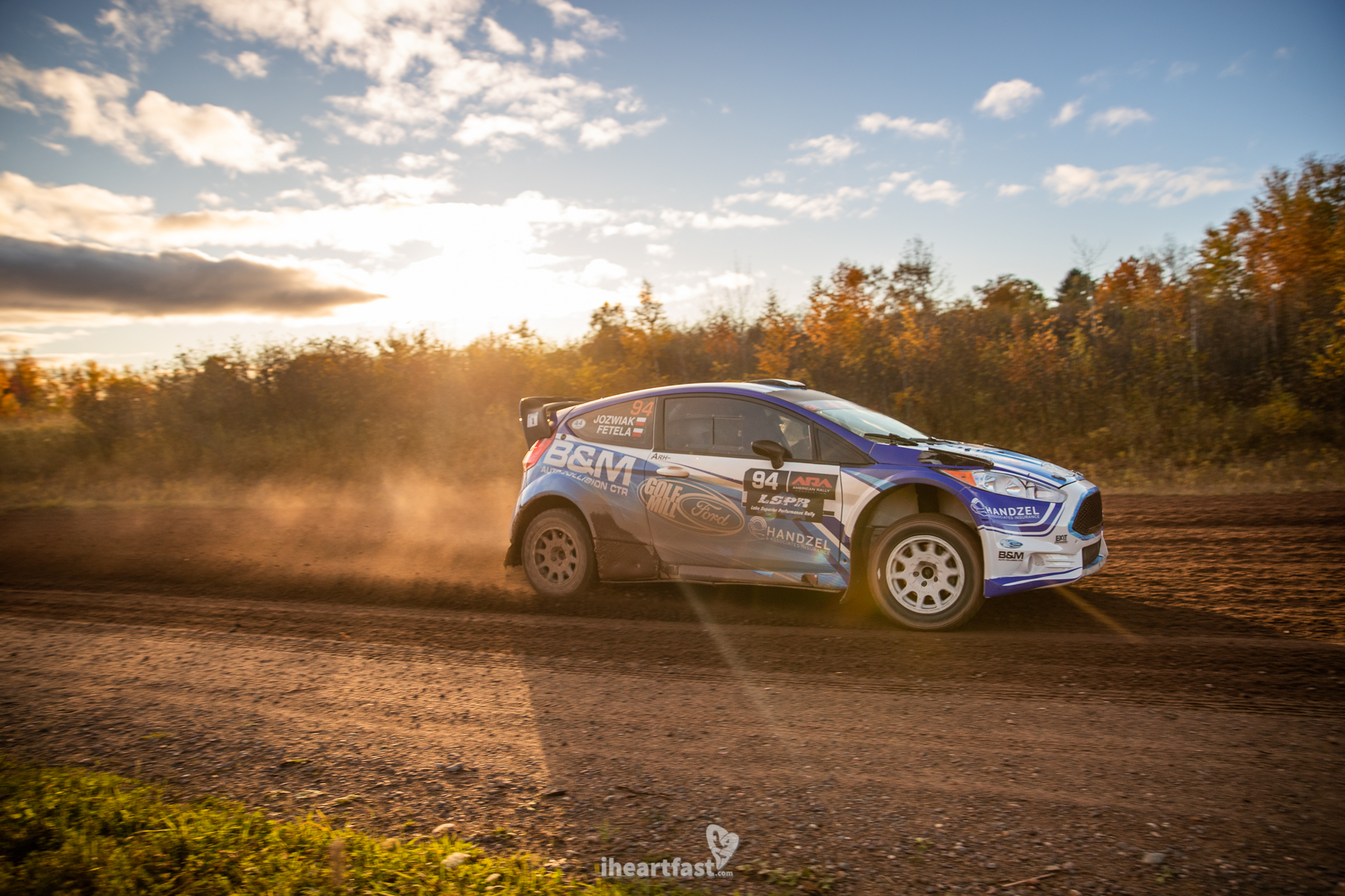 "Good weekend. Absolutely good weekend! I didn't expect 3rd place, but I'm kind of unhappy because we just missed the podium for the championship. Anyway, a very good season for us. Before we started I didn't even know we were going to get this far, so that's good. Thank you to everybody, all the fans, the family, all the sponsors and partners, Dominik, the whole crew! Thank you! A good season," said Fetela.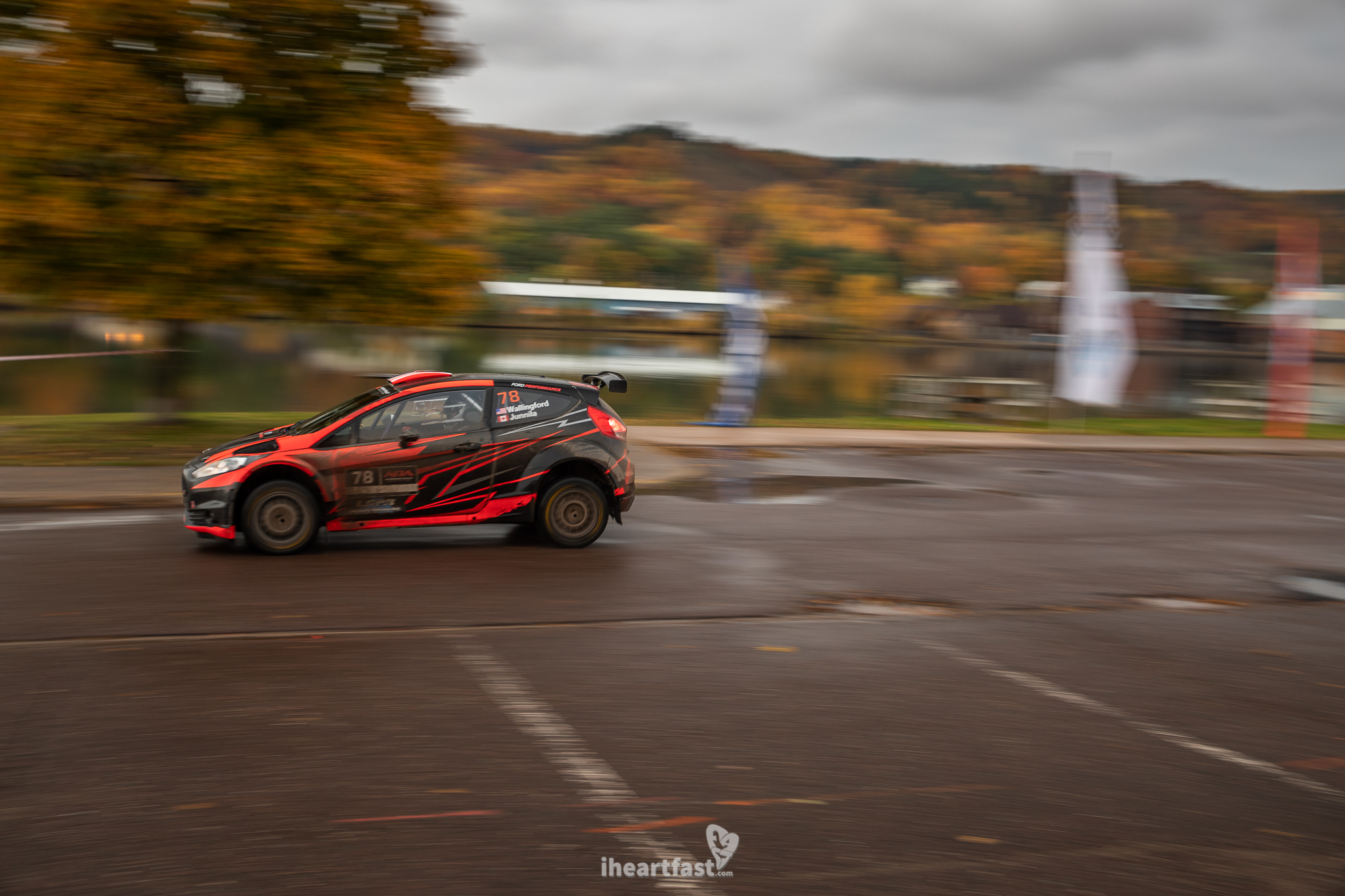 Dave Wallingford and Leanne Junnila finished in sixth overall wrapping up the inaugural RC2 Cup Championship, which is awarded to the best performing nationally entered driver and co-driver competing in RC2 vehicles. They finished just ahead of John Coyne who bested them at LSPR, finishing fifth overall.
L4WD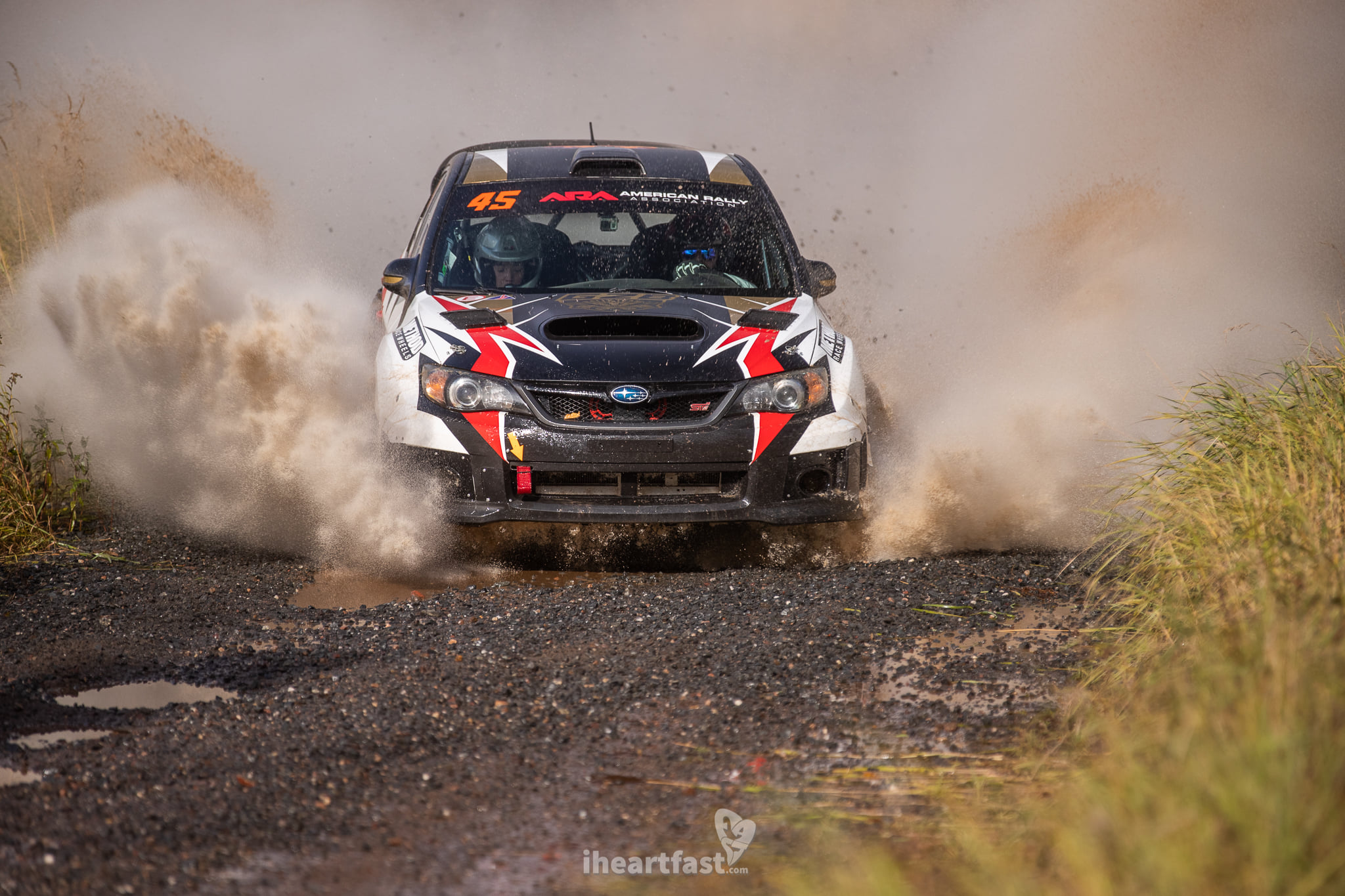 The GZB Rally Team of Grzegorz Bugaj and Ela Dziubianski limped their Subaru over the finish line to take the victory in L4WD and finish fourth overall. "I think we just finished off the motor as we crossed the line! But we're here. Very happy with our result. We got to push a bit on Friday, but today was a little downhill for us with the overheating problem in the rough stages but we made it through to the finish line," said Bugaj. Michael Engle and Brad Arpke took 2nd in their Subaru and George Hammerbeck and Lewis May rounded out the podium in 3rd.
Rob Sanders and Karen Jankowski of goSpeed Racing debuted their new Subaru L4WD car and drove it to 4th in class. "This was Rob Sanders first time at LSPR so this was great seat time for him and testing in a car he hadn't even driven yet. Our goal was to finish which we did so mission accomplished! The Thompson Racing Fabrication company built the car in record time, hats off to them for the amazing work they did getting the car done in time and finishing its first event. It was a fun weekend with so much great momentum to continue to build on," said Karen.
NA4WD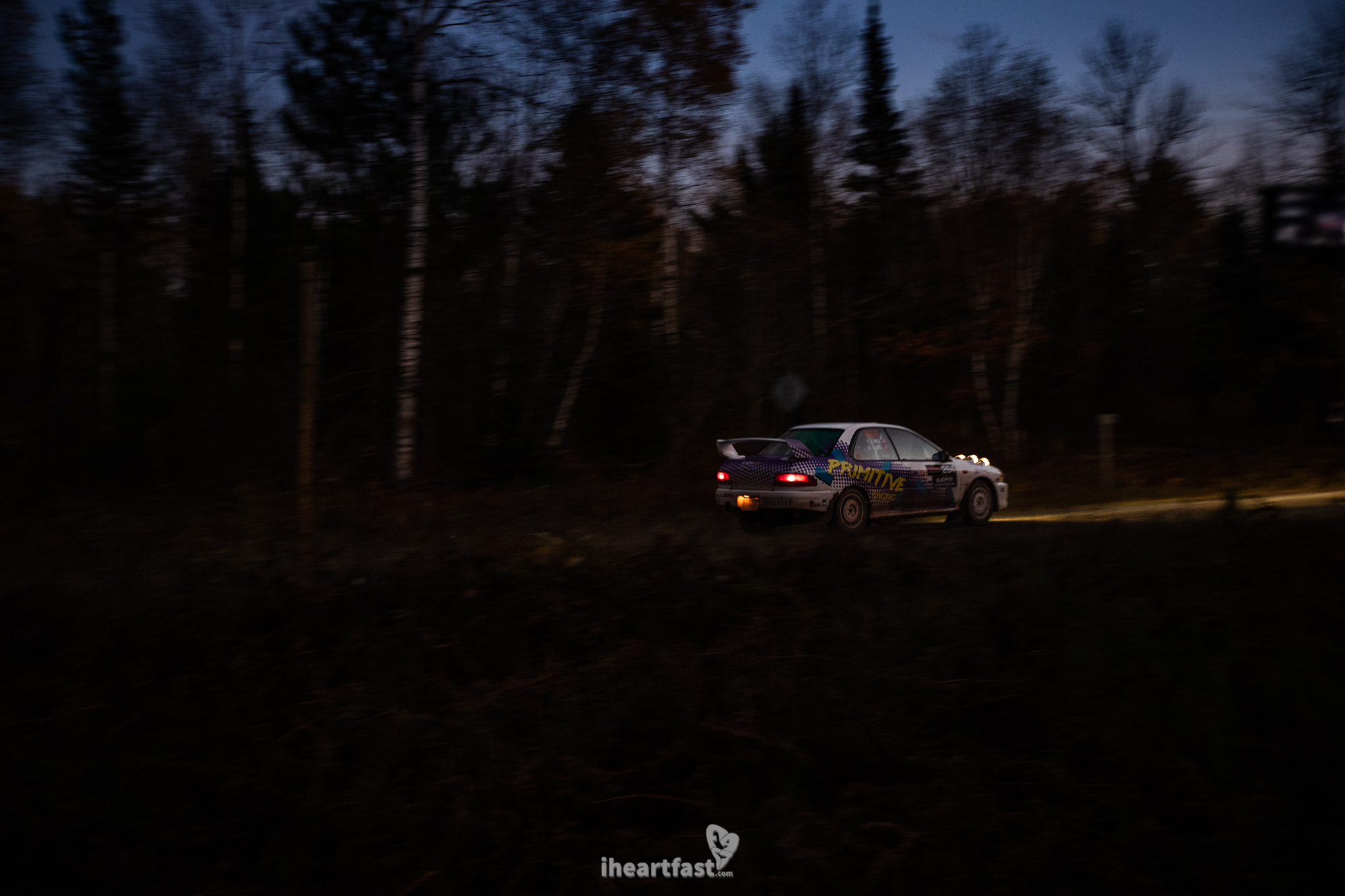 The NA4WD Champions Blake Lind and Tricia Lind added another victory to their season with the win at LSPR. "Rally went really well! First time at LSPR for us as competitors, and it's just an awesome rally," said Blake. Amanda Skelly and Jason Grizaniuk got the transmission issues their Subaru suffered on Friday fixed and pushed through to take 2nd place in NA4WD. "This one is solely for my old Crew Chief Gino," said Amanda.
O2WD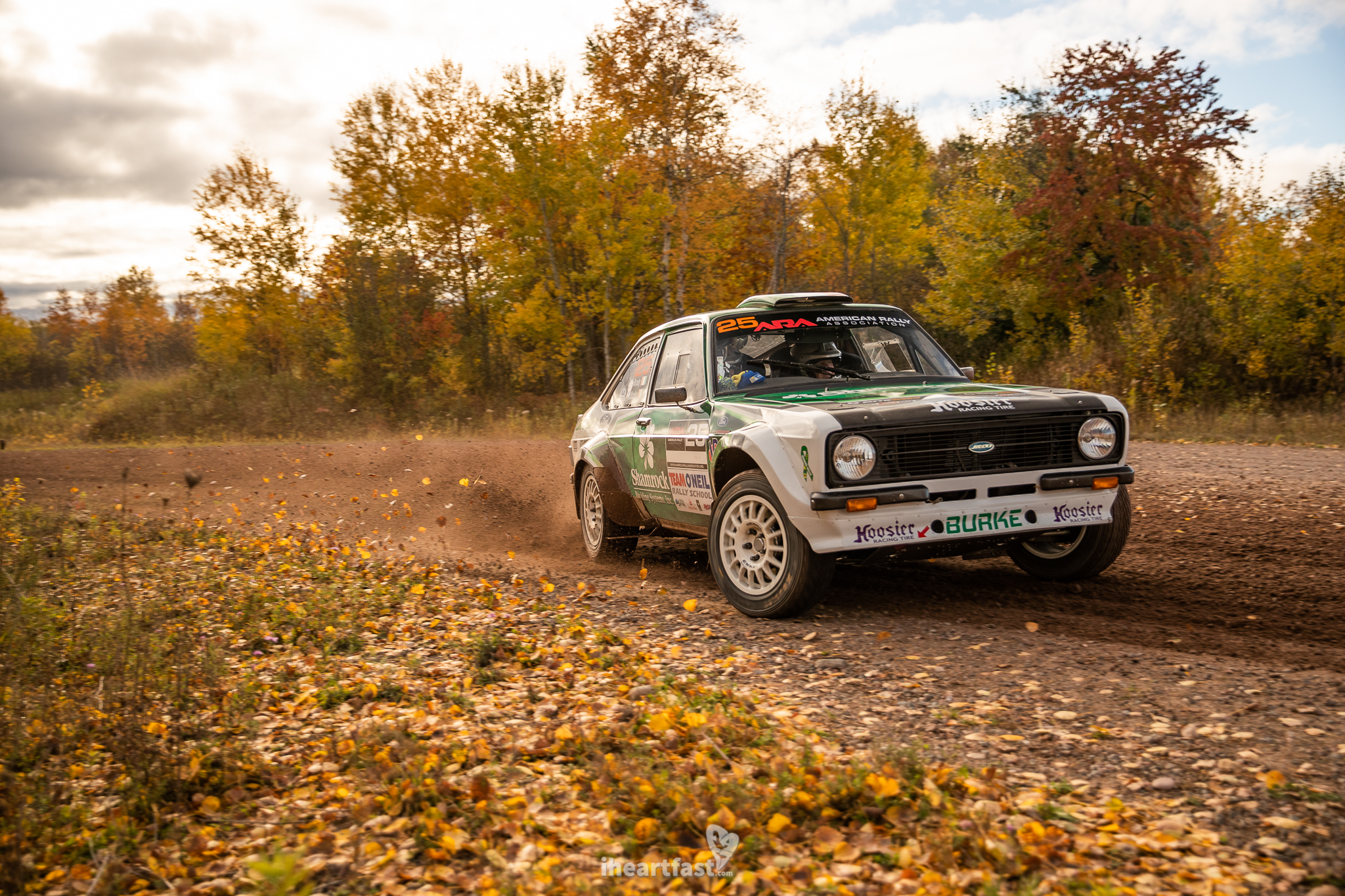 The battle in 2WD was set to be an exciting one, but with Booth and Hooper making early exits, Seamus Burke and Martin Brady were left to take the victory. But it wasn't an easy one by any means. The MK2 Escort suffered a broken steering arm with nearly two miles left in the stage and they were forced to drive it out that way. They then fixed the arm with a bolt from a less important part of the car and continued on. Jordan Guitar and Steven Olona took 2nd in their Honda Civic and Mike Hurst and Michel Hoche-Mong drove their '74 Ford Capri to third place, despite losing an oil seal out of the transmission and a damaged tail shaft bushing that limited their top speed to 85 mph.
L2WD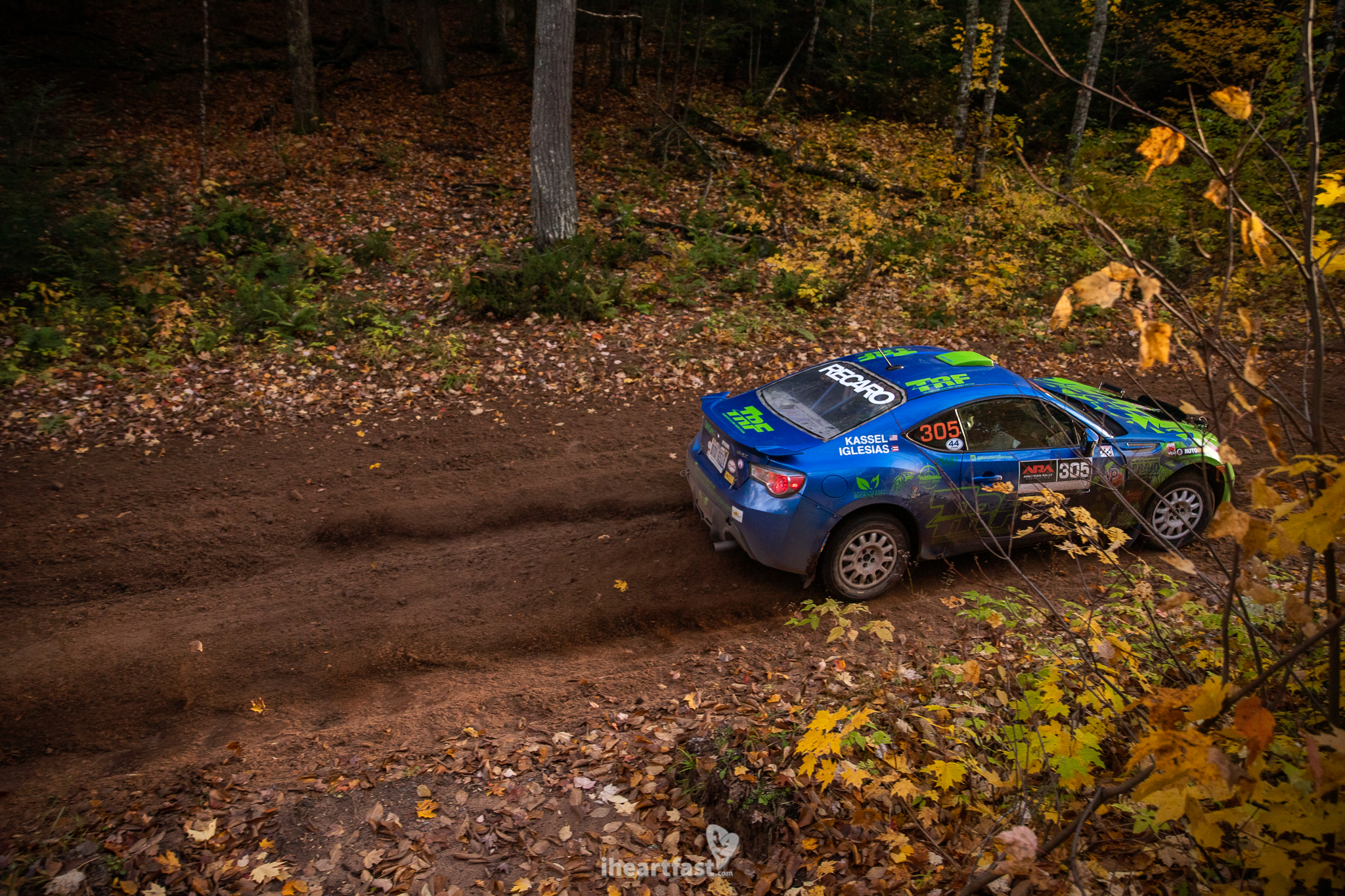 Santiago Iglesias and Robert Kassel drove their Subaru BRZ into a tree after debeading a tire following a big jump on Friday, but were able to get the car fixed and back in the rally for Saturday and to take the victory in L2WD. "The car feels great other than we lost the rest of the bumper…somewhere…sweep apparently already got it. We were a little slow on the first pass of 9 (Arvon), but then really tried to pick up the pace and push it. I think we've been setting some awesome stage times and I'm just really happy to be here. I think this locks up the championship for us for Eastern Regional," said Santiago. Ryan Sanders and Jimmy Brandt took second place in Ryan's first rally ever. "The rally went well. Young Ryan drove a clean event. He listened. He had been to O'Neils and at times I could hear him talking to himself of what to do (and what he had learned) (thanks Timo and Travis and everyone). I think that we only had a couple of moments. Salty used to tell me that if you don't have a moment a stage, you aren't trying hard enough. This was Ryan's first rally as a driver and he finished with no damage. Did I mention that he finished. Fun fact – our car 236 (goSPEEDRacing) had both the youngest and the oldest competitors in it," said Brandt.
Regional Competition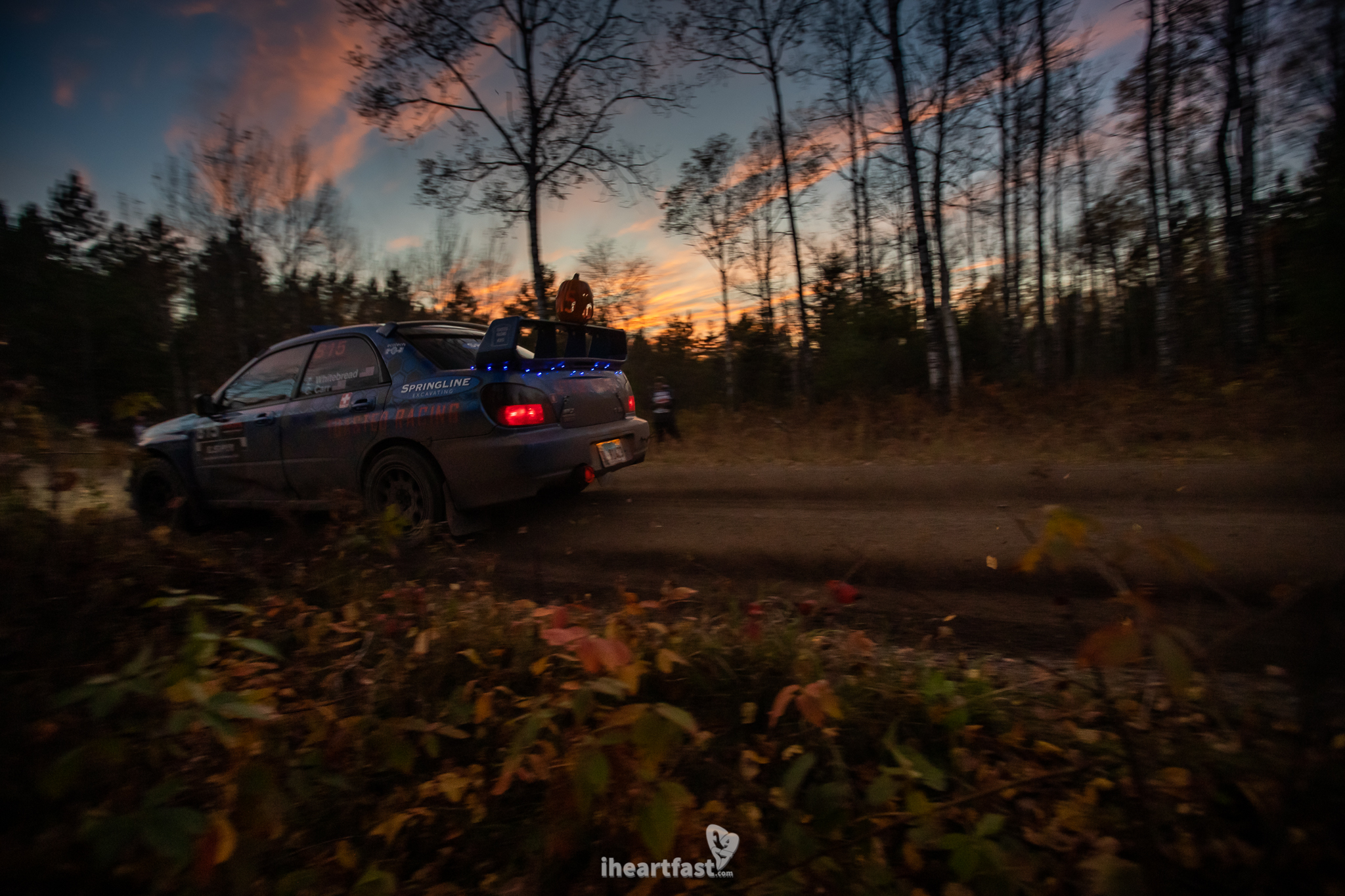 The pumpkin attached to the rear spoiler of Zach Whitebread and Cameron Carr's Toasted Racing Subaru was the subject of maybe a bet or two, as to whether it would last the duration of the rally. And last it did, as they drove to the Regional O4WD and overall victory by just two seconds in a very tight battle with the Subaru of Jimmy Pelizzari and Kate Stevens. Eric Carlson and Camille Carlson took second place in the regional O4WD class, followed by Brad Hayosh and Neil Moyer in 3rd.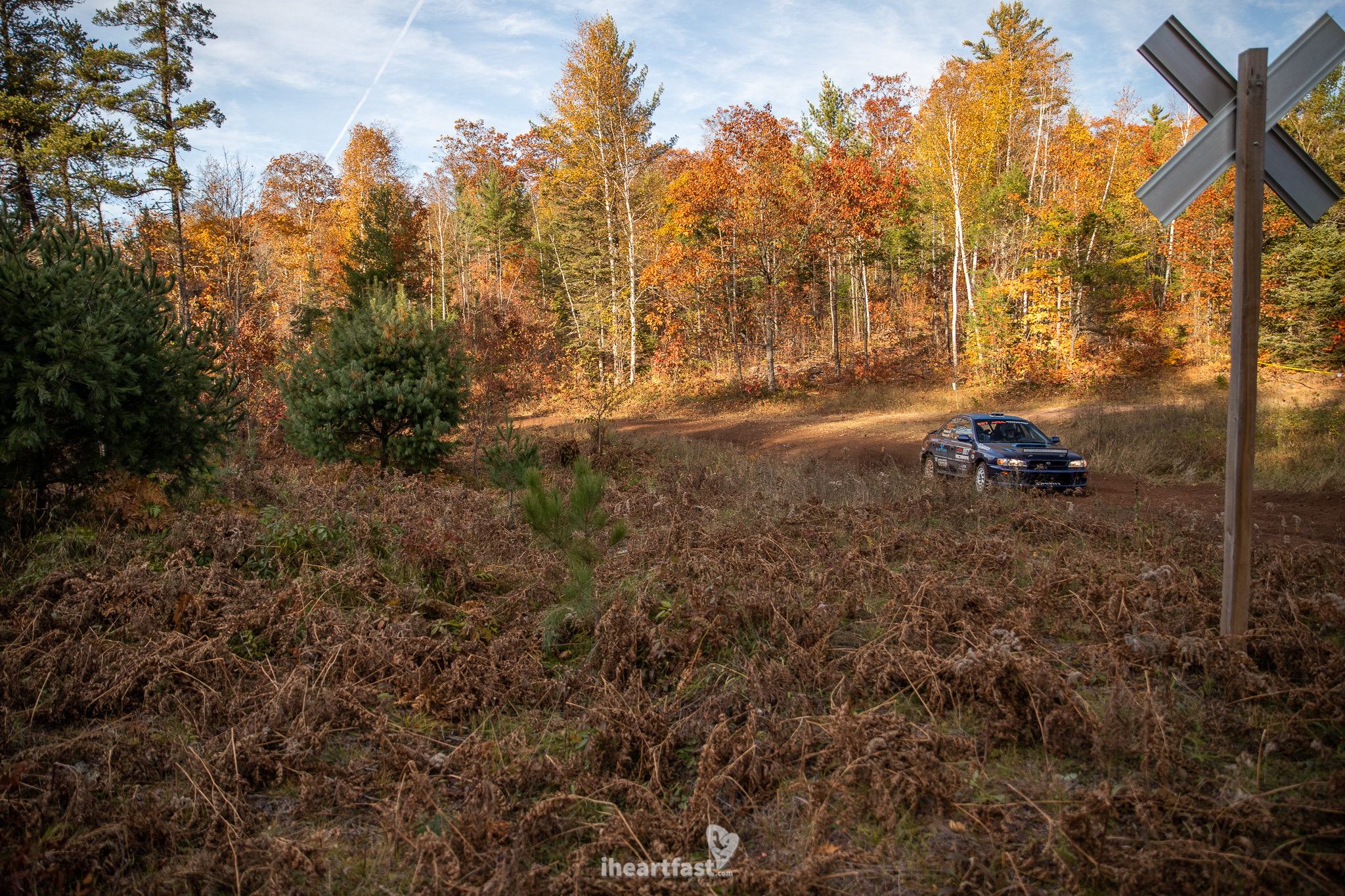 Jimmy Pelizzari and Kate Stevens took 1st in Regional NA4WD competiton and 2nd overall regionally. The finish was enough to give Pelizzari and Stevens the Eastern Driver and Co-Driver Championships. "It was an awesome rally! This is my favorite and I think is probably the best with epic roads. Awesome conditions that changed throughout the night and today, and it's just been an awesome weekend," said Jimmy.
Jordan Locher and Thomas Addison pushed hard to take 2nd regionally in NA4WD. "This is the first race we were competing neck and neck with teams trying to push our pace. The attrition on the car was insane with a high speed off on the final corner of Estes 2nd run. Every stage we started losing or braking another part, lost the exhaust after Menge Creek and my ears are still ringing. I even had the car on two wheels after the Hooper jump and Thomas Addison didn't even notice. Craziest race of my life," said Jordan.
The Subaru of Stephen and Katherine Gingras round out the Regional NA4WD podium in third, finishing less than a minute behind Locher and Addison.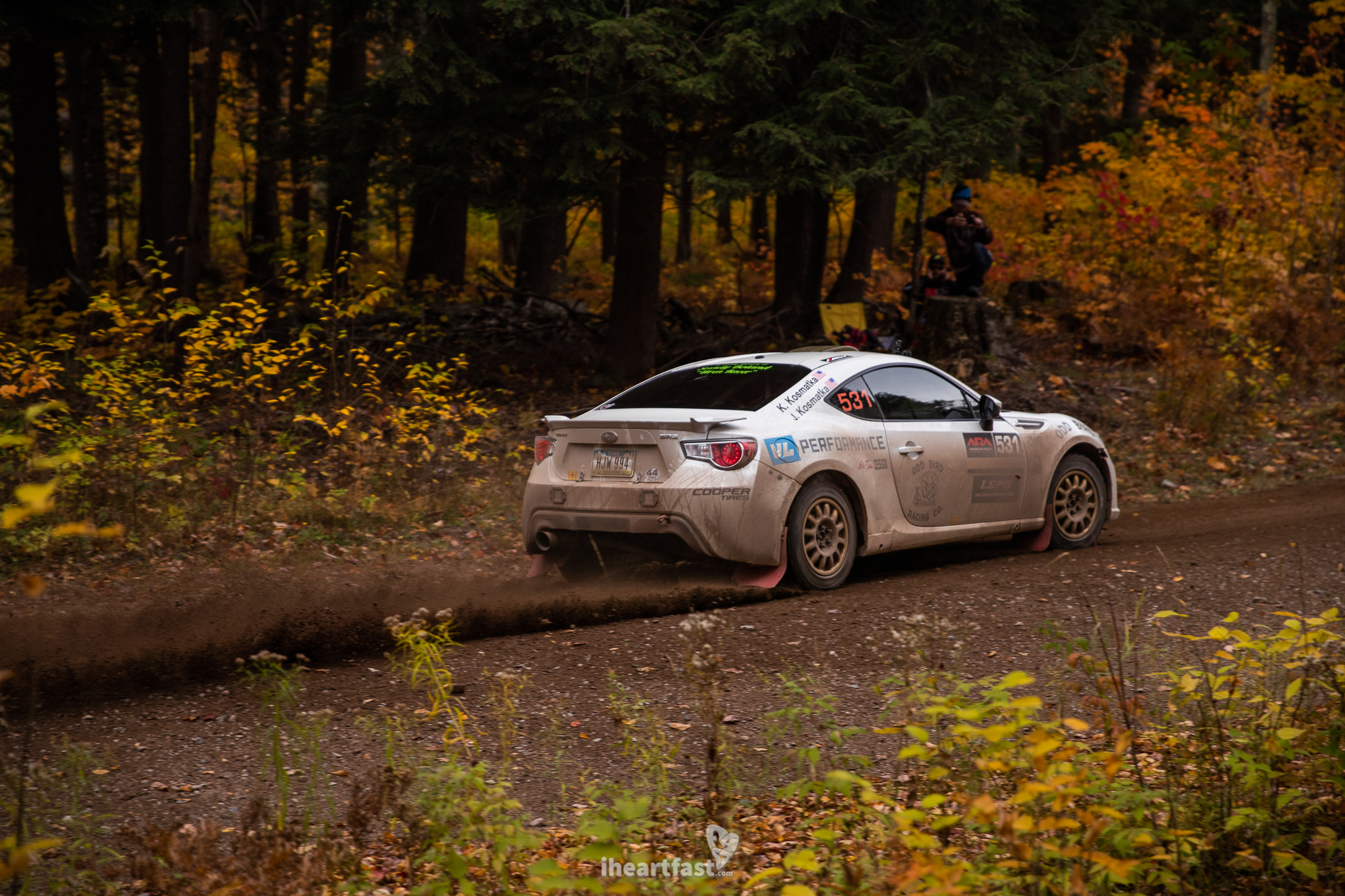 Odd Bird Racing's John Kosmatka and Kristin Kosmatka impressively drove their Subaru BRZ to 1st in the Regional L2WD class by over 7 minutes and 3rd overall regionally. "It went pretty well. It was actually less rough than we thought it would be on Saturday, but towards the end it still took a toll on the car and our right rear wheel bearing is about shot. We thought we were going to lose a wheel at some point, but other than that it went pretty well for us. We made it to the end, and that's all you can ask for," said John.
The team of Kyle and Kevin Turner took the 2nd spot in the Regional L2WD followed by the Honda of Jake Burke and Eric Schlee.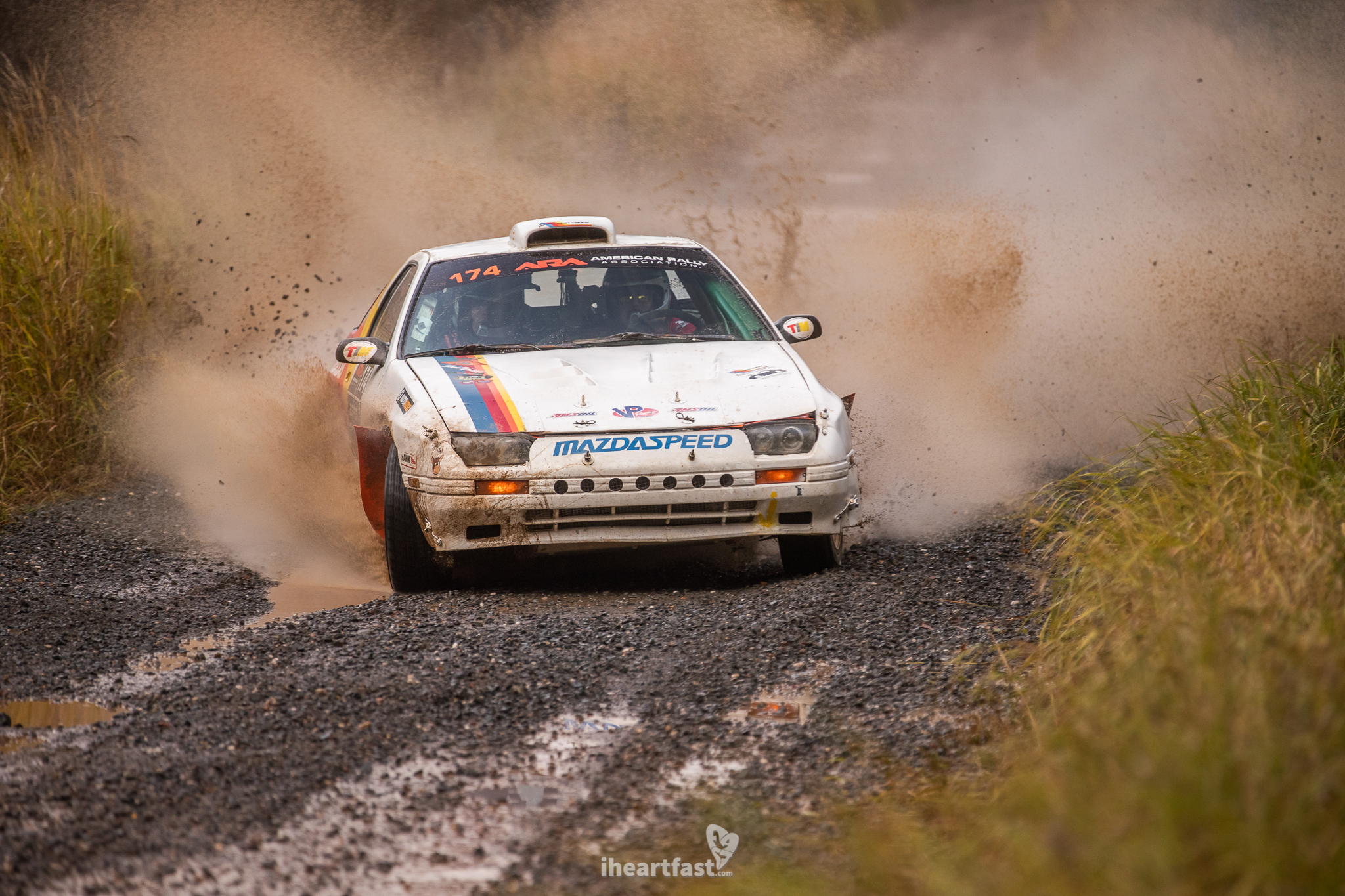 The Regional O2WD podium featured a pair of Mazda RX-7s and Volkswagen Jetta. The RX-7 of Kevin Schmidt and Jay Anderson outpaced the rest of the class by nearly five minutes to take the top spot. They may have also given me a bit of scare as they went sideways through some water puddles at a very quick speed, just in front of me. While Cory Grant and Kevin Forde piloted their Jetta to 2nd. Al Dantes and Joel Krumbach pushed their LS swapped RX-7 onto the podium despite suffering a damaged radiator and starting a stage with a debeaded tire.
Overall it was a rough weekend for many teams with nearly one third of the original 61 entries suffering a DNF and many other teams having to Super Rally on Saturday.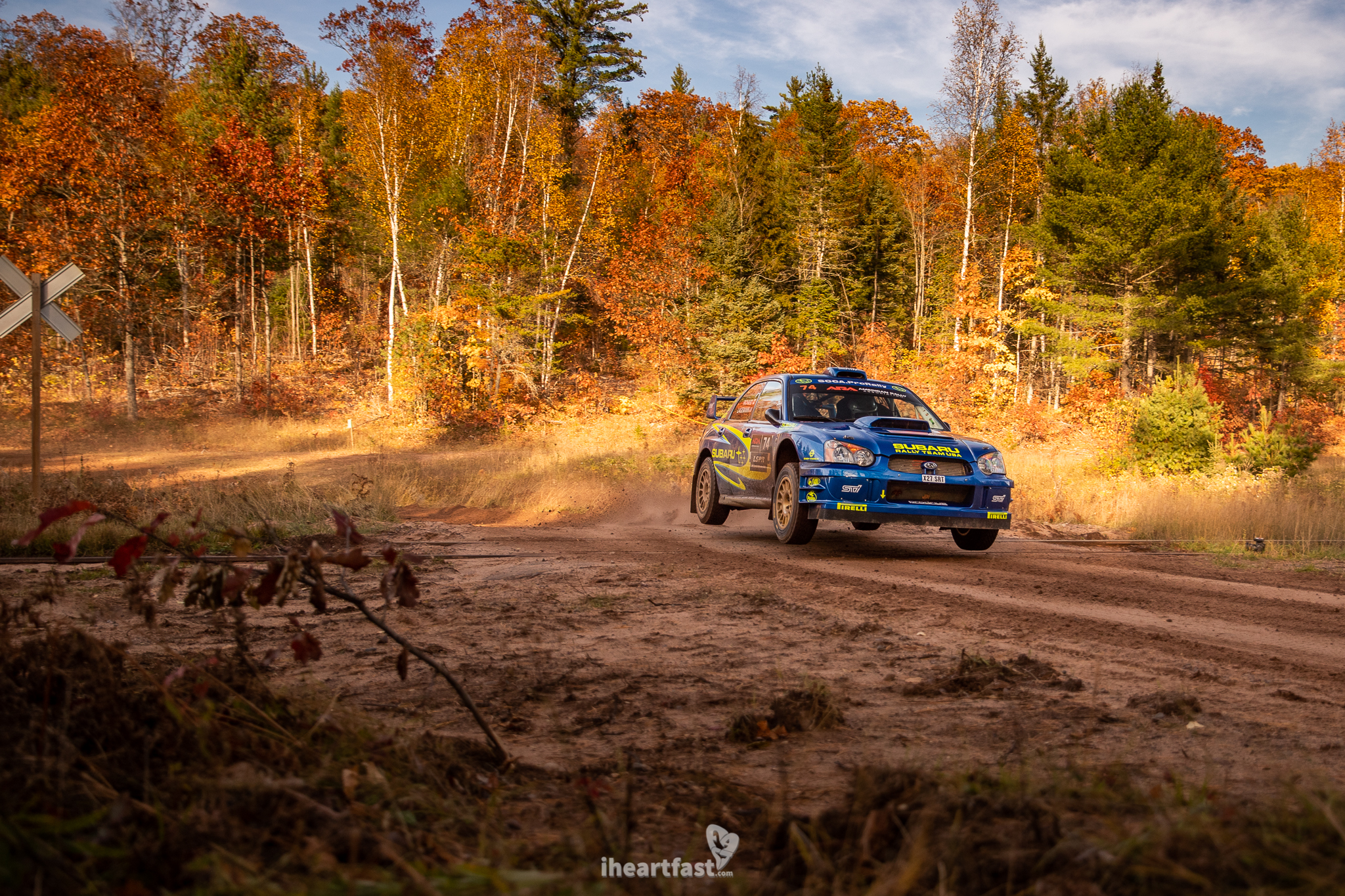 That wraps up the 2019 ARA National season. National Championship competition returns as the 2020 season kicks off in January at Sno*Drift in Atlanta, MI. Check out the American Rally Association site for the full 2020 schedule.
An extra big thanks to Mike Shaw of Open Paddock Rally for providing a bunch of driver and co-driver quotes all season long. Make sure to follow Mike Shaw Rally on Facebook, Instagram @oregonwings74 and don't forget to check out his amazing podcast on Open Paddock.
Follow iheartfast on Facebook and Instagram @iheartfast_official to stay up to date and see the best photos.