2018 ARA Oregon Trail Rally Recap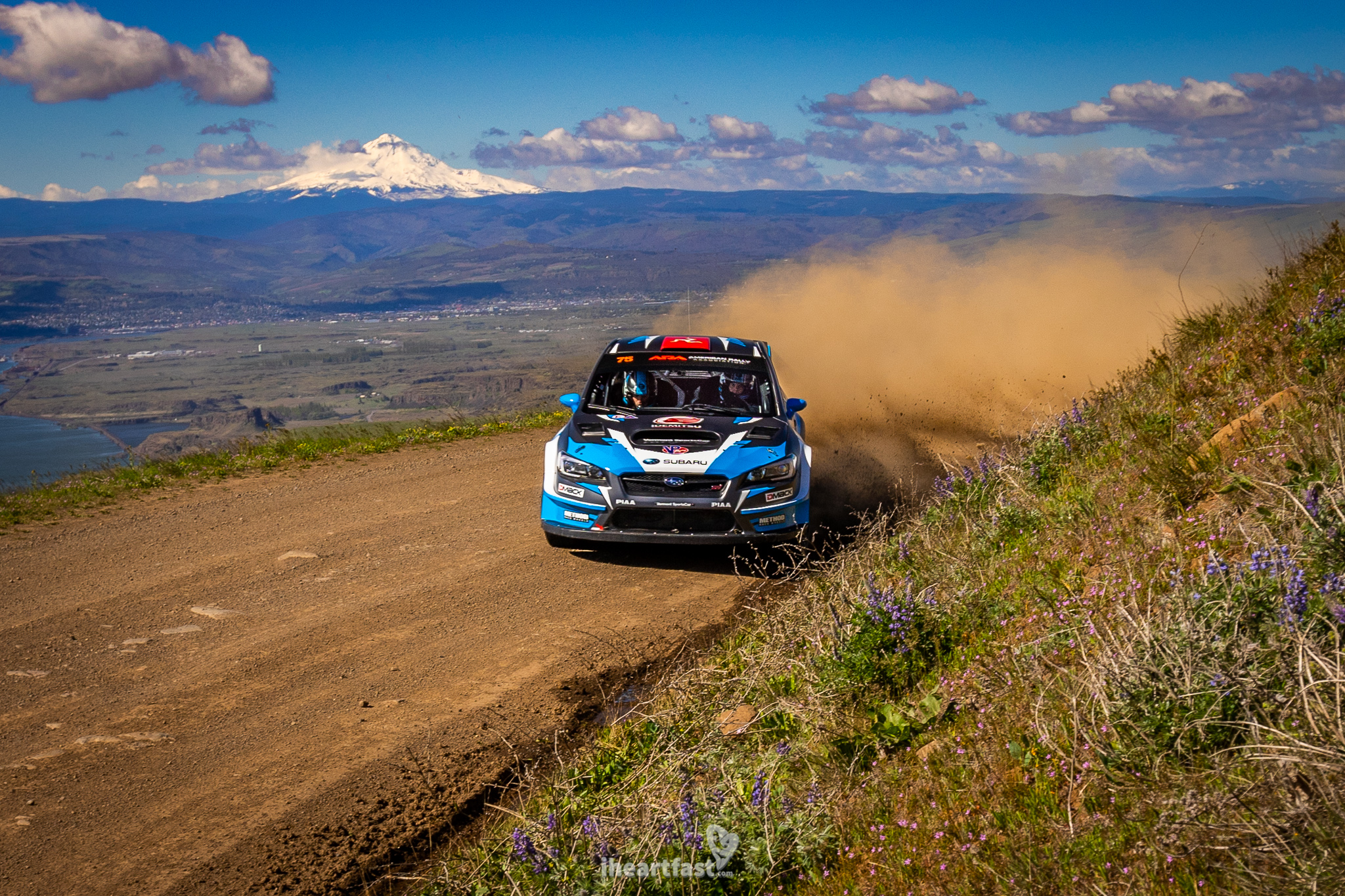 Oregon Trail Rally is one of my favorite events in the U.S. The stages are fast, with lots of elevation and beautiful landscapes as a backdrop. The rally spans 3 days, starting on Friday night at Portland International Raceway, before moving west to the Colombia River Valley near The Dalles. While it was a bit disappointing that last year's winner, Travis Pastrana, wasn't going to be making the trip this year, there was plenty of excitement to make up for it. Sitting in for Pastrana in the 'other' Subaru Rally Team USA car would be former WRC and current Subaru Rallycross driver Chris 'Atko' Atkinson. As if that wasn't enough, Oregon Trail would mark the return of Ken Block, who also has some WRC experience under his belt. Block would be piloting a vintage Group A WRC Escort Cosworth, sporting one of the best wings in the history of wings I might add. It would be interesting to see how the older Cossie would match up against the newer Subaru of Higgins and Atkinson and McKenna's Fiesta.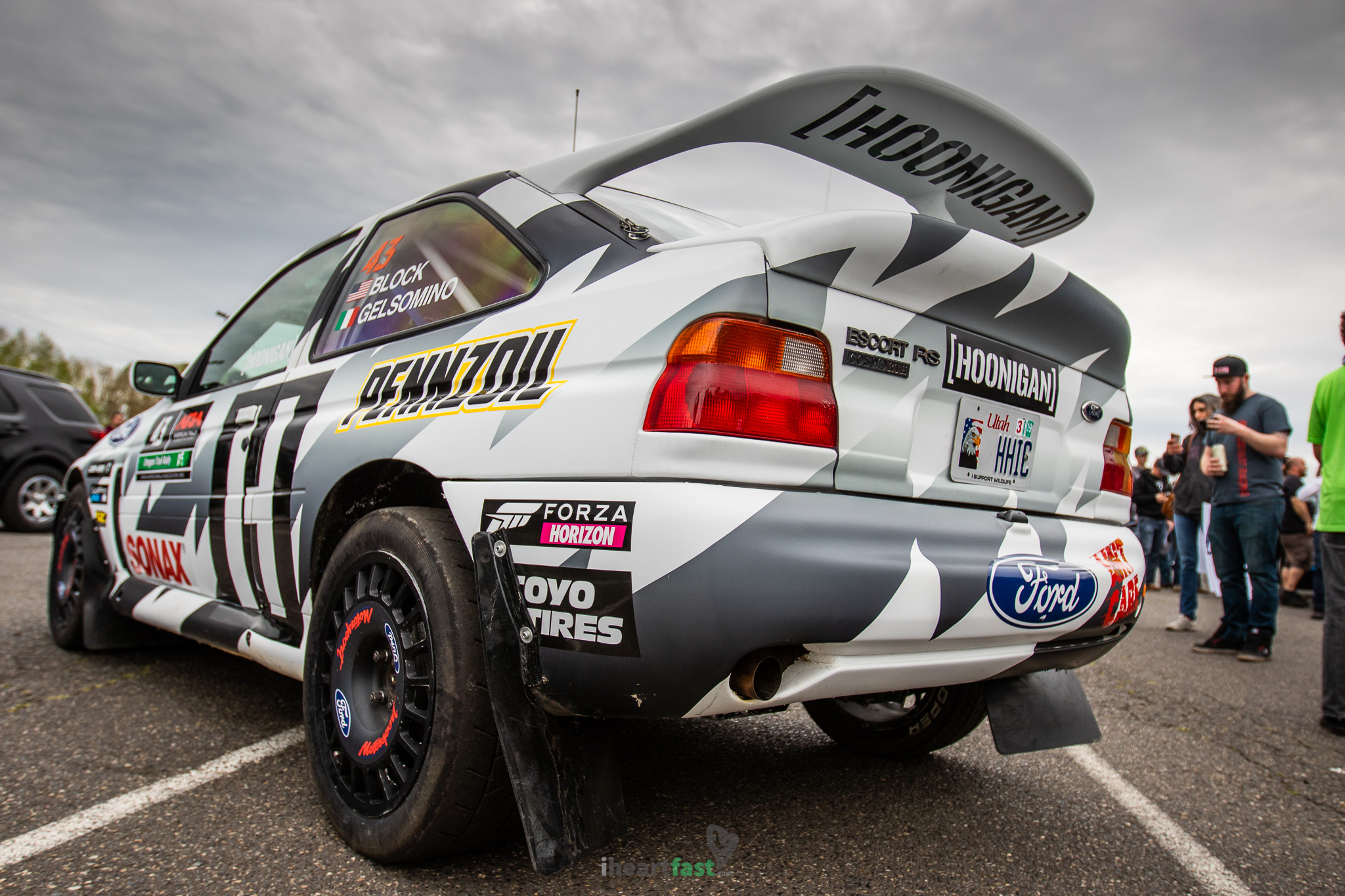 Ken Block's Group A Ford Escort Cosworth garnered a lot of attention and for good reason. Do you even wing?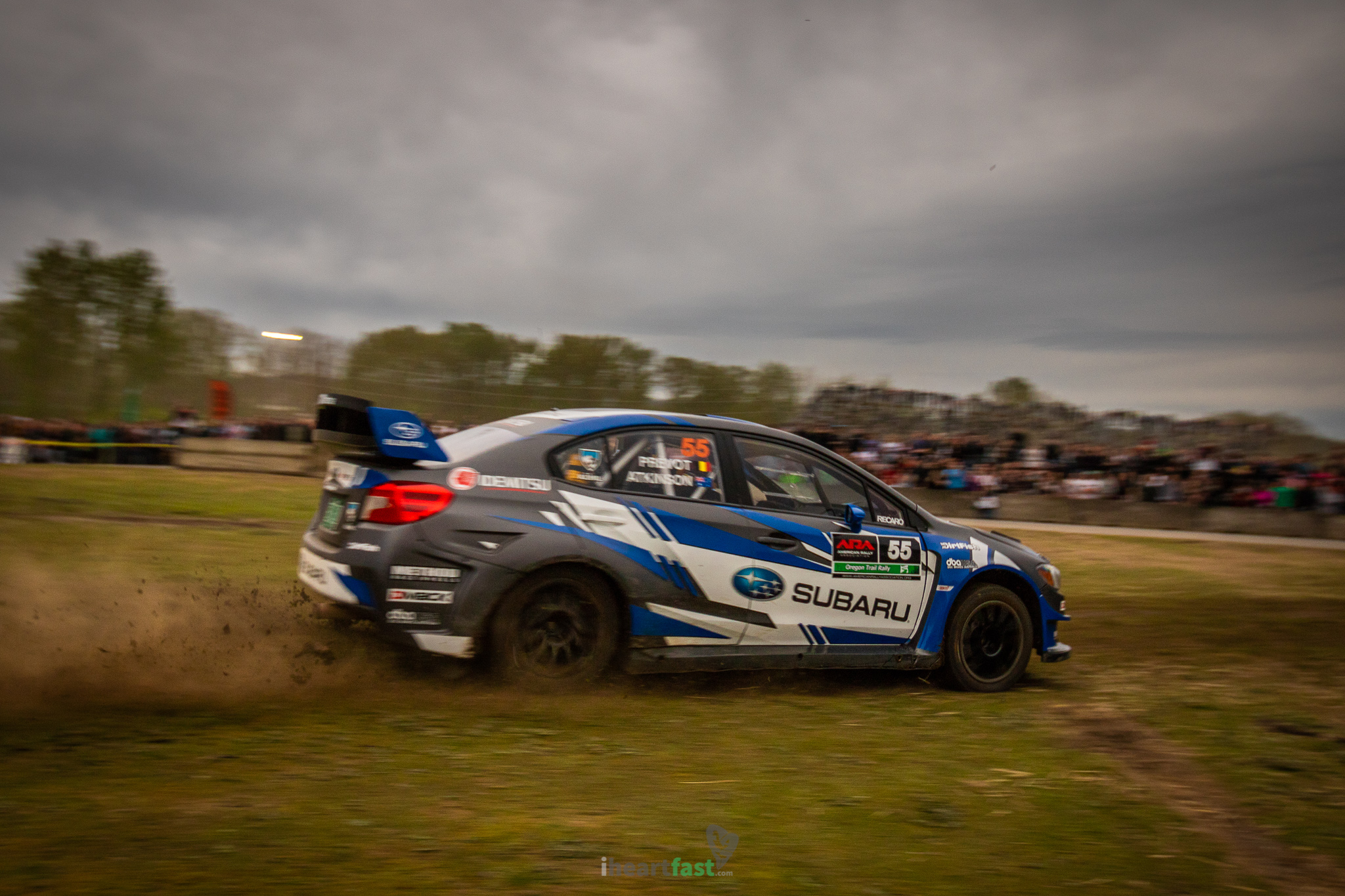 The fans get their first look at Chris 'Atko' Atkinson behind the wheel of his new Subaru Rally Team USA ride on an overcast Friday night at Portland International Raceway. The off track portions of these stages were muddy, making for a difficult time finding grip in those sections, especially for those teams who chose to run a non-rally tire for the road course sections.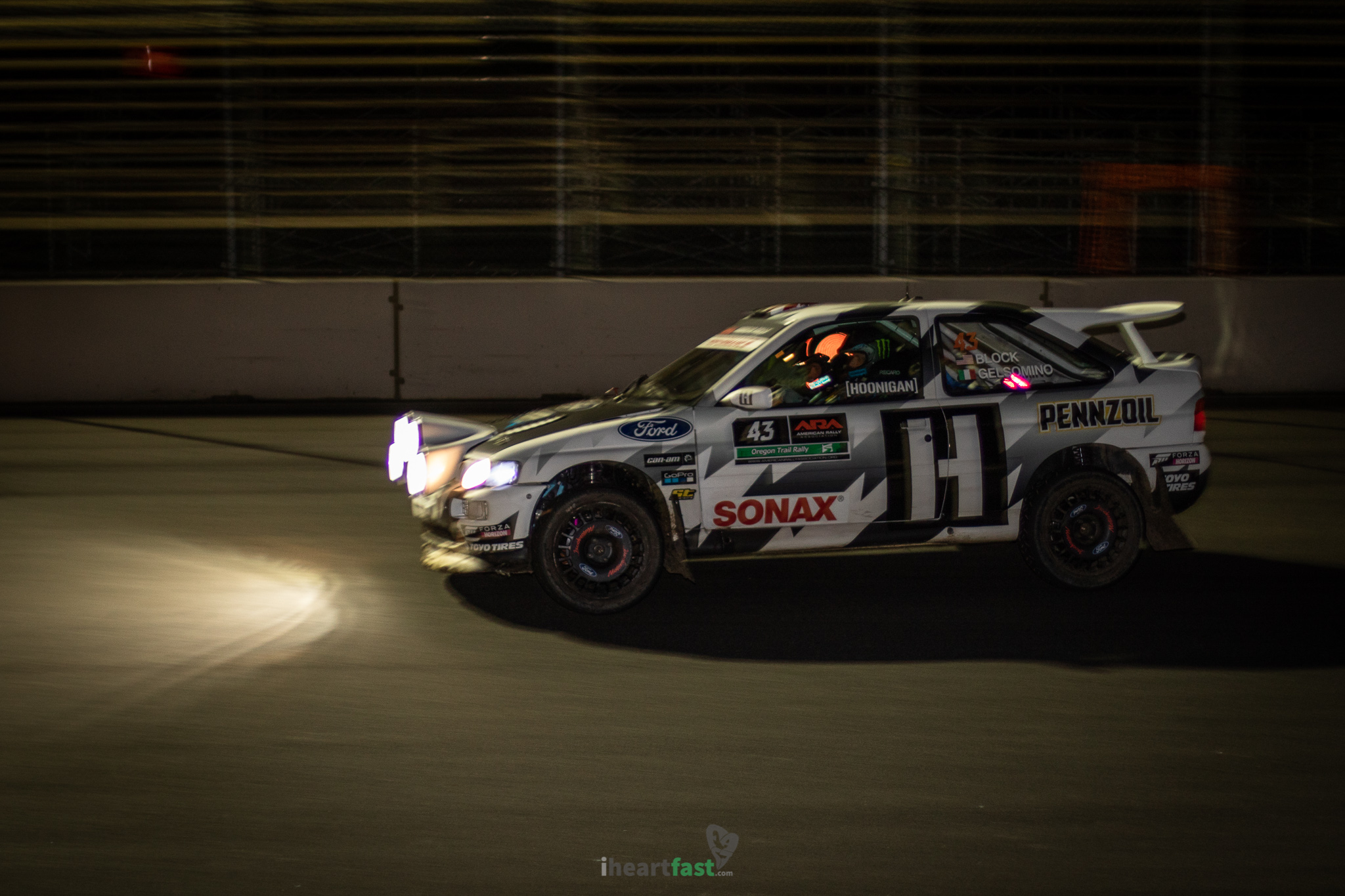 As the dark of night settles in, out come the rally lights and, glow in the dark helmets, apparently. Alex Gelsomino is hard to miss in the co-driver's seat next to Ken Block as his helmet glows bright orange in the dark night.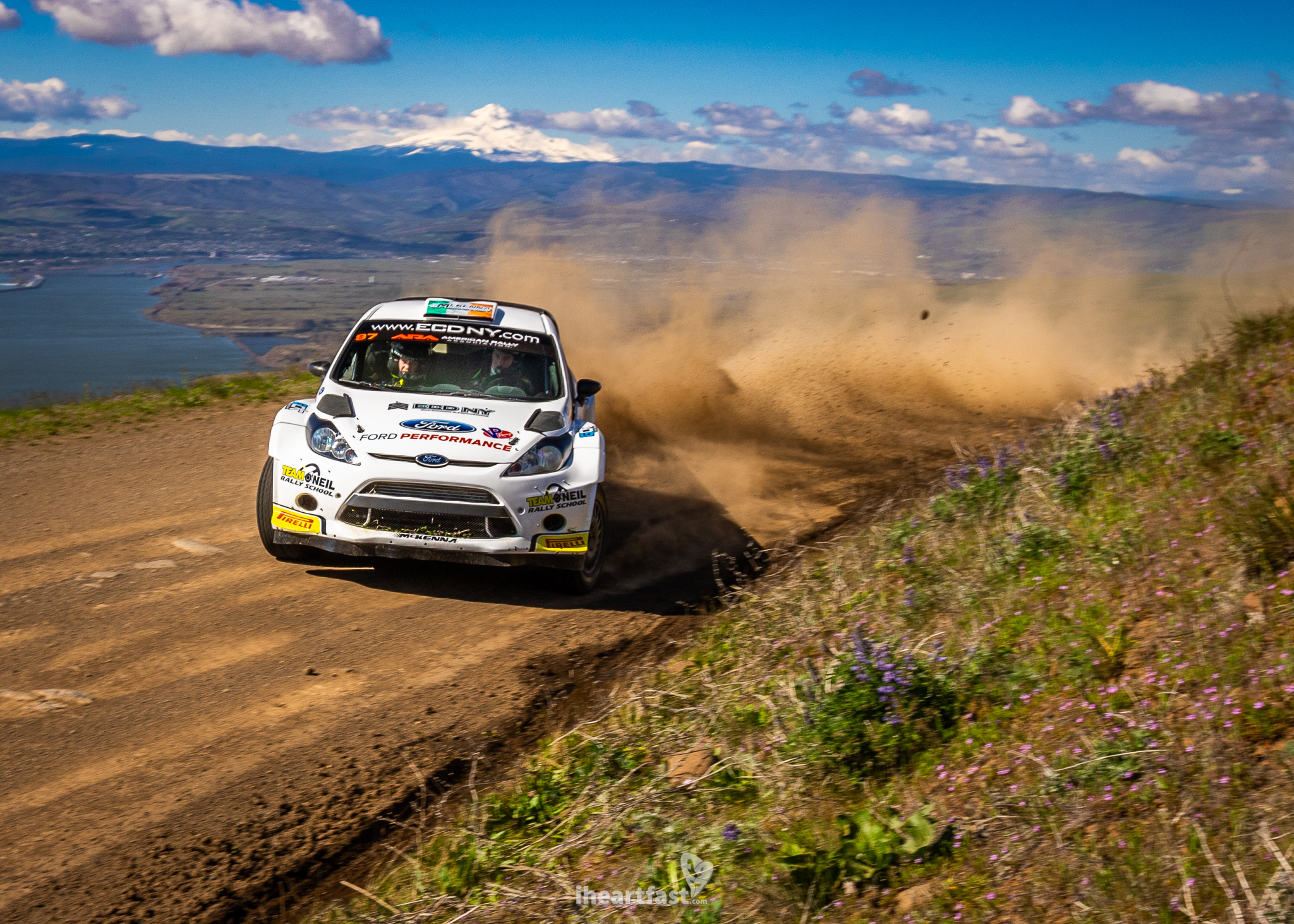 Did I mention the landscapes? Saturday morning kicked off with one of my favorite stages in the whole country. Providing the backdrop is the Colombia River Gorge and Mount Hood, if the clouds permit and luckily they were gracious enough to clear out just in time.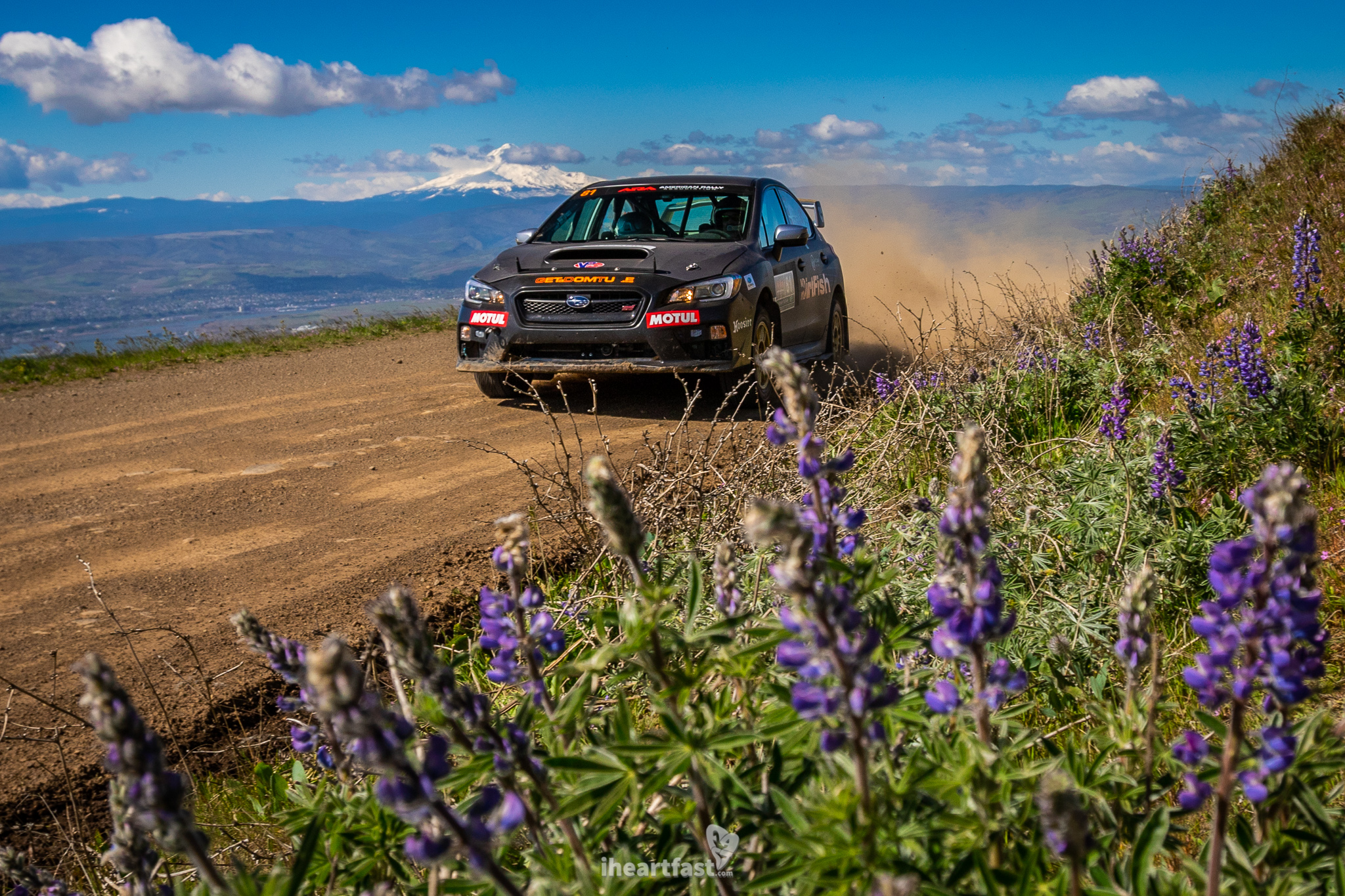 Wild flowers are in ample supply on the hills surrounding the road adding just a splash of color in the green rolling hills.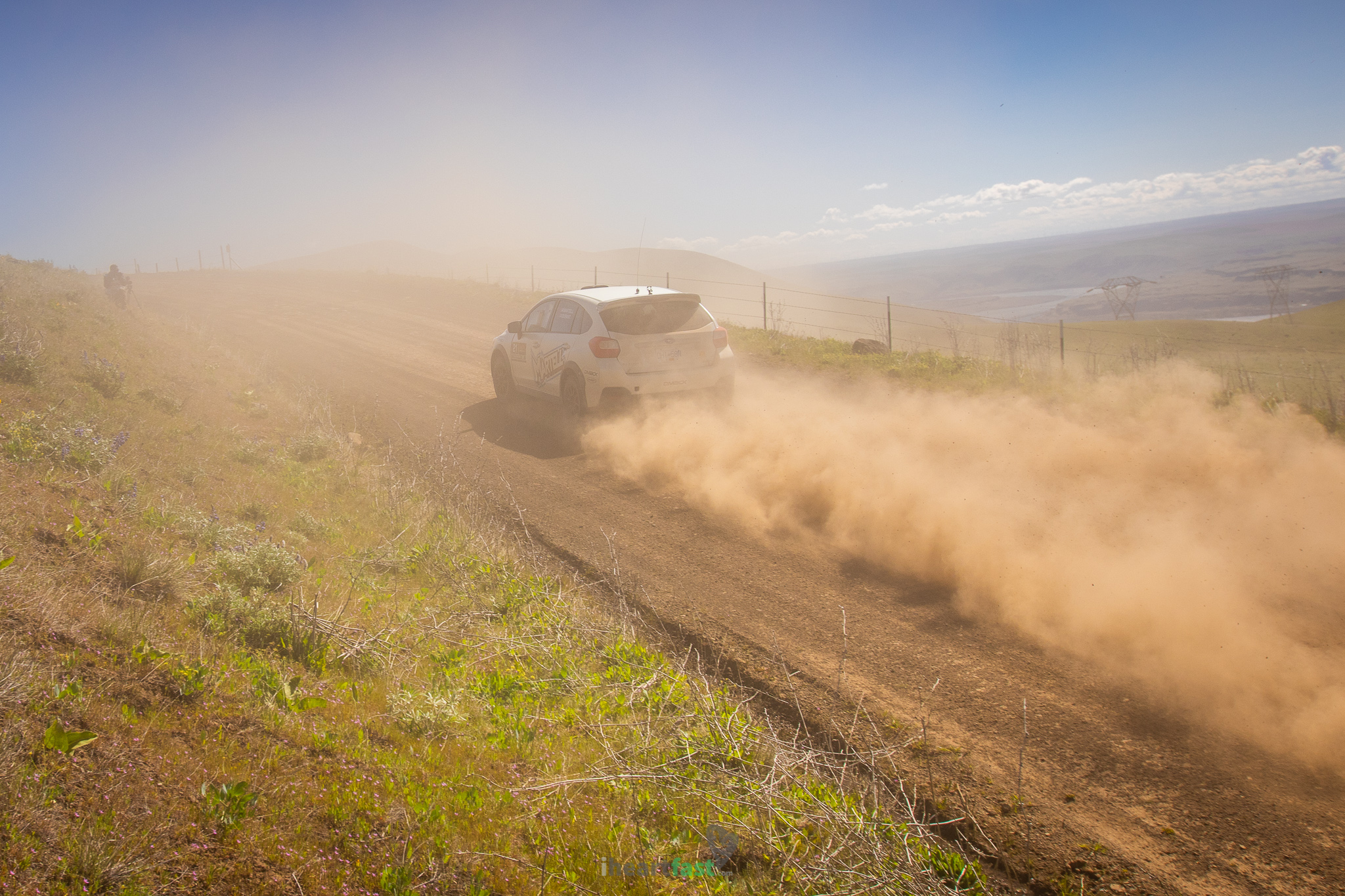 It could be said that it was extra dusty at this year's Oregon Trail and when you are catching up to the car running ahead of you on stage sometimes you drive into the dust still lingering on the road.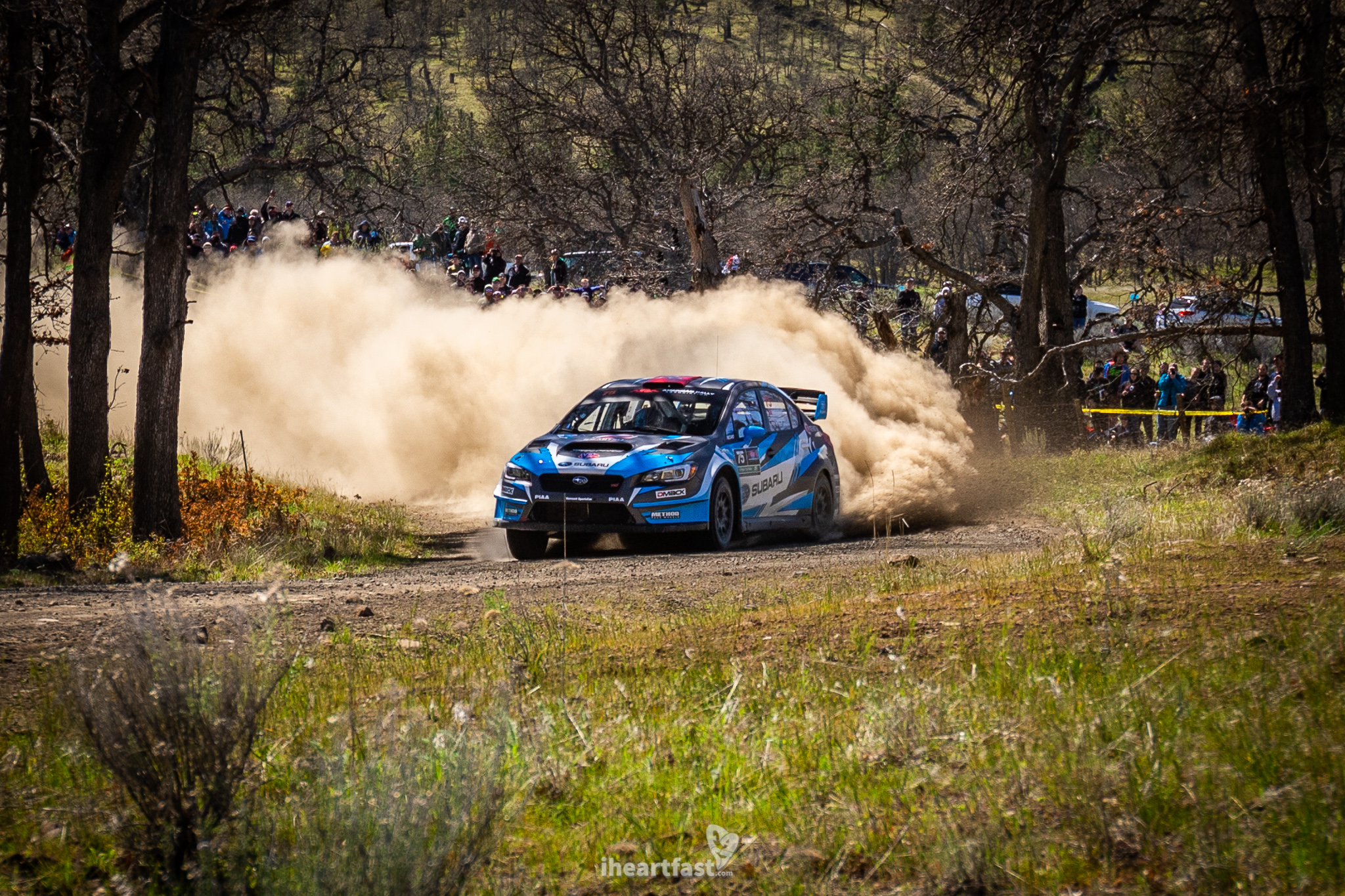 Did I mention the dust? Subaru Rally Team's David Higgins and Craig Drew treat the spectators cheering them on to a dust bath, don't you usually have to pay for those?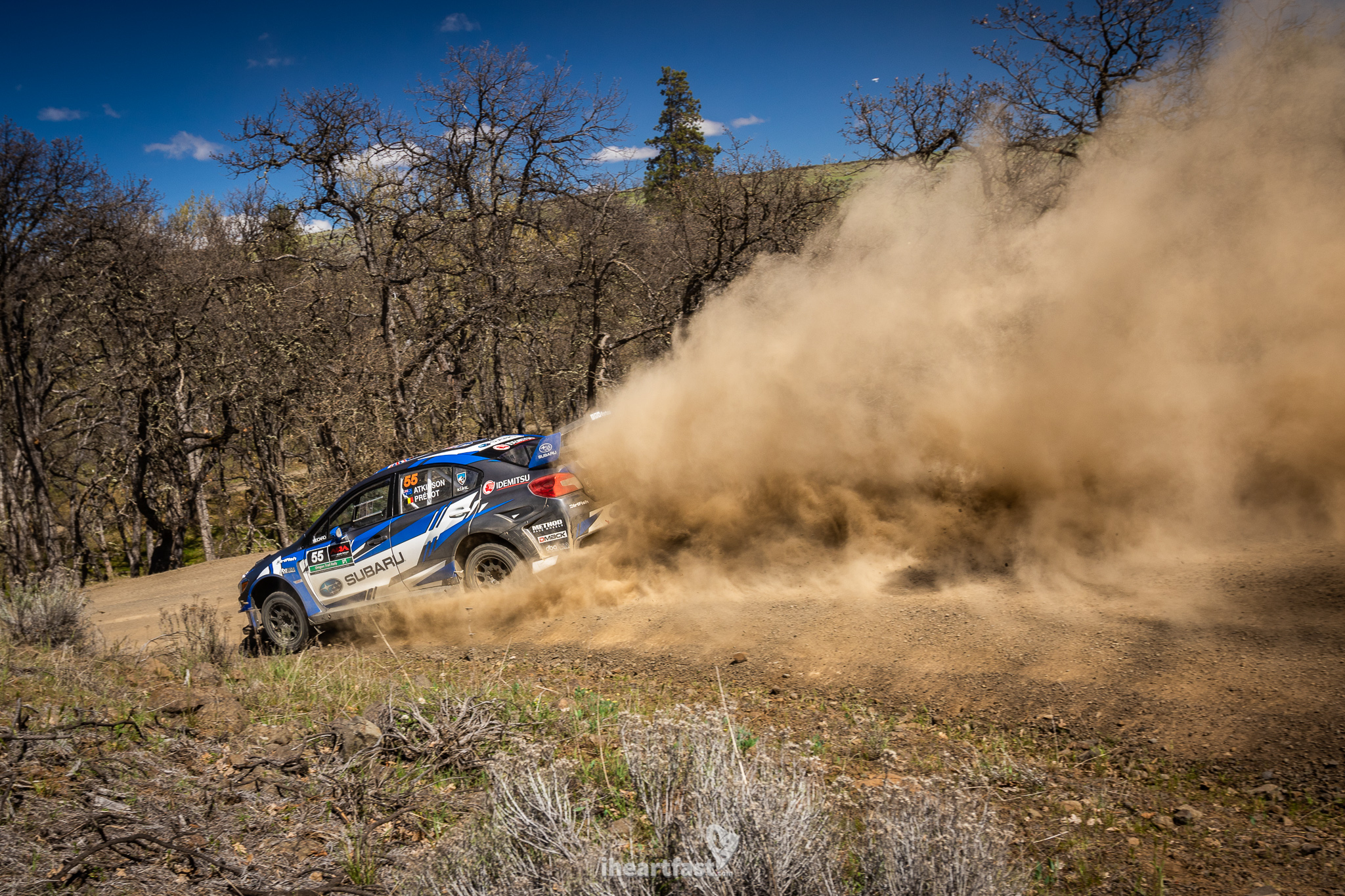 It would be a short day for Chris Atkinson as his Subaru would catch fire, literally seconds after this photo was taken, coming to a stop at the bottom of the hill. They were able to get the fire out quickly and the SRTUSA crew replaced the engine in the car in time for Atko to get back out for Sunday's stages. Fires plagued at least 3 cars over the weekend, including a massive fire that claimed the car of All Fours Rally Team Agatino Fortunato, resulting in a complete loss.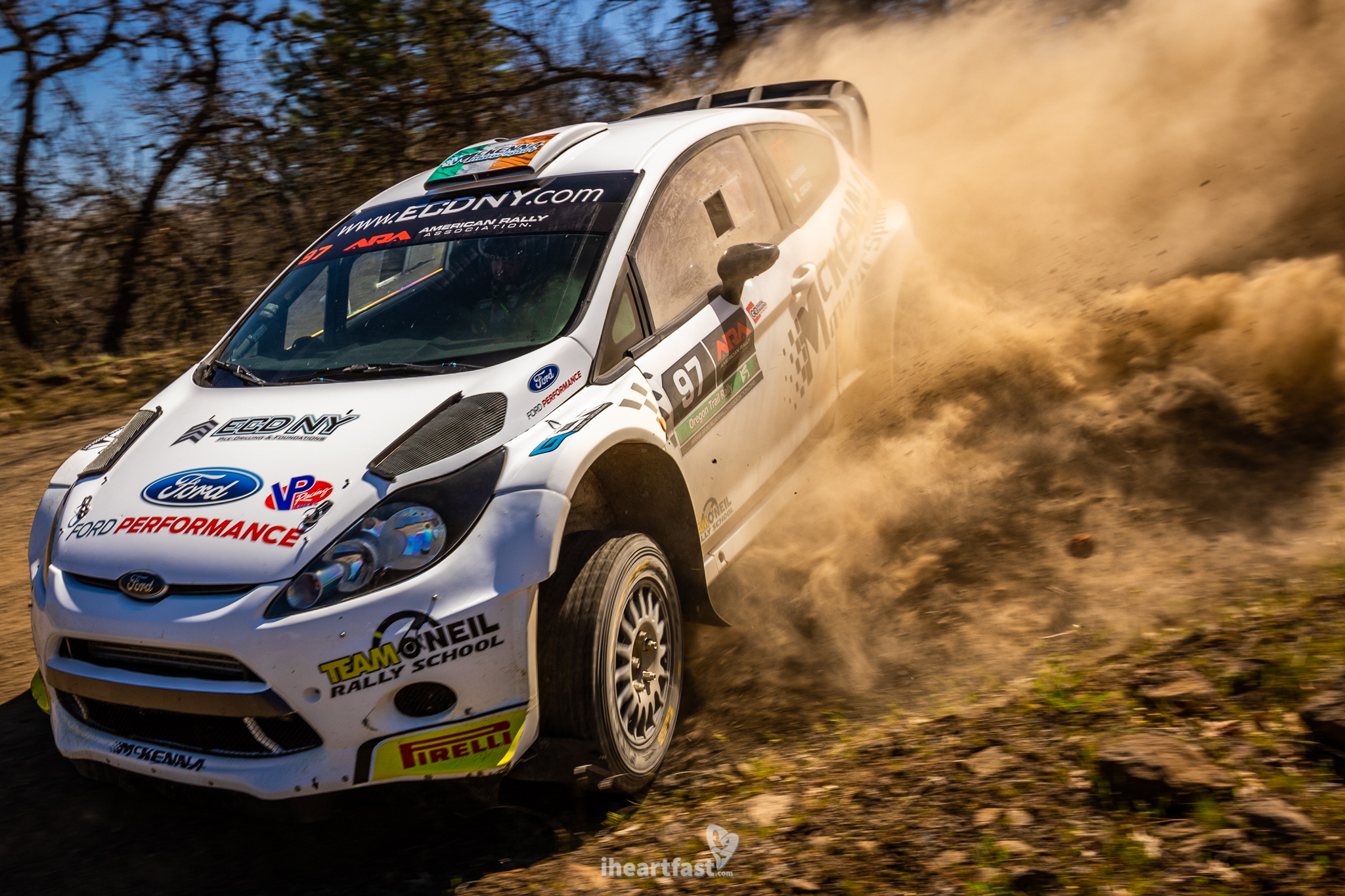 Barry McKenna and Leon Jordan showing they have what it takes to run with the factory Subaru team, taking some stage wins and running in 2nd until an incident late in the rally took them out of contention.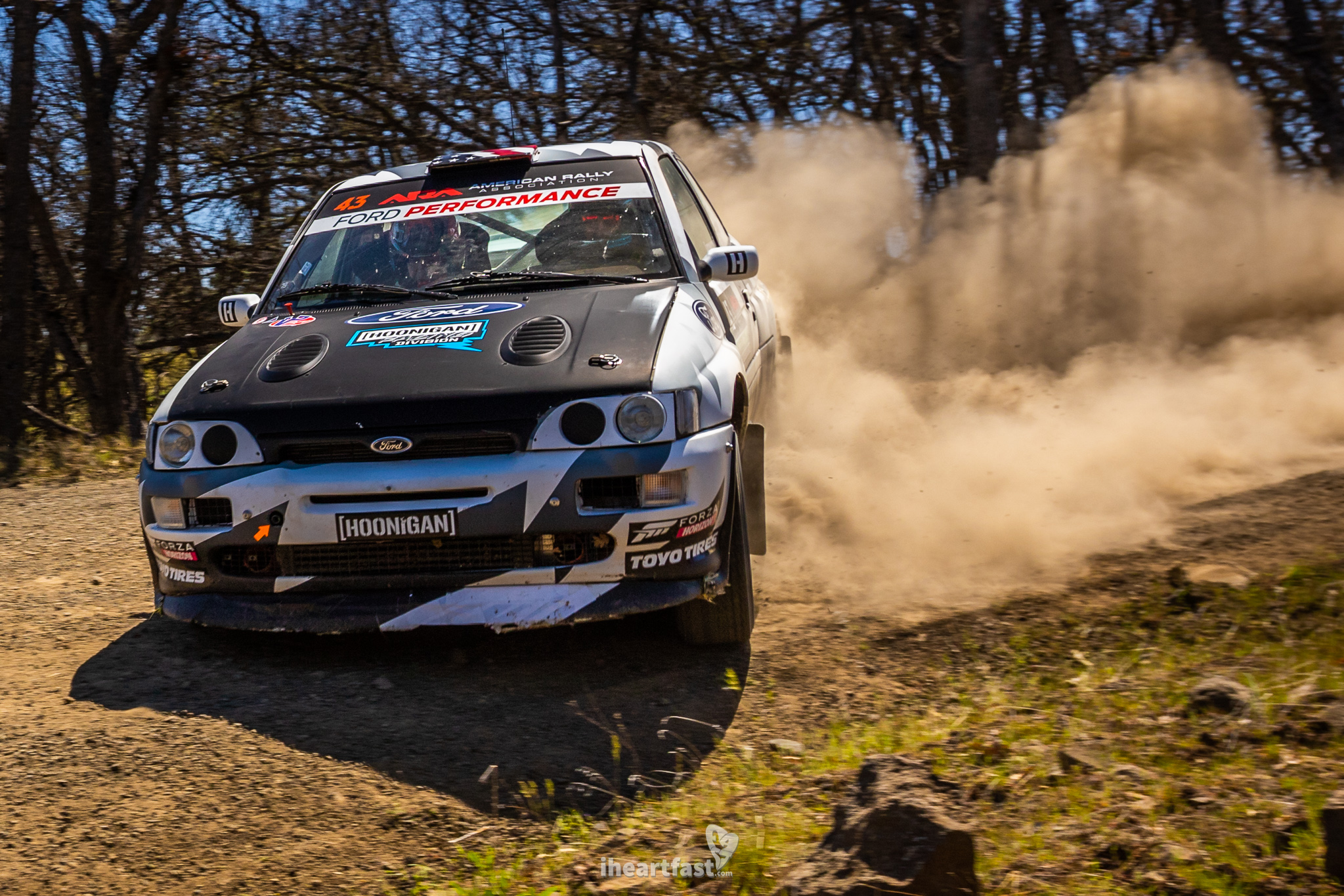 As Ken Block got a little more comfortable in his new to him stage rally car, he started to push the pace.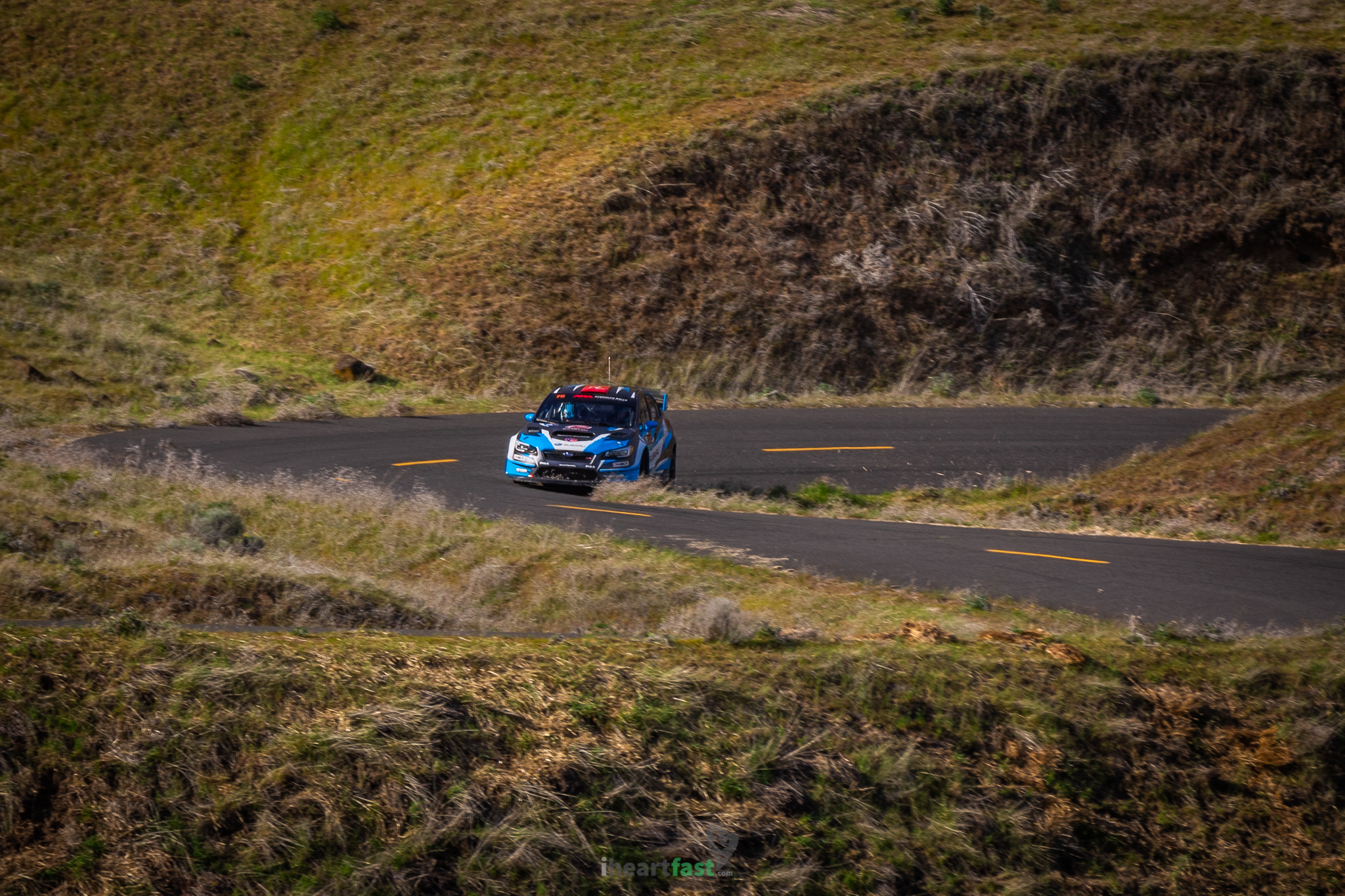 Unlike many rally events in the U.S., Oregon Trail features a mix of gravel and tarmac stages.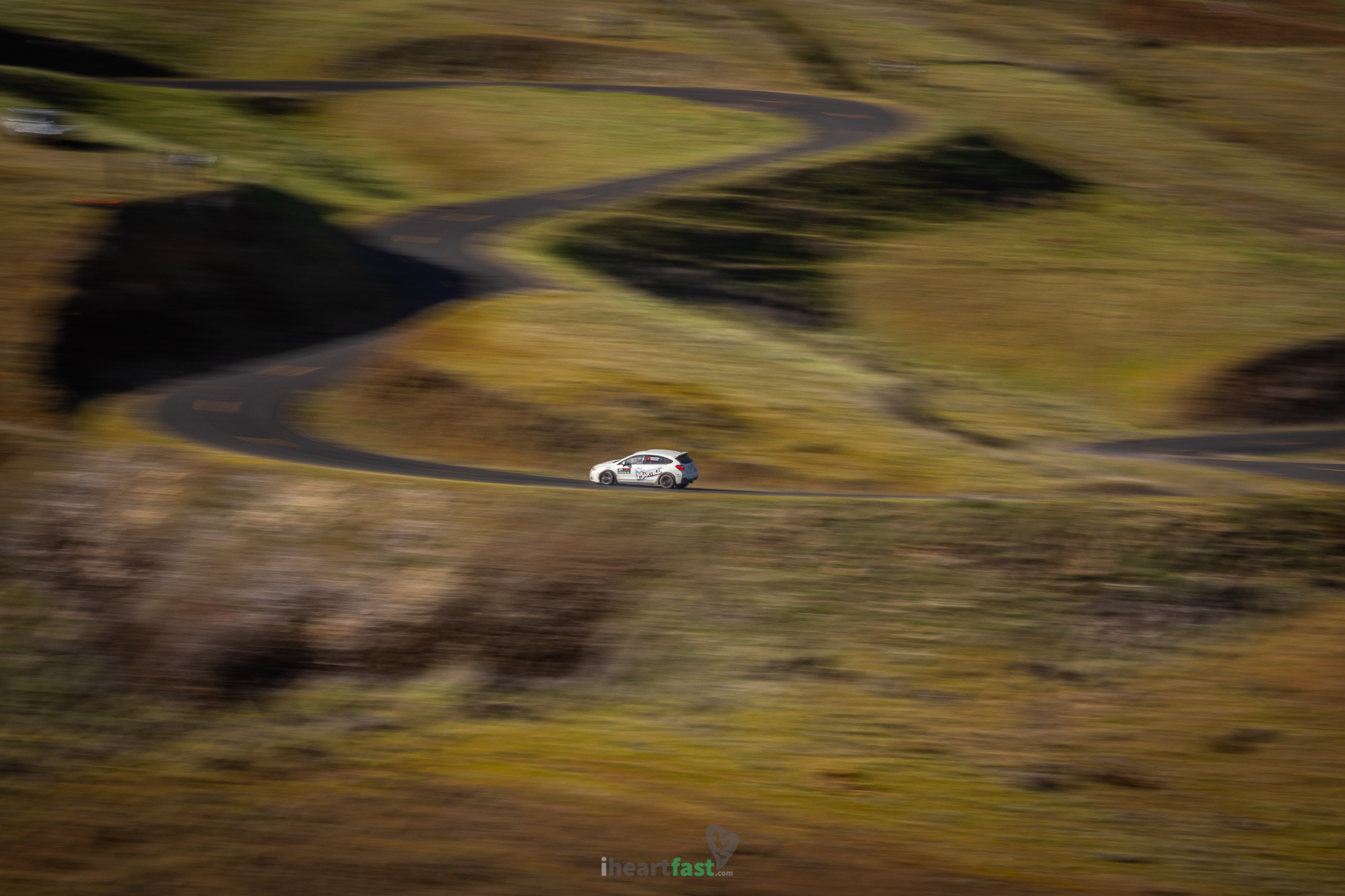 The tarmac stages are challenging with curve after curve as they twist their way upwards.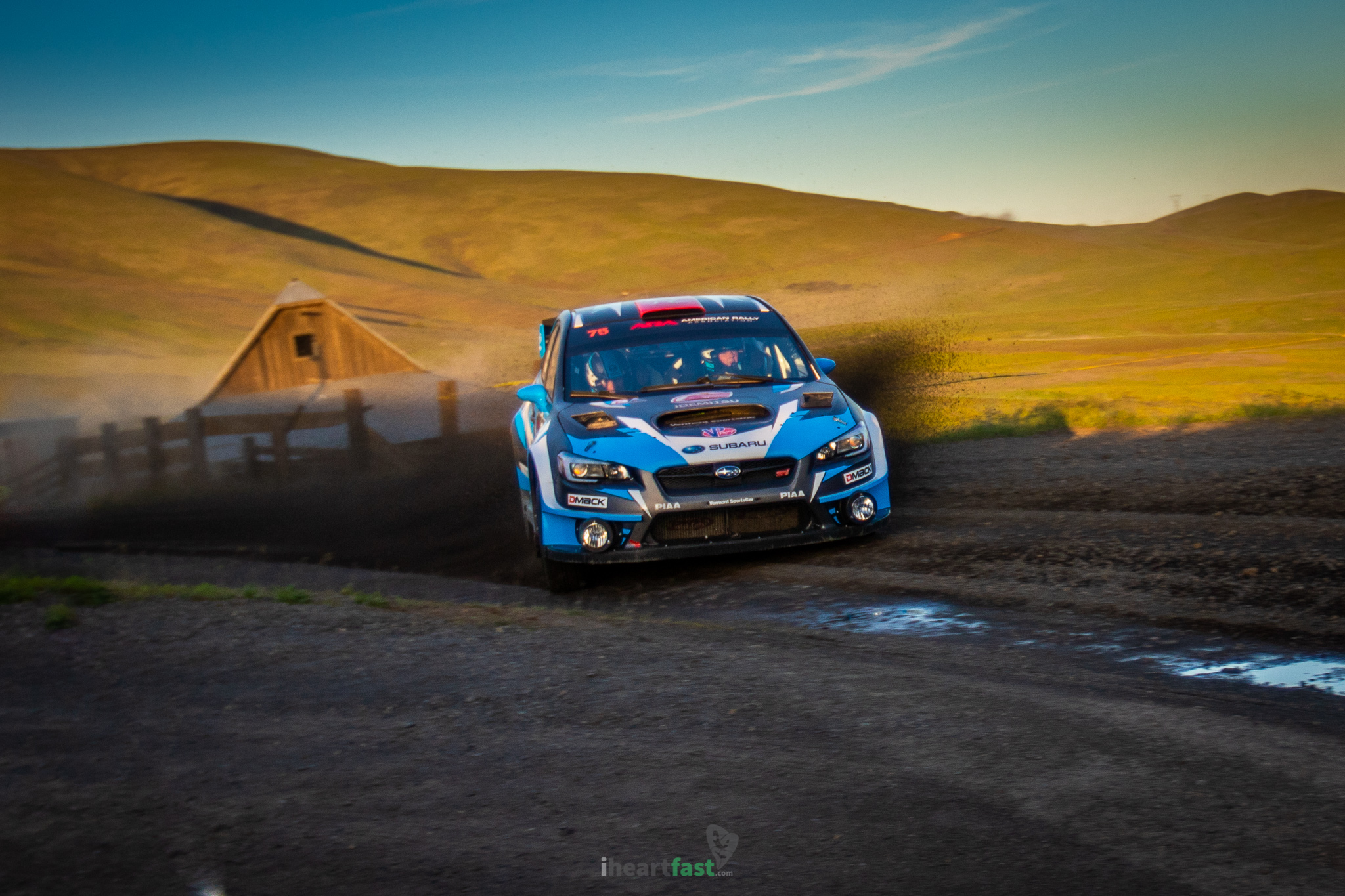 Saturday wrapped up on the road it began, but ran in the opposite direction and downhill. The setting sun made for an added challenge as it shone directly in the faces of the drivers as they made their way to the finish.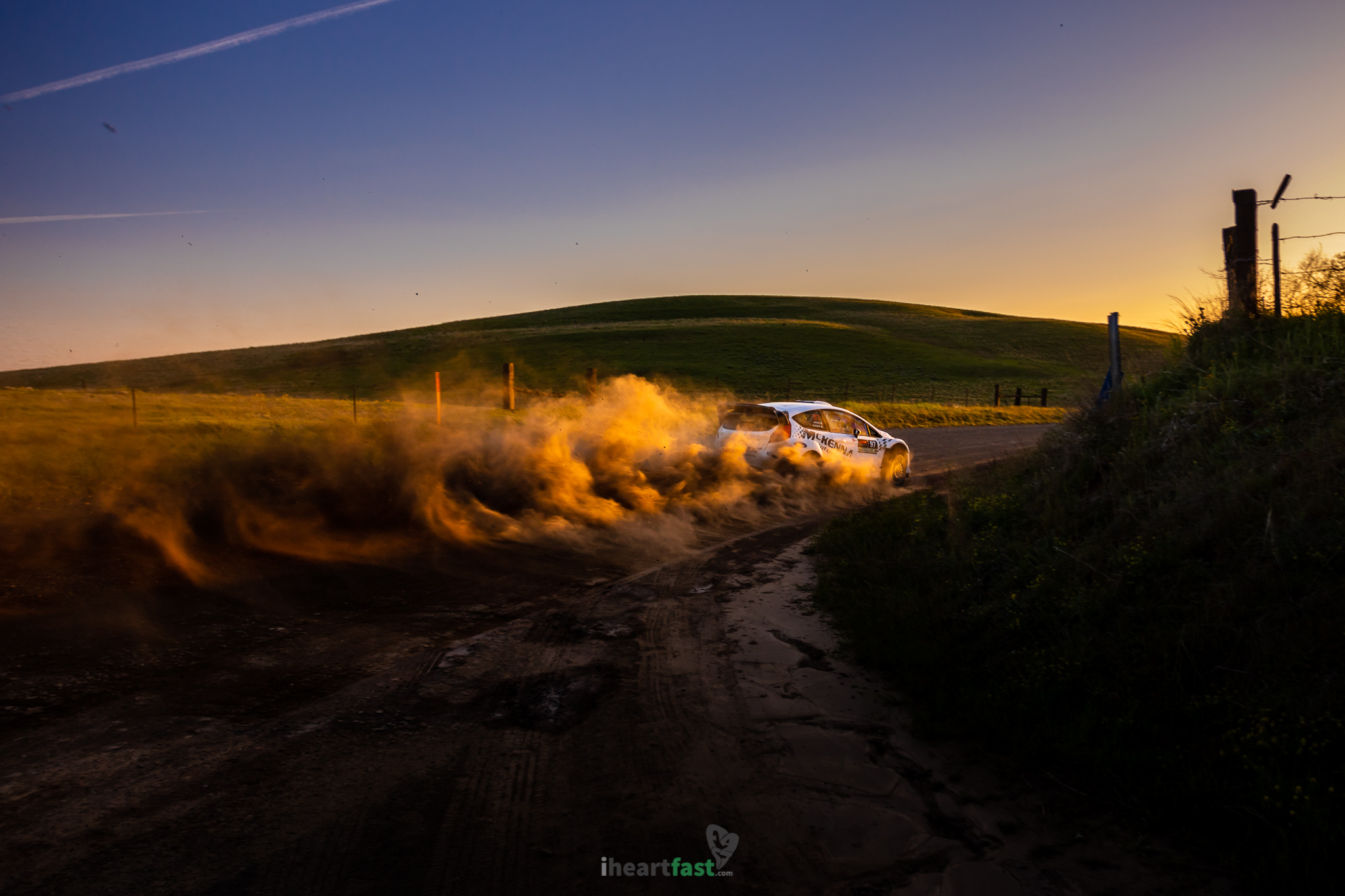 It also made for some interesting lighting, highlighting and casting shadows.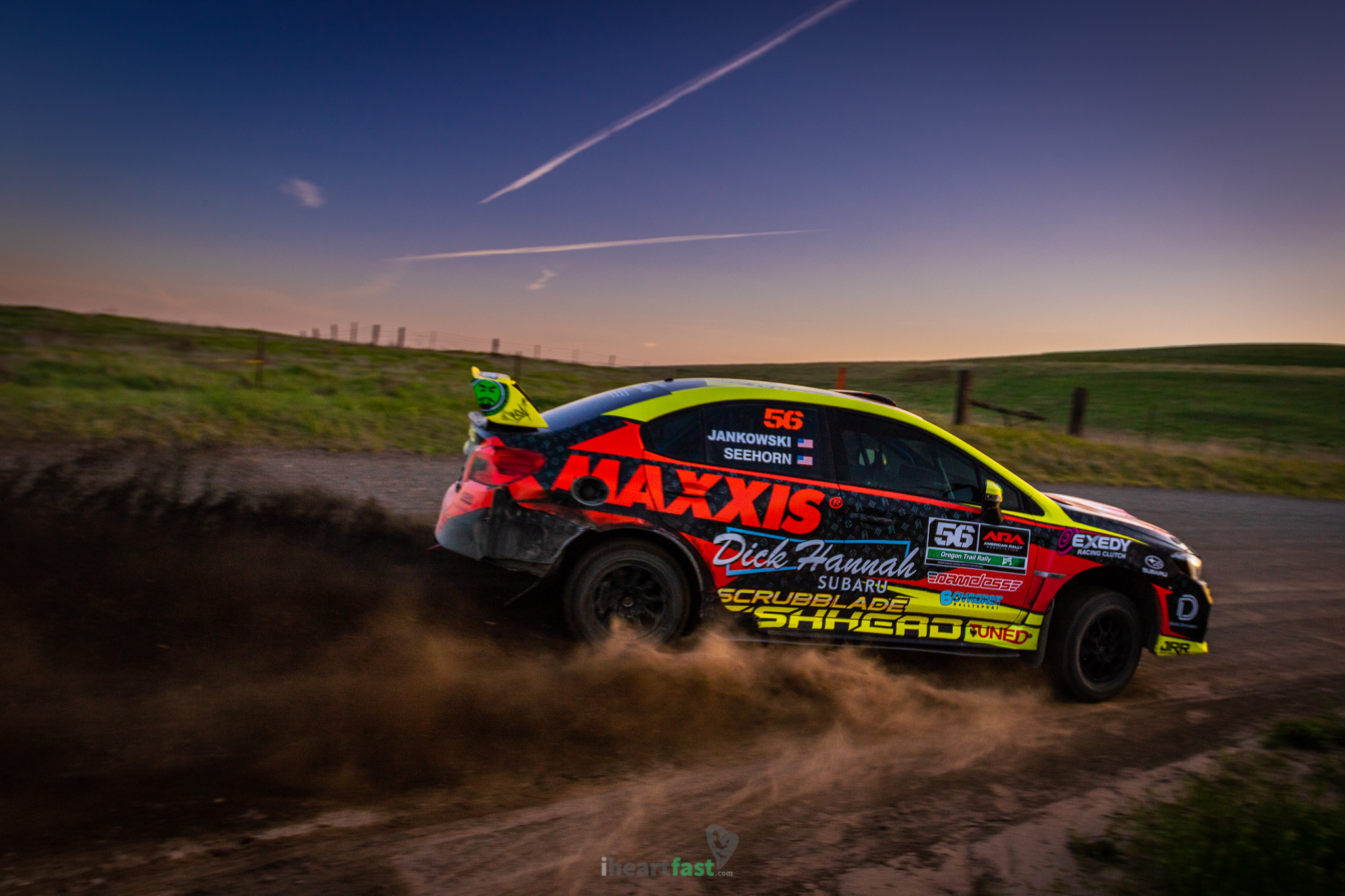 And then as dusk really settled in, the sky was filled with color.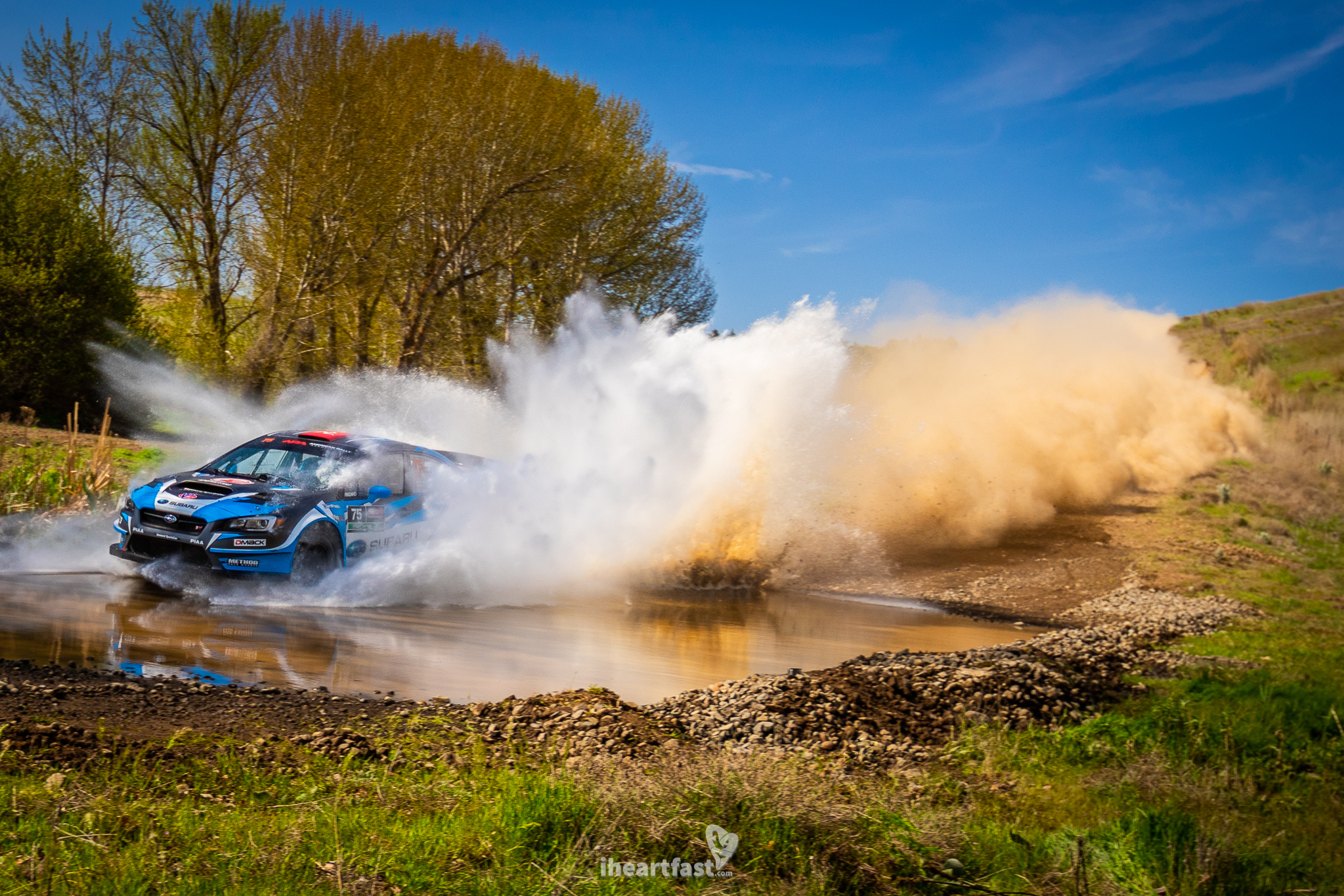 The final day of the rally got off to a splashing start. A nice bath to wash off all that dust from a long and dirty weekend.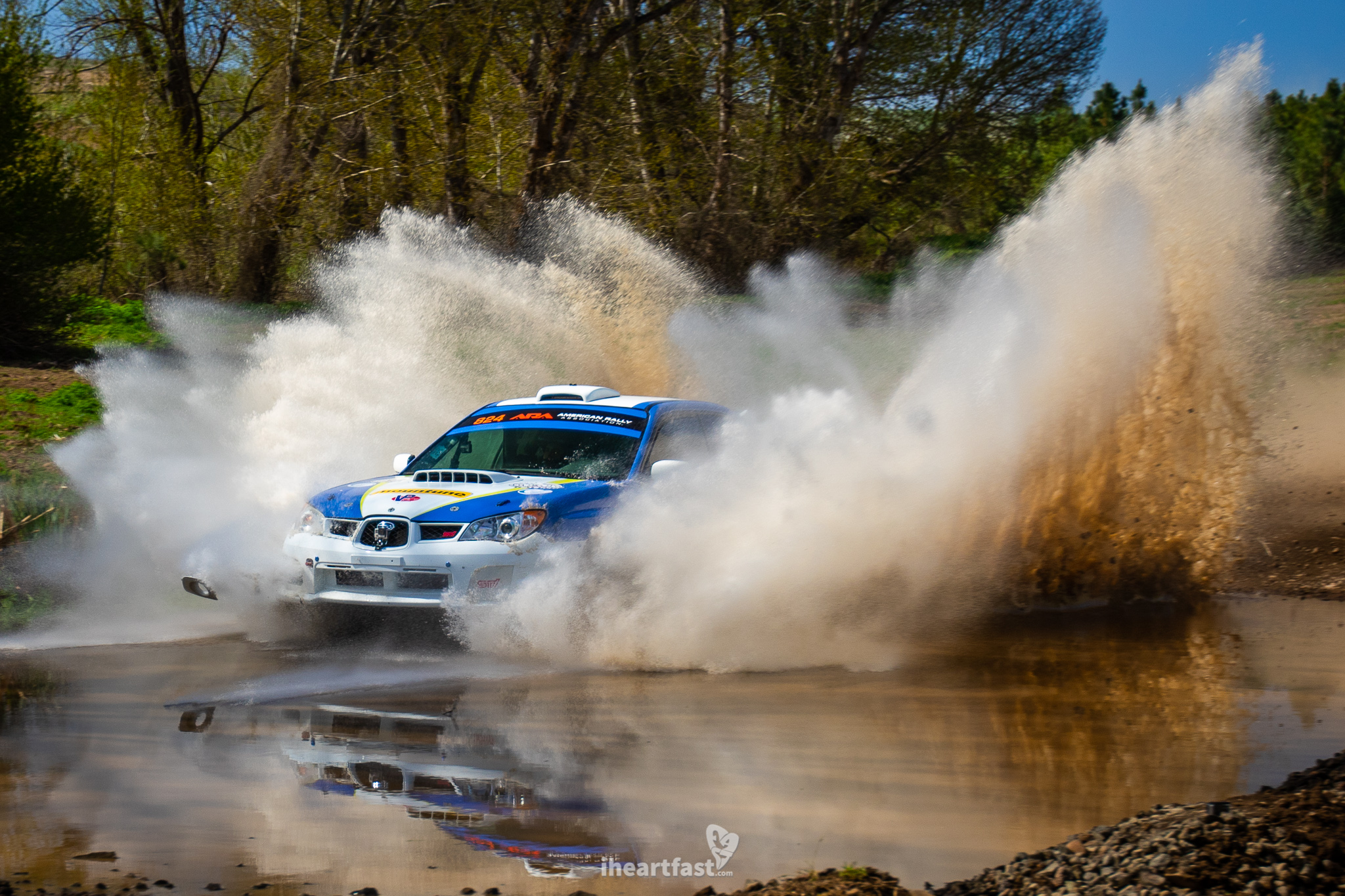 But the water can be unforgiving.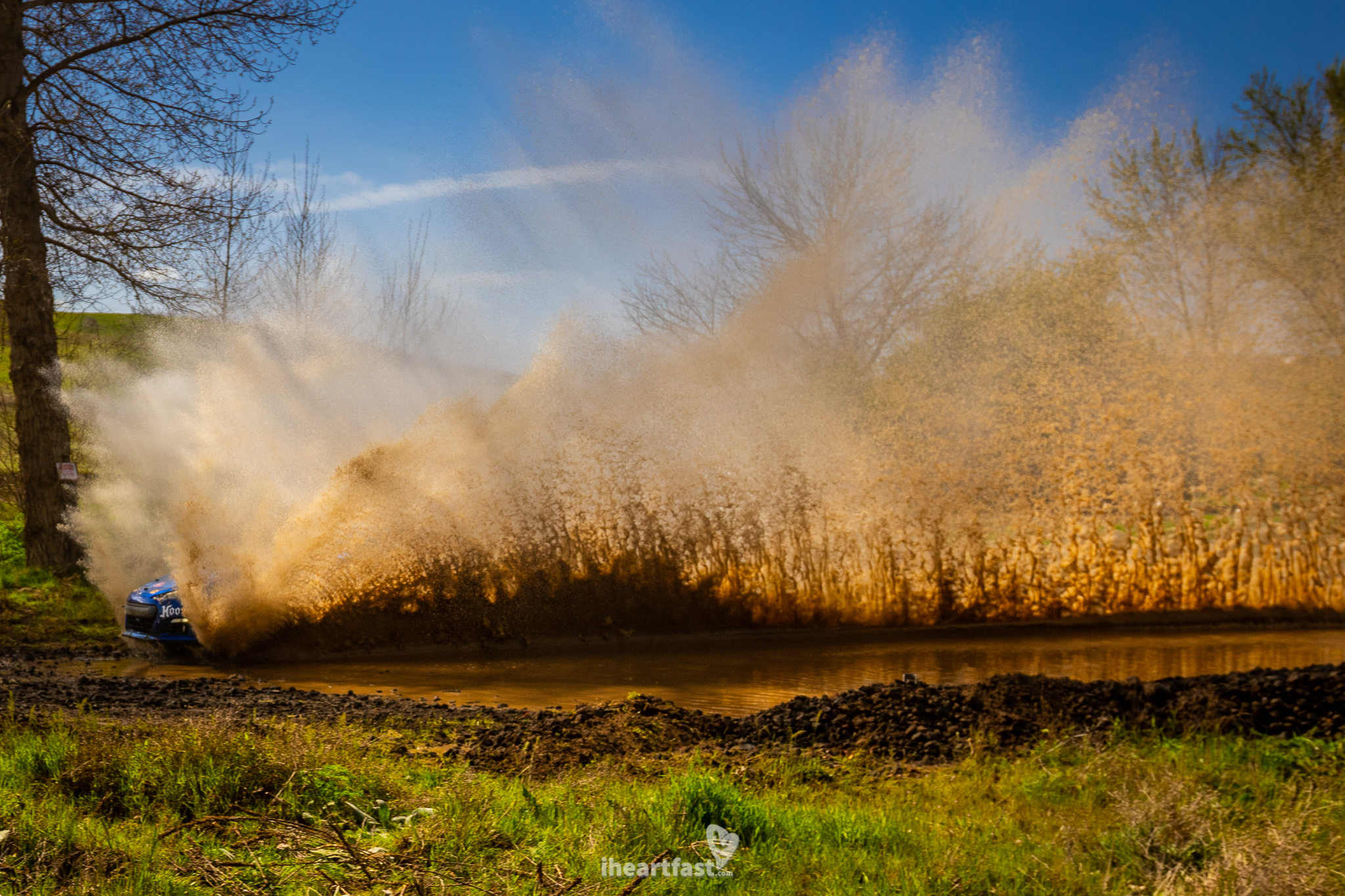 The splashes can be so big the entire car disappears in the wake.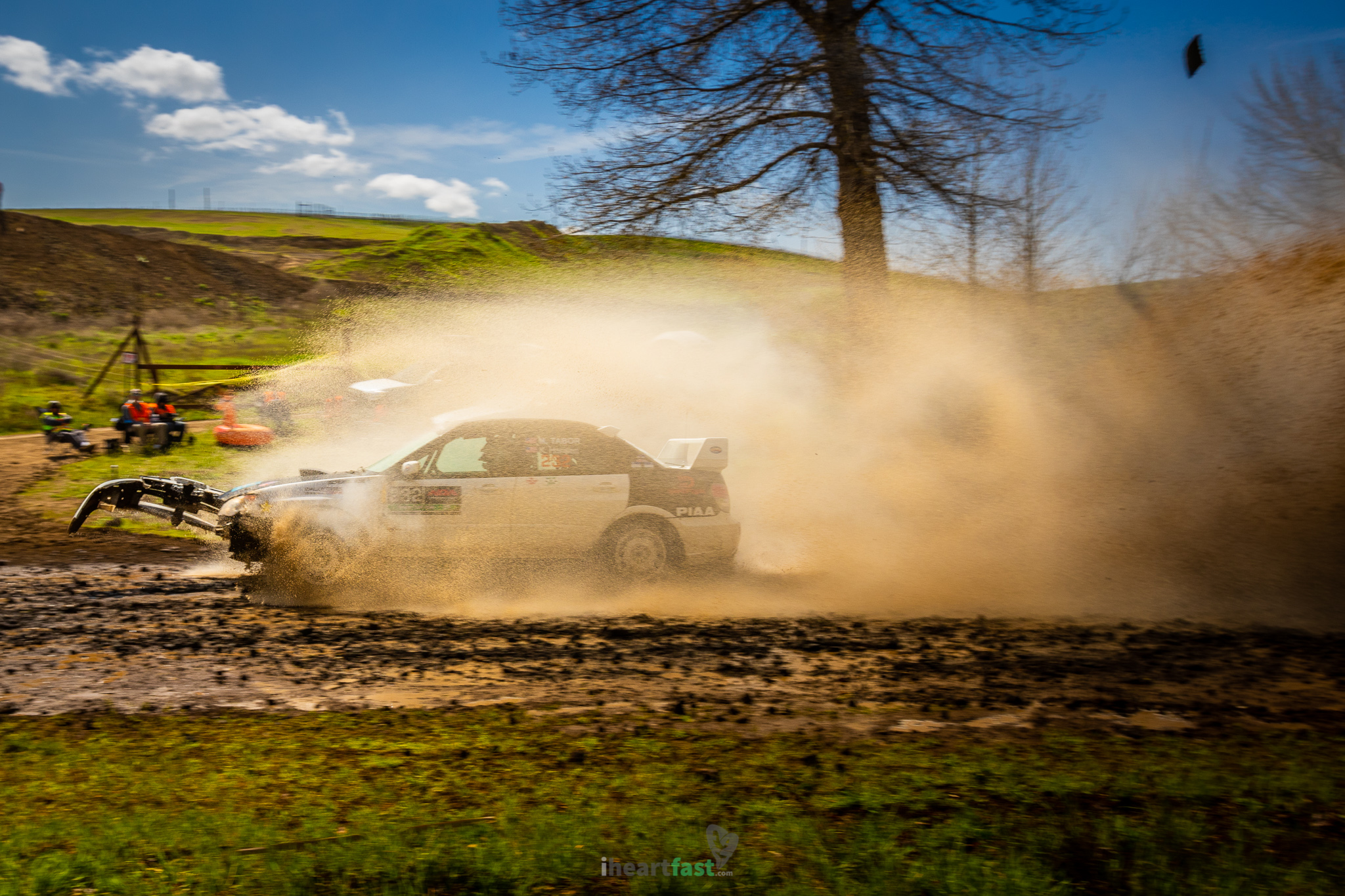 The water crossing claimed more than one bumper that day.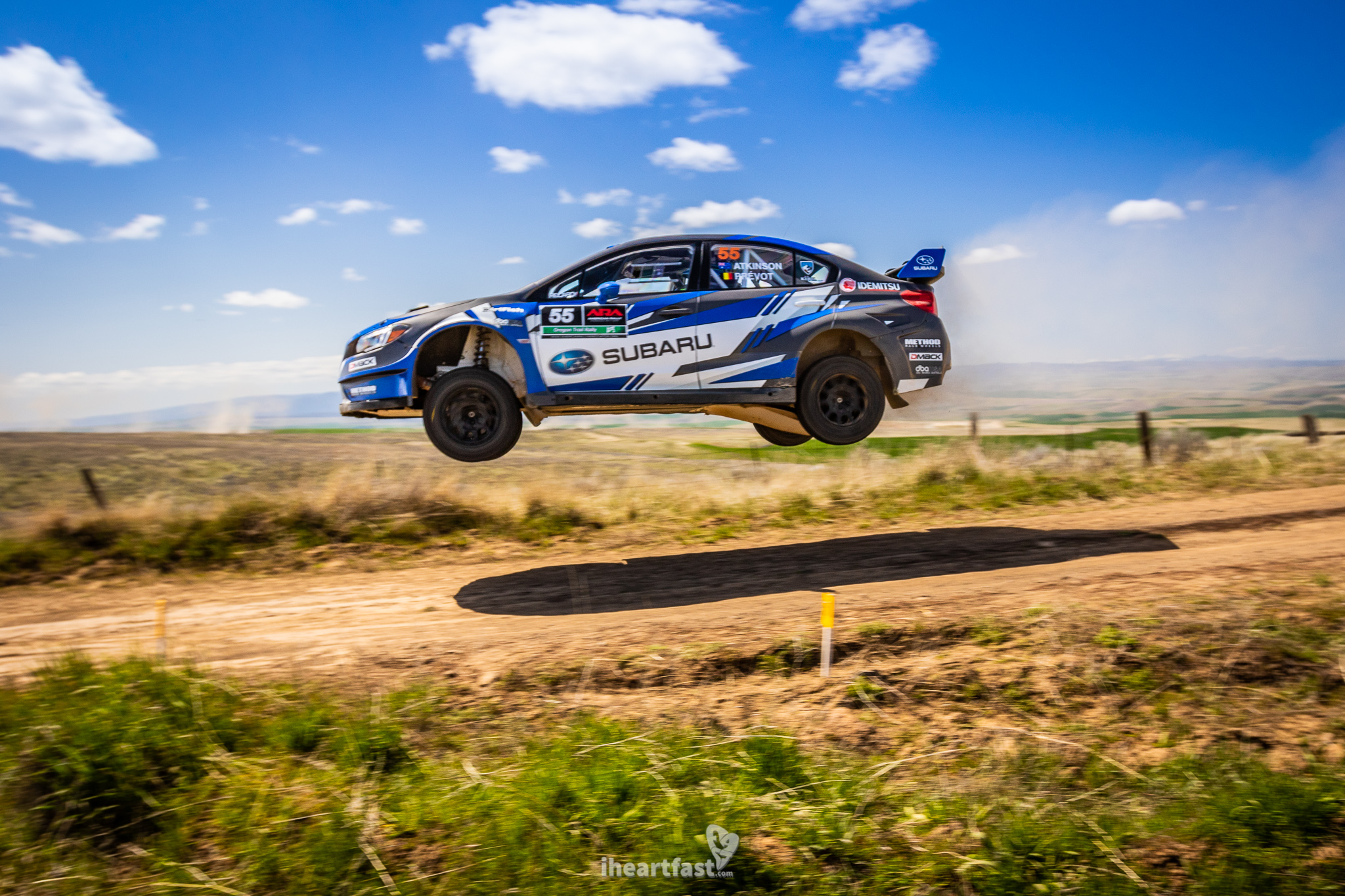 Atko said he was going to send it over the jump and send it he did. Flying over 115 feet and taking the award for biggest air. I hope to see more of him on some other U.S. stages in the future.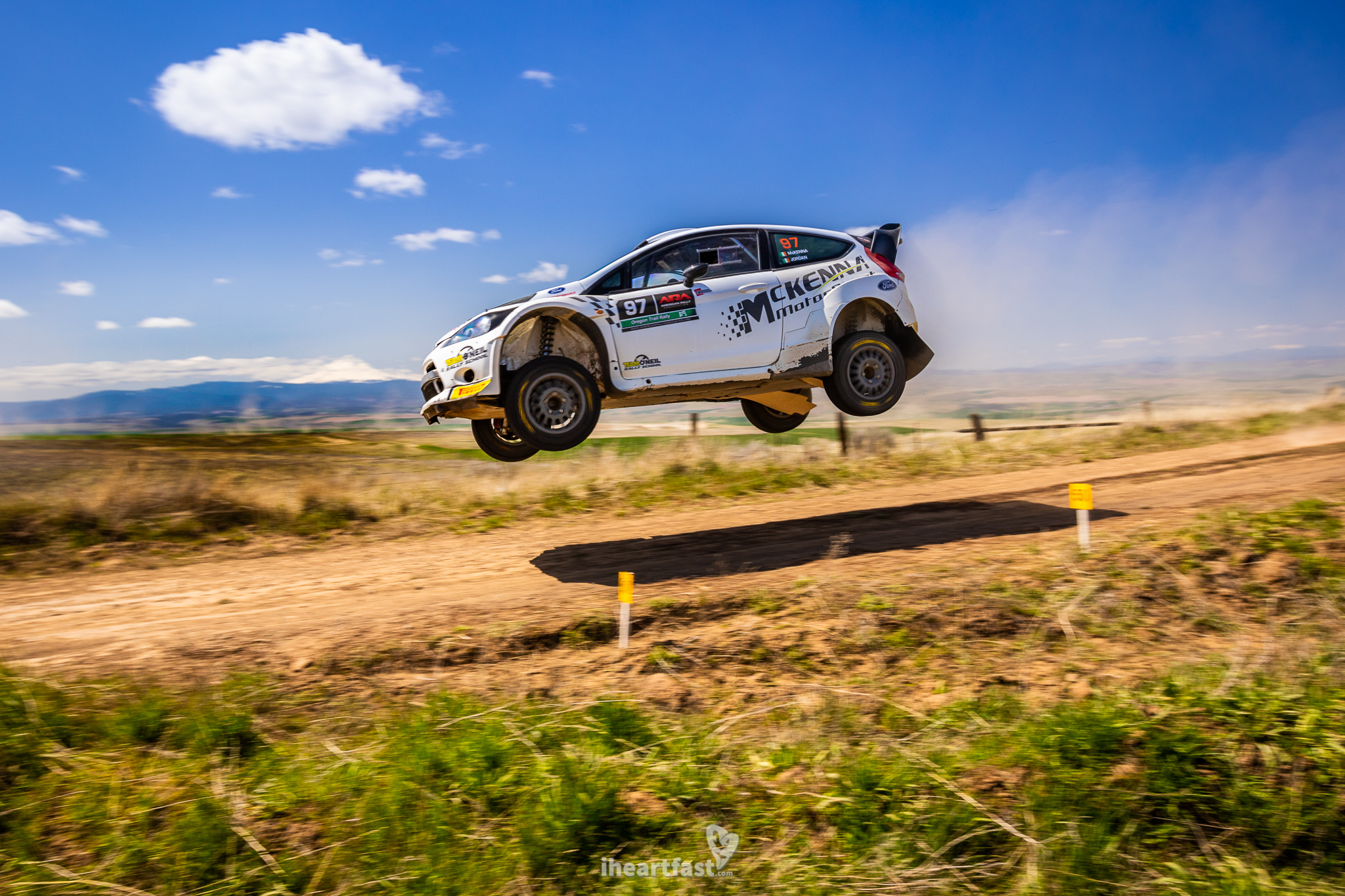 Barry McKenna pushed hard and set some impressive stage times and sat in 2nd place for almost the entire event, until an incident late on Sunday took them out of contention for the podium, as they had to settle for a 4th place finish.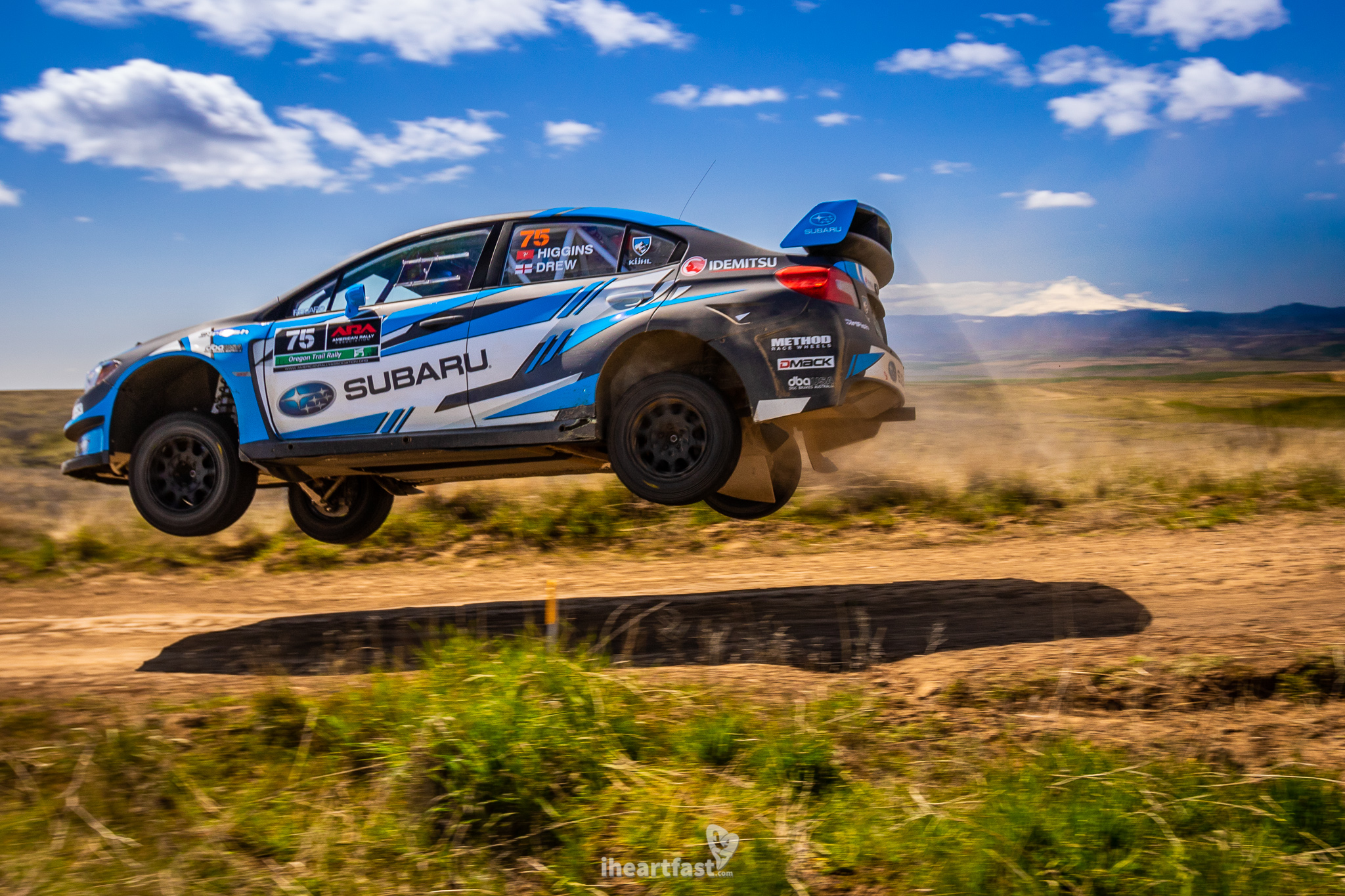 In the end it was the 6 time Oregon Trail winners, David Higgins and Craig Drew piloting their SRTUSA Subaru STI to an impressive 7th victory. Jeff Seehorn and Karen Jankowski finished an impressive 2nd overall and first in class. Ken Block and Alessandro Gelsomino proved they still had what it took to be competitive, even in a car that was a couple decades old, rounding out the podium.