2020 ARA Sno*Drift Rally
Once again, the American Rally Association National Championship season begins on the snow and ice covered roads around Atlanta, MI at the appropriately named Sno*Drift Rally. Last year the temperatures dipped well below zero, adding another element to the challenge of the event. Conversely this year, nature decided to show some compassion and provided much milder weather, with temperatures even rising above the freezing point for much of Saturday. However, snow was still on the menu as the first stages got underway Friday night.
National Competition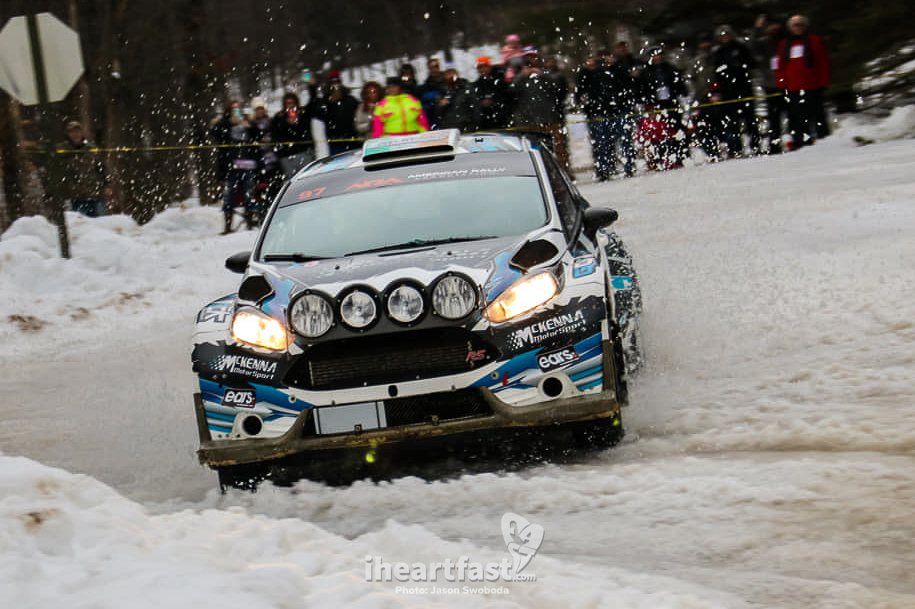 The falling snow made the tricky road conditions even more treacherous. Barry McKenna and James Fulton maneuvered their McKenna Motorsports Ford Fiesta to a fastest time on the opening stage. Last year's Sno*Drift winner, Piotr Fetela and new co-driver Kamil Heller would fight back on the second stage taking the fastest time and closing the gap to McKenna to under 6 seconds. That would be as close as Fetela would get. McKenna achieved fastest times on the final four stages of the night, giving him a nearly two minute lead going into the final day. Zachary Jacques and Ronald Jacques, making their first rally appearance in 2 years rounded out the top three on Friday. Jimmy Pelizzari and Kate Stevens held the lead in regional competition and actually would've displaced Jacques and Jacques for third place if they were a National entry.
As temperatures rose on Saturday, the snow and ice began turning to slush, adding a whole new challenge. The changing conditions did not slow McKenna as he took stage win after stage win on his way to a dominat overall victory. "This was the perfect way to start the 2020 season," said McKenna of the victory. "Now we've got to take the 'big' car back out at 100 Acre Wood and see if we can keep up with Subaru this year."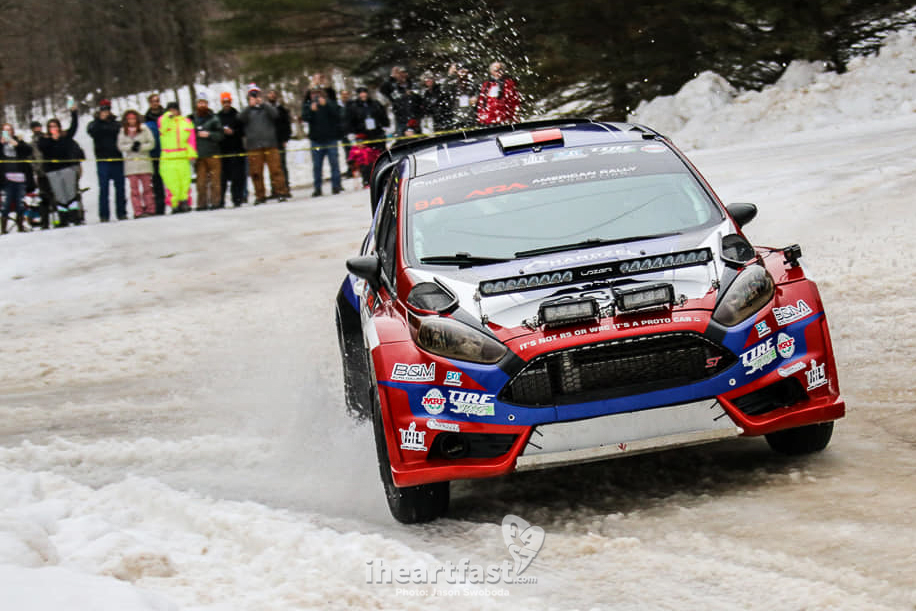 After it was all said and done, nothing would change at the top. Fetela and Heller cruised to a second place finish, comfortably ahead of the Jacques, who rounded out the podium.
Polish co-driver Heller had this to say about his U.S. Rally debut as co-driver with Fetela Rally Team, "It was fantastic. We had a lot of fun. We are driving, getting me experience, so I think we had a great weekend."
Despite the challenging and tricky road conditions 39 of the 40 cars that started the event made it all the way through the famous final stage, Bonfire Alley.
RC2
The influx of FIA homologated R5s has brought a new class to the American Rally Association podium this year. While McKenna and Fulton took the overall win, they also took the win in the RC2 class. It was a fairly tight battle for second place between the Fiesta R5s of John Coyne / Ryan Dunham and Frank Cunningham / Martin Brady. Coyne held the advantage at the end of Friday's stages taking just a 30 second advantage over Cunningham into Saturday's competition. Coyne and Dunham were able to build on that lead through the eleven stages on Saturday, holding off Cunningham and Brady to take the second place position.
L4WD / NA4WD
Another change for the 2020 season has the Limited 4WD class being combined with the NA4WD class. That meant that the only NA4WD entry, the Subaru of Blake Lind and Cody Crawford, who can usually be found in the co-driver seat of Jeff Seehorn's Subaru, would be competing against the more powerful Limited 4WD cars. Lind and Crawford took stage wins on the opening six stages on Friday night, building a 40 second lead over the GoSpeed Racing team of Rob Sanders and Karen Jankowski. The GoSpeed team had brought in some extra help for the event, a special coach, ten time National Champion David Higgins. Higgins' expert coaching helped give them the confidence they needed to put them solidly in second place going into Saturday's stages ahead of the Subaru of Michael Engle and Morgan Engle and the Honda Passport piloted by Colin Robinson and Tyler Tisdale by nearly two minutes.
Lind and Crawford never let up during Saturday's stages and continued to build their lead, shifting the real battle to the remaining podium spots. Sanders and Jankowski quickly built on their lead over the rest of the field in the daylight of Saturday's opening stages. By stage 13 they had pushed their lead to six minutes, but as we all know, in the snow and ice, it only takes one issue that costs dearly. On stage 14, they would suffer from brake failure and lose nearly eight minutes and the lead. The mechanical issue would vault the Engle car into second place, a position they would not relinquish. When asked about the weekend and Morgan's first ever rally, Michael said, "It went great! I got to spend the weekend with my daughter in a car, no penalties and we didn't even fight! It was awesome! Best time, best rally ever."
Ele Bardha and Corrina Roshea battled their 2000 Subaru up from fifth to third on Saturday capitalizing on the lost time of the other teams to round out the combined 4WD podium spots.
O2WD / L2WD
Just like L4WD and NA4WD, the Open 2WD and Limited 2WD classes will be combined for podiums at events for 2020. The 2WD class had quite the mix of cars, from a classic Ford Escort RS1600, a Mitsubishi Lancer, a Ford Fiesta, a VW Golf and a Honda CRX. It would be the Lancer of Brad Morris and Doug Nagy that would dominate in the snow and ice. Morris and Nagy quickly jumped out to a four minute lead over the Escort of Iain Dobson and Max Freeman by the end of snowy and dark stages on Friday night. Saturday would be more of the same with Morris and Nagy extending their lead to eight minutes by the end of competition.
Brad Morris thanked regional competitors Mark Rokus and Dan Colburn profusely for helping get his first win as Rokus helped Morris out of a stage and Colburn towed them from the stage end to the final time control. Without that assistance he'd have been a DNF even though he was the fastest in class all weekend.
Morris had to say this about how it felt to take the victory, "Fantastic! This is my first ARA National win, we've made a lot of attempts and finally we got there… We were running smooth, no issues, then go to start stage seventeen and car won't start, dead battery, completely dead. We ended up doing stage seventeen with no lights. So, turns out that that's harder. We would like to avoid that in the future, but we were able to finish. And that's what rally is all about… To get to the finish of this one, that's special."
The CRX of Bret Hunter and Melissa Shorowski finished third rounding out the podium spots, behind Dobson and Freeman.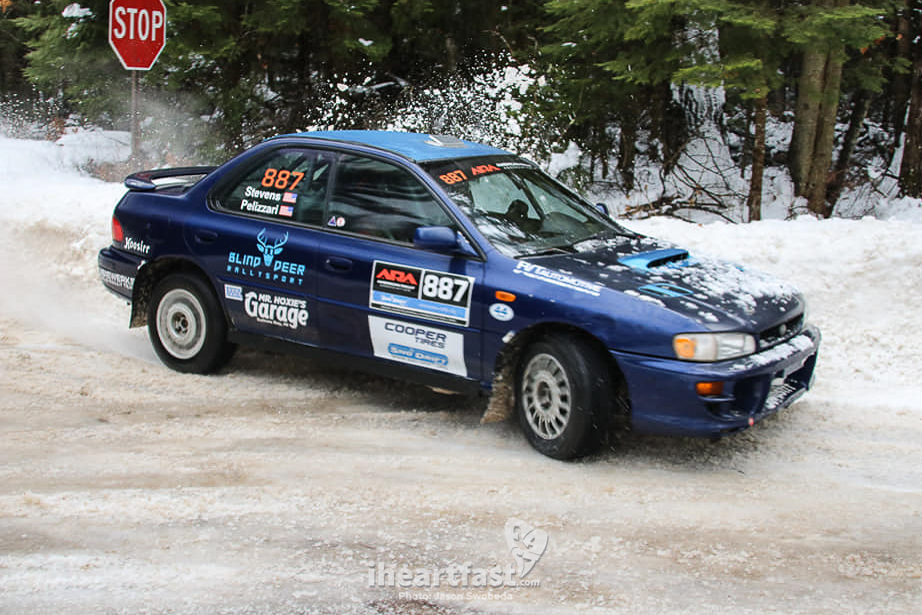 Regional Competition
In regional competition the NA4WD Subaru of Jimmy Pelizzari and Kate Stevens took home the overall regional win. Had the duo entered as national competitors, their time would have put them on the final podium spot behind Fetela. "We had a couple of issues, got stuck in a bank for a couple minutes but I think we've come back alright. We're just glad to be here," said Pelizzari.
Jon Kramer and Jason Smith piloted their Subaru to second overall regionally, as well as second in the NA4WD class behind Pelizzari and Stevens. Ivo Draganov and Vladimir Yanev maneuvered their L4WD Subaru to the final podium position just ahead of TJ Pullen and Erin Kelly. This was TJ and Erins' first appearance at Sno*Drift and although they missed out on the overall podium, they still finished on the NA4WD podium.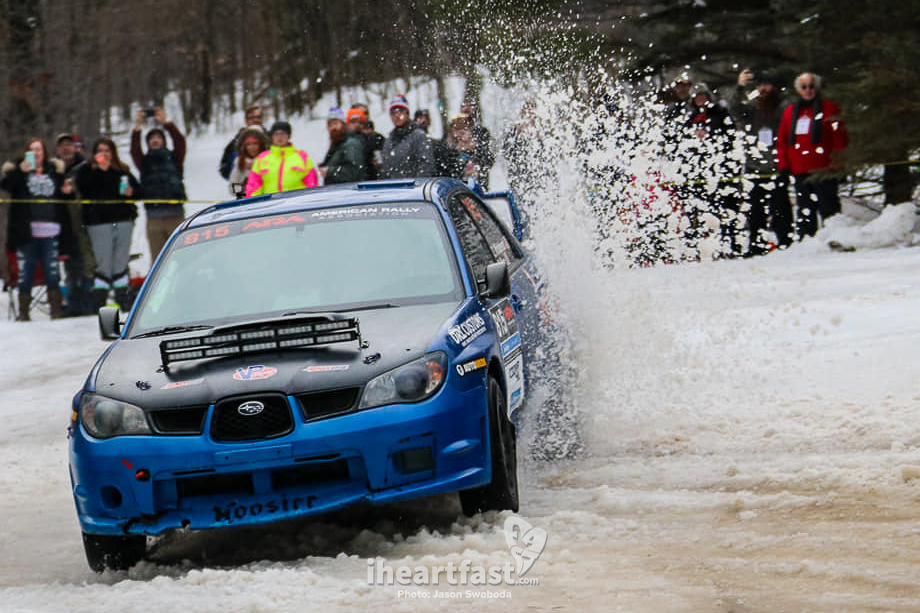 After a rough start on the opening stage of the event, the Toasted Racing team of Zach Whitebread and Cameron Carr bounced back to take the win in the regional Open 4WD class over the Subaru of Scott Banes and Brian Arpke.
Over in the Open 2WD regional class, Gabe Jacobsohn and Scott Rhudy got off to an early lead in their BMW and never gave it up taking the victory over the HPD Maxxis Honda CRZ of Zach Pfeil and David Adams. Calvin Cooper and Kelsey Stevens, making their first appearance at Sno*Drift rounded out the podium. Calvin and Kelsey said of the event, "It was our first time rallying on snowy roads. The changing conditions made this a big challenge in a RWD car so our goal was simply to learn as much as we could and make it through the last stage. Bonfire alley was an incredible experience we will never forget!"
The Limited 2WD regional class featured maybe one of the most exciting battles of the entire rally being decided in the end by just 2.5 seconds. Friday's action began with the BRZ of Santiago Iglesias and Robert Kassel trading stage victories with the VW GTi of Mark Rokus and Mike VanAlphen. Iglesias and Kassel were able to end the day in the lead with just a five second advantage after the first six stages.
Rokus and VanAlphen were able to briefly grab the advantage during Saturday's stages, but Iglesias and Kassel battled back on stage 14 and never looked back taking the win by just 2.5 seconds. Neither team knew about a one minute and forty second penalty that was to be assessed to Rokus at the final MTC and solidify Iglesias' win, so they were both pushing hard right through the final stage. Showing once again the performance of some of the regionals, had Iglesias and Kassel been registered in the national class they would've taken the National 2WD win as well. Doug Gekiere and Matt Hoffman rounded out the L2WD regional podium in one of the more unusual entries, a 2003 Pontiac Vibe.
Santiago Iglesias had this to say about the exciting 2WD competition, "We had a ton of fun this weekend. I was hoping to have a decent lead by the end of Friday, but with the spots of rain I couldn't push consistently. Saturday morning there was just 5 seconds between us and the Golf. We traded stage wins all day, going up to each other's cars to compare times at the next control. We were faster in some stages and they were faster in others. Trying to push without getting sucked into a snow bank was really challenging. At the last service they were up by 15 seconds, so I had a huge push on the next stage (14) and made back 30 seconds. I made some more time up on 15, but then lost 10 seconds on 16. I had a horrible stage on Bonfire Alley and thought I had lost it. At one point I went to turn off my lights and accidentally hit the ignition as well. Just off my game. At the end we managed to save our lead by just 2.5 seconds. Morris/Nagy in the Lancer were well ahead of us all weekend, but had alternator issues on the last stage that managed to promote us to the fastest 2WD team for the race. 10/10 loved it, would do again."
Also of note in the regional L2WD class was Al Dantes Jr. making his co-driving debut in the Eagle Talon of Jason Cook.
Al had this to say about the experience, "I was confident all the way up to the point we had to belt in and hit the road. Instantly, I knew I had not done enough in my "office" to be prepared. I panicked and quickly missed the first 2 turns on transit. Luckily, once at stage start, I was very comfortable and in competition mode… Glad to report ZERO nausea or ill effects! Bonfire Alley was definitely a "bucket list" item that I never knew I needed. Amazing to see thousands of fans out in the woods celebrating rally! I'm glad to say co-driving is fun and something I definitely WILL consider when not driving in the future."
Watch for Al to return to the driver's seat as the 2020 American Rally Association season moves to the forests around Salem, MO at Rally in the 100 Acre Wood. For full schedule and results visit the official ARA website.
Special thanks to Jason Swoboda for providing photos from the event.
Don't forget to follow us on Instagram (@iheartfast_official) and Facebook for all the latest action.